Samson Kayo, Nathan Bryon and Ash Atalla explain how a sliding-doors moment led to the two young talents being entrusted with a major sitcom
Production company Roughcut TV
Commissioners Jon Mountague; Tilusha Ghelani
Length 6 x 30 minutes
TX 5 May, Sky 1
Executive producers Alex Smith; Ash Atalla
Director Will Sinclair
Producers Seb Barwell
Creators Samson Kayo; Nathan Bryon
Writers Nathan Bryon; Paul Doolan
Post house Molinaire
I've always wondered what sort of paramedic I'd have made," Samson Kayo ponders out loud. Known for having people in stitches rather than stitching them up, the actor and writer's life could have been very different.
He seriously considered working as a medic, after seeing an ambulance support driver role advertised in a London job centre, before carving out a burgeoning career with the likes of Famalam, Timewasters and Sliced.
Kayo had been discussing his sliding-doors moment with producers at Roughcut TV, which became the kernel of Sky 1 sitcom Bloods. "It came out in conversation about what might have been – the road less travelled," recalls Seb Barwell, the show's producer.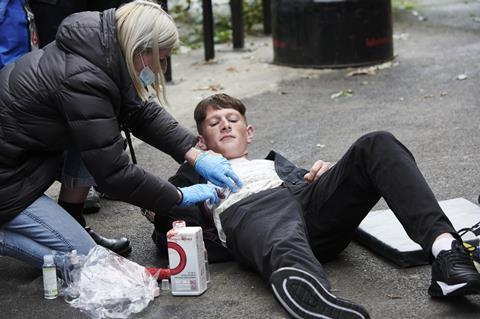 The concept was to create a show around Kayo's central paramedic character, Maleek, and to build out a quirky ensemble world around him. Kayo needed a writer who could understand and translate his east London sensibilities on screen, so Barwell turned to Nathan Bryon, an award-winning 2019 Broadcast Hot Shot whose star was in the ascendancy and known to Barwell through digital short #Reality.
Kayo and Bryon immediately clicked and began work on what would become Bloods. Initially it was a comedy short for Sky's on-demand service (it was nominated for a Broadcast Digital Award in 2019) featuring Kayo and Jane Horrocks as a pair of mismatched emergency responders.
While Kayo had co-created Dave's Sliced with comedy producer Phil Bowker, Bryon was best known for writing children's books and an acting role in Derren Litten's ITV series Benidorm. He had not led on a sitcom before.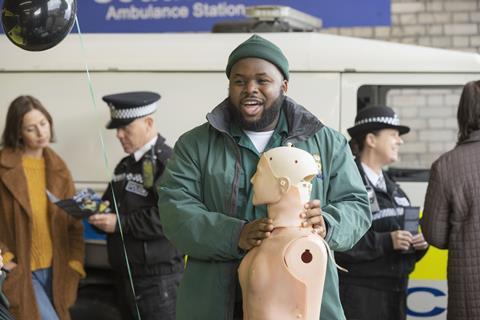 "Roughcut's successes have, from the beginning, been predominantly with writers writing their first sitcom," says the indie's chief executive Ash Atalla, referencing acclaimed titles such as Cuckoo, People Just Do Nothing (both BBC3) and Stath Lets Flats (Channel 4).
"We don't work with emerging talent in that sense, we work with brand new talent." Bryon recalls the night before the first writers' room (an actual, physical space, in the pre-Covid world) was a sleepless one.
"I remember saying to my girlfriend, 'What the hell am I supposed to do? Am I supposed to lead? Do I need a whiteboard pen?'."
Happily, Roughcut executives are experts in the writers' room concept, and Barwell had already mentored Bryon on creating sitcom structure. Veteran Paul Doolan (co-creator of Roughcut's other Sky 1 comedy, Trollied) was attached as co-writer, quickly forming a strong partnership with the younger scribe. Kayo calls Doolan an "awesome fix-it man", while Bryon is at pains to point to his positive influence.
"We wanted to create a funny show about highly competent people - a world where you'd be willing to get into one of our ambulances"
Ash Atalla, Executive producer
Emerging writing talent such as Nicole Lecky and Kiell Smith-Bynoe would dip into the room, with Kayo and co-star Horrocks (who had been attached since the short) also contributing. Inspiration was taken from blue-light factual shows such as BBC1's Ambulance, with calls and WhatsApps flying around as new discoveries were made – "a strange feedback loop" is how Atalla describes it.
Gallows humour
Further research was done through meetings with medical professionals, including a pair of Kayo's friends who are paramedics. This provided two insights: that the tone should reflect the detached gallows humour and often unusual personal lives of responders, but also that Bloods should avoid the ineptitude of characters integral to many sitcoms, including Stath Lets Flats and People Just Do Nothing.
"You're trying to make a funny show about people who are highly competent," says Atalla. "We want to create a world in which you'd be willing to get into one of our ambulances." Bryon adds: "Once we locked that in, the show immediately improved on the page. It became more real."
"In real life, paramedics are a madness and that's what you should focus on. You take their serious moments seriously"
Samson Kayo, co-creator
Moreover, Kayo says there was an understanding that Bloods would not "take the mick out of the NHS". Instead, the comedy is derived from the array of characters, played by the likes of Lucy Punch Motherland), Julian Barratt (The Mighty Boosh) and Aasiya Shah, recently seen in Sky Atlantic's Raised By Wolves.
"In real life, these paramedics are a madness and that's what you should focus on. You take their serious moments seriously," says Kayo.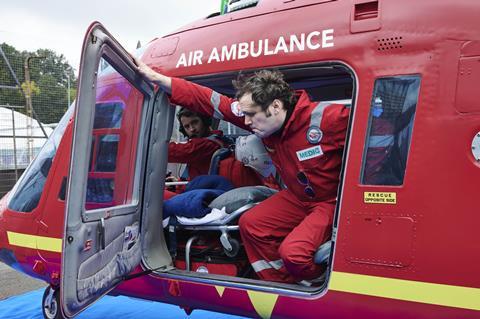 Central to the series, however, is the odd-couple relationship of Kayo's Maleek and Horrocks' Wendy. The actors often improvised their one-on-one scenes in the ambulance, based on the unique personal relationship they had built up. Kayo notes that they shared an unexpectedly strong connection, partly due to interest in learning about each other's background and culture, and partly due to their quirks and parallel personal faith.
Post-Covid world
Six-part Bloods is set in Lewisham, south-east London, and was filmed last year when production restarted in the UK after the first lockdown. However, the series had been written the previous year, "when no one had heard of Covid-19", as Barwell recalls. This presented issues, both creatively and logistically.
It was decided that there would be no significant rewrites to bring coronavirus to the centre of the story and that the series would exist in a "slightly hopeful, post-Covid, mask-free world, where the lockdown is referenced as something that happened in the recent past", says Barwell. Bryon adds wryly: "You can't really do comedy with masks on."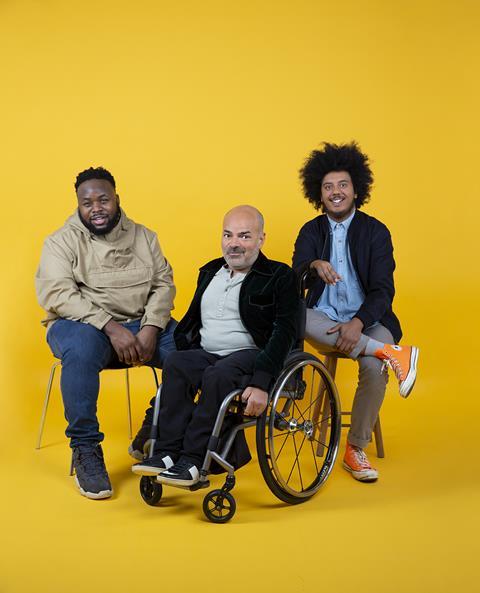 Therefore, references to the virus are limited to where the crossover is inherently funny – Barwell recalls a paramedic's story of ambulances lining up outside a Krispy Kreme drive-thru during lockdown, when the chain was offering medics free donuts.
Logistically, filming in a hospital was out of the question, as were several similar sites that would often be hired for shoots, as they were on standby for NHS Nightingale-style use. "There was also just a general nervousness among location owners," says Barwell.
Ultimately, a safe commercial site was found, the ground floor of which could act as the ambulance depot while the upper two floors housed the production team. This gave Roughcut the control needed to oversee safe production and social-distancing measures. All those involved were tested regularly.
"We found ourselves inadvertently filming the story of our time," says Atalla, recalling the "alarming" number of ambulances he would hear zooming up and down Lewisham High Street during filming. Occasionally, he waved at real vehicles, assuming they were owned by production.
BACKING STARS OF THE FUTURE
Sky's Tilusha Ghelani championed Bloods from its very early days. "It started life as a comedy short back in 2018, but we immediately knew it was something bigger," she says.
This extended to her support for its creators. "From the jump, Tilusha was so passionate about this show, and making sure me and Nathan were happy and enjoying it," says Kayo. "There was never a moment where she didn't show her love for it. You need that from the channel."
Bryon praises the broadcaster for backing new talent with a sizeable budget, referencing a moment when an excitable writers' room scripted a scene with an air ambulance. Kayo didn't think this was realistic – until the helicopter turned up. "I thought, 'Sky has got money!'" he says.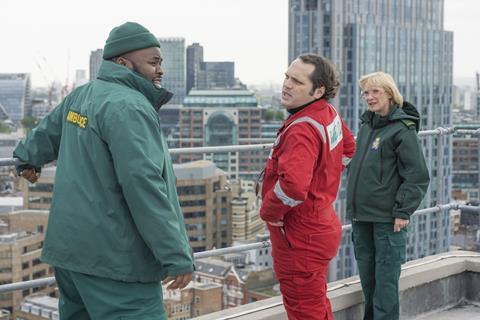 Bryon is effusive that two young, black creatives were given the reins on a major sitcom – something he says happens too infrequently. He argues that the industry will only change when it trusts new talent, and that while diversity schemes are well intentioned, they rarely give people the right experience they need to progress later in their careers.
For Roughcut, there is another element at play. "We don't want to wait for the same old voices to become free," says Atalla. "These are new voices and we're telling them to come and make hits with us, not make two-minute tasters. Rather than waiting for writing stars, we're making writing stars."
Happily, there was little chance of the virus delaying production, with Sky comedy commissioner Tilusha Ghelani championing Bloods from the outset and the broadcaster backing "what was already a very healthy budget for a comedy", according to Barwell.
The show's ambition was helpful, Barwell says, as smaller-scale shows have been tougher to get into production Broadcast understands costs increased by around 20%, with Sky exchanging the upfront investment to gain a larger share of the future earnings. "It wasn't a blank cheque, but it was two interested parties coming together to get it done," says Atalla.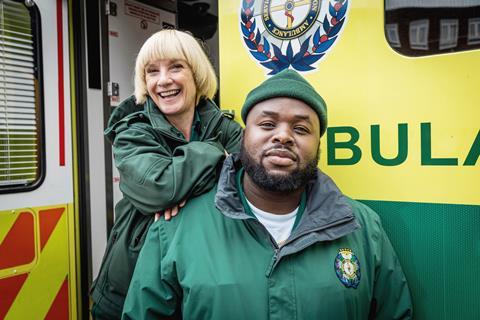 Among the comedy indie community, there is a sense that Sky is attempting to make its originals "cooler". Atalla points to the influence of US sitcom Brooklyn Nine-Nine on the development of Bloods – both are ensemble and precinct-based, for example.
"For me, Brooklyn Nine-Nine sits in the middle, whereby it's critically acclaimed – liked by the opinion-formers and the coffee-shop dwellers of LA and across America – but is also a huge network hit," says Atalla. "It would be Roughcut's ambition that Bloods sits in that place in the UK."
The "mainstream but box set" show's format is tailor-made for volume and multiple series, according to Atalla, though its creators will have to wait a little longer to see how it fares – it has just been pushed back from its original 10 March air date.
So would Kayo have made the grade as a real-life paramedic? He's in no doubt. "I'd have been sick," he says, a big grin on his face. "I'd have been the guy jumping off a bridge to save someone from drowning, just so I get a big clap when I walk back into the depot."
He'll be hoping Bloods draws similar applause.