Writer and director on taking inspiration from her own life for her new C4 comedy about a Muslim female punk band
Nida Manzoor is fed up with being put in a box. "You can be a punk and a feminist and a Muslim and a Hijabi," says the creator of Channel 4's forthcoming sitcom We Are Lady Parts. Aged just 31, she has written and directed the six-parter, from NBC Universal International Studios' Working Title Television, helming it from inception through to delivery.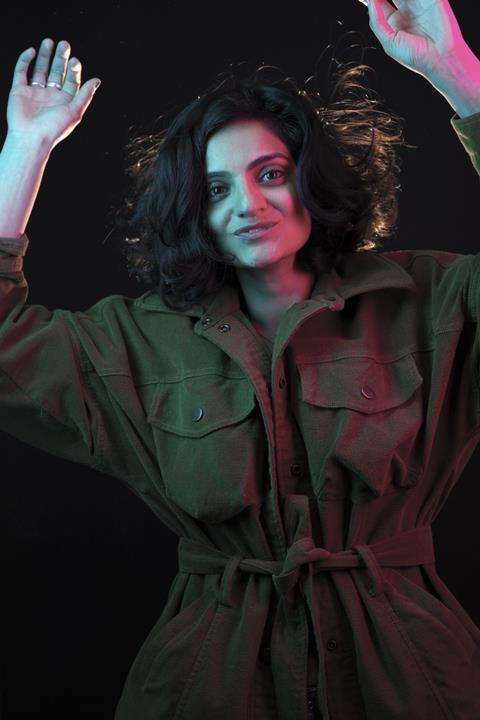 Manzoor hopes it will help redefine female Muslim representation on television, and says creating it has liberated her to explore aspects of her identity she didn't think would be possible: action film director, guitarist, sci-fi geek and Jackie Chan fan. Her ambition is to bring all that to screen.
She has risen rapidly through the industry, from runner to showrunner, and now has Doctor Who directing credits under her belt and a feature film in development with Working Title.
In 2015, a 25-year-old Manzoor was nominated as a Broadcast Hot Shot by Big Talk founder Nira Park for her action-comedy short film 7.2. At the time, Park described her as bright and ambitious and suggested that "her dynamic, contemporary work will connect to the young audiences of tomorrow".
C4 will be hopeful that We Are Lady Parts can capture those young audiences – according to its annual report released in October 2020, the channel's share of 16-34s was flat on television at 7.5% (though growth in use of VoD service All 4 offers significant hope of progress).
Manzoor's family and friends are simultaneously her inspiration, support network and creative partners, and We Are Lady Parts is a true family affair. For the musical elements, Manzoor wrote songs with her sister Sanya, brother Shez and brother-in-law Benni.
A real-life Manzoor family band has Nida on lead guitar, her sister on bass and her brother on any and every instrument going – one reflection of a lively upbringing.
"I grew up in a household where there was love for comedy and a lot of silliness," she recalls. "My mum and dad are both very funny people – so making each other laugh was a big deal growing up."
Childhood influences
Manzoor speaks fondly of evenings watching Blackadder with her family, and her dad's "random" fixation with Jim Carrey. She grew up on Jackie Chan movies – "I was slightly obsessed," she admits. More high-brow influences came from her love of Coen Brothers films, while Edgar Wright's features provoked a fascination with camerawork in comedy storytelling.
A dialogue obsessive, Manzoor also soaked up old Hollywood films – "that era of American cinema where the dialogue is so sharp and snappy".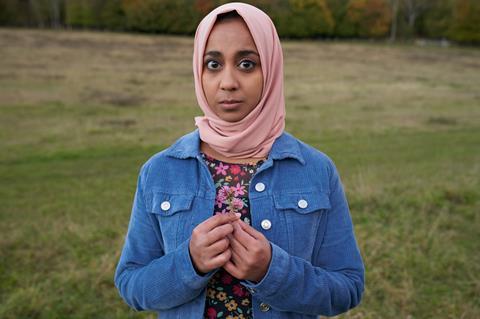 Manzoor's TV career began after she realised that a law career forged out of her UCL politics degree wasn't for her. She spent many days making shorts at the university's film society and soon began firing off CVs to every post house in Soho, eventually finding a role as a runner.
She soon secured Film London funding for a project – "That was the calling card for me" – and before long, she gained experience as a director's assistant before landing a writing gig at CBBC. "Being in a writers' room with a bunch of kids' writers thinking up fantastical things was where I realised writing could be really fun," she says.
Then came the Broadcast Hot Shot selection, which helped her win comedy writing work, before she got her first directing role on Kayode Ewumi's BBC3 comedy Enterprice. She credits Ewumi for expanding her understanding of what comedy could be. "He is much more physical in his comedy, whereas I always thought it had to be all about the dialogue," she says.
Support came from the likes of Doctor Who showrunner Chris Chibnall, who Manzoor thanks for "creating a nurturing environment" around the BBC juggernaut, adding: "Everyone was so open to my ideas."
Perhaps that support fuelled Manzoor's belief that progress on diversity is beginning to be made at industry level. When asked about the opportunities for both women and people of colour in comedy, she replies simply: "I'm hopeful."
How We Are Lady Parts struck a chord
We Are Lady Parts, an anarchic, joyful comedy about an all-girl Muslim punk band, is inspired by Manzoor's life, her experiences and people she knows and loves. It was a "total privilege" to bring those people to screen, she says.
It was a daunting experience to helm a major six-part comedy but the opportunity to have her voice heard helped keep Manzoor focused on the mission at hand.
"It just felt so right," she says. "I felt like the first time I was allowed to lean into what I wanted to say, and explore aspects of my identity I didn't think I could."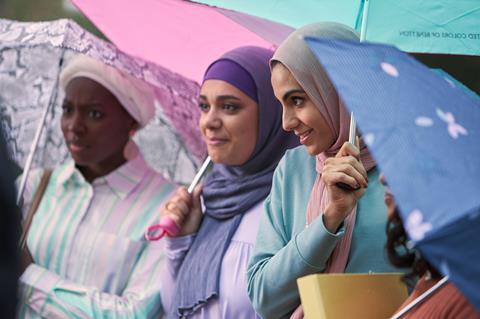 The show was also one of the first scripted projects to film during the pandemic and Manzoor praises the Working Title production team and crew for creating Covid-safe solutions that meant she didn't have to compromise her vision for the show: "They enabled me to create exactly what I wanted to create."
Manzoor was pleasantly surprised that US streamer Peacock, which like Working Title is part of NBC Universal, joined C4 as a co-pro partner –"Because I really feel like I write 'British comedy'," she says. But she was even more pleasantly surprised when the on-demand service did not demand tonal or stylistic changes – perhaps another sign of how British television comedy is growing in stature in the US.
She had feared the worst but is quick to report otherwise. "I was wrong in my assumption," she says. "Peacock has been very supportive, thoughtful and respectful and felt very in tune with C4. I feel lucky that I didn't have to choose the US over the UK."
She references the rise of fellow writers Michaela Coel, Issa Rae, Rose Matafeo and former creative partner Ewumi, and says: "It's exciting to be part of this new wave of artists coming through."
These young creatives are building a support network together. Manzoor calls Starstruck writer Matafeo "immensely charming" and describes Coel – whose 2018 MacTaggart lecture jolted the industry – as an inspiration who has been "incredibly supportive".
"I'm in a position now where I'm able to pitch original ideas with more confidence. I'm getting really interesting offers"
She is hopeful their growing influence on the UK's comedy commissioners will encourage more voices into the space. As such, she'd like We Are Lady Parts to play a role and "add to what it means to be a person of colour, a brown woman and a Muslim woman".
Reaching for the stars
For Manzoor, getting We Are Lady Parts away on a terrestrial broadcaster has freed her from the potential shackles of being pigeon-holed into writing stories about race or religion.
"I'm in a position now where I'm able to pitch original ideas with more confidence," she says. "I've felt a shift – I'm getting really cool and interesting offers."
She is currently working on a feminist action-comedy feature film with Working Title and is getting offers to direct projects in her beloved sci-fi space. Her ambition is to use these genres to showcase narratives of under-represented groups.
And setting her sights beyond the stratosphere, she has an ultimate ambition: "I want to go into space," she says. With the start she's made, few would bet against that wish coming true.
Surian Fletcher-Jones: Nurturing a vivid vision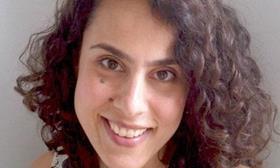 Surian Fletcher-Jones immediately saw the potential of We Are Lady Parts when Manzoor pitched it to Working Title Television. "It was so visceral, extraordinarily vivid and beautiful," says the indie's head of development.
With Manzoor screenwriting's skills still developing, ex-Channel 4 drama development head Fletcher-Jones "incubated" the project to give it its best shot, and scripts were bounced back and forth for a couple of years as the show found its feet.
During this period, Manzoor worked on other programmes, learning from others and honing her craft. "She would disappear for a couple of months and come back to the show with all this newfound knowledge," says Fletcher-Jones.
By the time We Are Lady Parts was ready to take to market, Manzoor was already hot property.
"I've worked in TV for nearly 20 years and it's the first time I've made a show with a person who is the same colour as me"
It was initially commissioned as a Channel 4 Blap titled Lady Parts, which Fletcher-Jones says acted as a freeing experience for Manzoor, allowing her to sign up those she wanted to work with most. This empowered her to hire women – and women of colour. "It's been a really happy experience," says
Fletcher-Jones, who like Manzoor is British-Asian. "I've worked in TV for nearly 20 years and it's the first time I've made a show with a person who is the same colour as me."