From the 'Beast from the East' to Clapton residents' fondness for basement extensions, we overcame many hurdles to produce an authentic take on life in the capital, says Katie Carpenter
Production company Hootenanny (a Sister Pictures company)
Commissioners Fiona McDermott and Jack Bayles (C4); Jessica Kumai Scott (Hulu)
Length 6 x 30 minutes
Executive producer Naomi de Pear
Director Desiree Akhavan
Producer Katie Carpenter
Writers Desiree Akhavan; Cecilia Frugiuele
Line producer Holly Pullinger
Editor Selina MacArthur
DoP Daniel Stafford-Clark
Location manager Helene Lenszner
Production designer Miren Marañón
Costume designer Emma Rees
Costume and make-up designer Lisa Mustafa
Story producer Rhian Petty
Post house Technicolor
The Bisexual is a comedy drama that offers a candid look at love and sex and what different people's approach to it reveals about them.
It's told from the perspective of New Yorker Leila (Desiree Akhavan), who has always been bisexual but has never told anyone or slept with a man.
After breaking up with long-term girlfriend Sadie (Maxine Peake), Leila starts sleeping with men and women under the questionable guidance of neurotic new housemate Gabe (Brian Gleeson).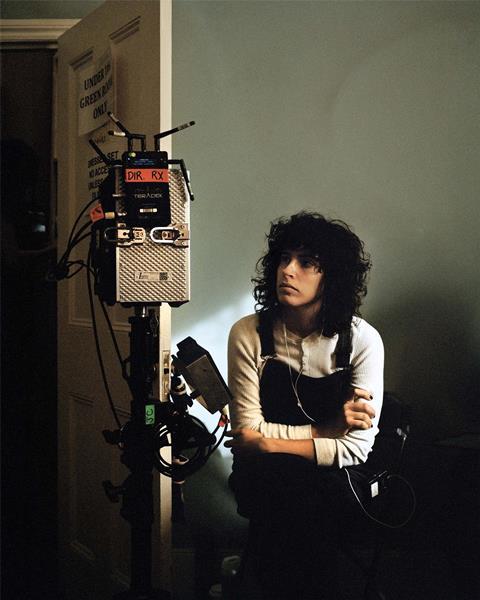 When I first read Desiree and co-writer Cecilia Frugiuele's pilot, I laughed a lot. When I read it again, I realised that what I liked so much was the way it explored a relatively niche experience in a surprisingly accessible way.
This is partly because the series examines not just one experience but many. Despite, or perhaps because, neither Desiree nor Cecilia are from London, they write about the city like an X-ray – a city divided into various interconnecting parts populated with very different types of people.
Although the script enjoys unpicking these 'types', the writing is rigorously resistant to stereotypes. Desiree and Cecilia write about people and place very specifically, and it is in this specificity that the world is revealed. To this end, the script was written with real locations in mind.
A challenge going into production was preserving this specificity of place. Our location manager Helene Lenzner, who had much experience working in east London, helped greatly with this.
She secured two key locations, houses only streets apart, and most other locations very close by. This eased a tight schedule.
Katie Carpenter - My tricks of the trade
Get professional weather reports – they were invaluable in preparing for 'The Beast from the East'.
Visit Voodoo Ray's Pizza on Kingsland Road – if you're filming late at night it makes for a more fun shoot.
Wear good socks. Warm feet equals a clear mind.
Bethnal Green Working Men's Club is a great venue for a wrap party.
What we hadn't anticipated was Clapton residents' fondness for basement extensions. Not long before we started filming, several revealed they had "improvements" taking place. We befriended builders and shuffled the schedule: danger avoided.
When it came to exteriors, we were keen to get in as much east London as possible. Desiree and Cecilia had written a brilliant party scene set on Regent's Canal; the comedic action centred on a performance artist, naked bar some feathers, a mouth full of chillies and a touch of gold-leaf.
A canal boat was found and our designer created a great canal-side set.
Performance artist Nicholas Tee arrived on set the day the 'Beast from the East' landed. Specialist weather reports had suggested this might be the case, and we readied ourselves to adapt.
A bar opposite the canal, which had been booked to hold extras, became the party location. The extras were moved and our art department moulded the original set to our new location.
Thankfully, the other exteriors escaped unscathed. In these scenes, we wanted London to feel to the audience how it feels to us – sometimes dingy, sometimes saturated with colour, but above all, real and rich in detail.
Military precision
This wasn't always easy. Recreating the reality of an overground commute was a sequence we had to plan with military precision – we needed the carriage to be packed but were only allowed 20 people (cast and crew included) and time was tight.
More fun was the night bus. Desiree gave each extra a character and story to play out. Whether you've been to London or not, there's something relatable about seeing a collage of late-night phone calls, drunken arguments and tired night-shift commuters thwart Leila's journey.
One other area where we made efforts to stay authentic was with the extras. In episode one, Leila drags a wide-eyed Gabe to a lesbian club night – Aphrodyki.
It's a real club night and we were keen to recreate it with people that went to it rather than dressed supporting artists. The organisers agreed to help and took to social media.
Despite worries that non-professional extras can be flaky, particularly those hired via social media and word of mouth, we had more than we needed. Some had great reasons for being there – the club night's creators, some people on first dates and even a couple celebrating their anniversary.
Of course, all this will be invisible to an audience. But sometimes the effort to be authentic was about something else.
When an impromptu cheer went up from the extras on wrap there was a different kind of satisfaction – that of letting people be part of how their corner of the world is shared.
TAKING A NATURAL APPROACH TO LIGHTING
Carolina Schmidtholstein, gaffer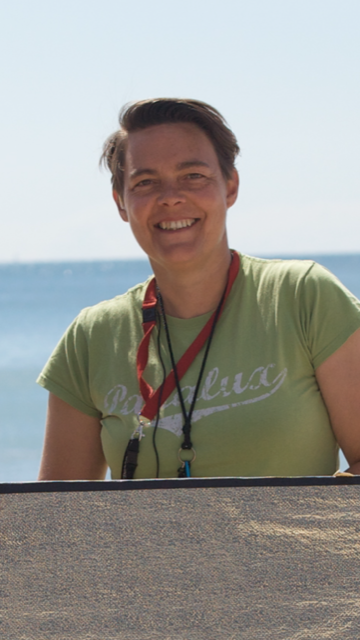 I loved the challenges and collaborative working style we had on The Bisexual and director Desiree Akhavan's unusual way of filming.
From the early stages of prep, we worked on a natural approach for the lighting style in close collaboration with the art department – for example, installing and placing practicals to suit, and wiring domestic dimmers into the existing circuits.
FLEXIBLE WORKING
This gave us flexibility and allowed Desiree and the actors more freedom to support her comedy style, which at times involved improvisation and ad-libbed dialogue.
One scene was entirely lit by a TV screen. The special effect was achieved with a prototype 2ft x 2ft Panalux TekTile – it can be fed with a video playback or MPEG signal and modified by software for a great, realistic flicker effect.
For night exteriors, we loved using SkyPanels as streetlamps because of the vast choice of colours, often operating in battery mode. The Kino Select Freestyle with textiles in front for size and softness on a small, lightweight footprint was my favourite tool, offering a quick and easy choice of colours at high-quality output.
Often, we had quite a few location moves, sometimes a couple in a day. Having the possibility to add battery-powered LED lights helped us speed up the process.