Three part series The Making Of sees Cristiano Ronaldo, Neymar Jr and José Mourinho reflect on key games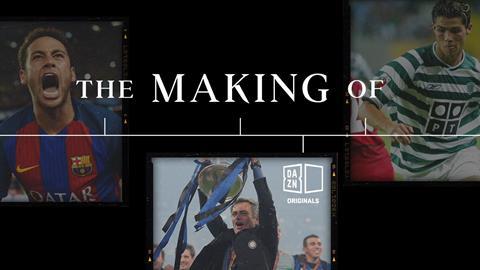 Sports streamer DAZN has greenlit an interview series, The Making Of, featuring Cristiano Ronaldo, Neymar Jr and José Mourinho.
The 9 x 25-min series takes an in-depth look into their career-defining games. Each of the stars re-tells three meaningful matches, revealing the insights of the occasion, the emotion of the night and the impact it had on their careers – and their lives.
The interviews are accompanied by testimony from other players, including John O'Shea, Rafael Alcántara, Fernando Santos, Roberto Carlos and Julio Cesar, journalists who covered the game and fans who were in the stadium.
Ronaldo relives his appearance for Sporting Lisbon against Manchester United in 2003, while Mourinho looks back at his Champions League victory over Manchester United with Porto in 2004. Neymar Jr also recounts his performance for Santos against Flamengo in 2011, when he scored that year's Puskas award-winning goal.
The Making Of will be available on DAZN in its nine international markets as part of its content strategy that combines original programming alongside live and on-demand sport streaming.
The Making Of is the first global series produced by DAZN, following MotoGP documentary series In Our Blood, the documentary film Being Mario Götze, three-part documentary series Canelo vs. Rocky and most recently, 40 Days and ABOUT: The story behind the upset of the era, a behind the scenes look at the Anthony Joshua vs Ruiz Jr heavyweight title fight.
Grant Best, SVP original programming & content development at DAZN, said: "Our original content aims to engage fans and bring them closer to the sports they love, which The Making Of captures beautifully."
The Making Of is a DAZN Originals production in association with Archer's Mark, a UK-based creative production company. It is executive produced by Grant Best, with Toby Burnett as executive creative director, DAZN Creative. The series is directed by Dan Riley and produced by Ian Henderson.