As video-on-demand and catch-up become destinations in their own right, five leading digital experts debate how this development will affect broadcasters. Ann-Marie Corvin reports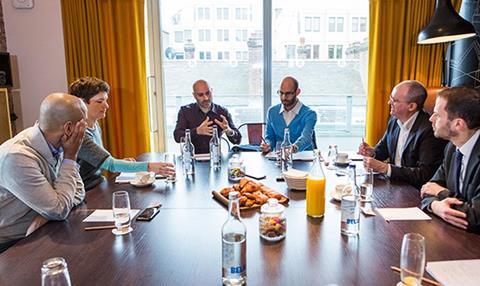 The Panel
Alex Farber Rountable chair and web editor, Broadcast
Nick Thexton Chief technology officer, Youview
Sarah Milton Head of product, All 4
James Tatam Director of digital media and commercial development, Channel 5
Neelay Patel General manager, TV products, BBC Digital
Sef Tuma Chief strategy officer, Accenture Digital Video
Broadcasters are starting to position their digital propositions beyond catch-up and VoD to become viewing destinations in their own right, while the BBC has ambitions to open up iPlayer to third parties. Broadcast asked five digital experts what impact these developments are having on broadcasters and what plans they have to collaborate with and fend off competition from the likes of Amazon and Netflix.
Are broadcasters reaching the point where they become 'digital first'?
James Tatam I wouldn't say we are digital first yet – but video on-demand is placed alongside broadcast in terms of how a piece of content goes out and the way in which an investment case for that content is put together. A few years ago, you'd just look at the overnight ratings figures and maybe consolidated viewing. We definitely consider the catch-up windows alongside that now as they have become part of the economic model.
Take drama series – less than half of the total viewing could come from overnight viewing, with the rest made up of consolidated viewing and VoD. Routinely on My5, VoD makes up more than 20% of the audience.
Sarah Milton We're not digital first but digital is wholly intrinsic to Channel 4's overall proposition. Our foreign-language, on-demand service Walter Presents is a good example – we have 700 or so hours of world drama and some of it is premiered on linear, some of it is exclusive on All 4. This reflects the diversity of consumption and how different audiences choose to engage with C4 in different ways.
Nick Thexton Defining content as 'digital' is a bit anachronistic. Consumers just want to access and enjoy shows. A broadcaster's job is to be ever-present and ubiquitous. From a Youview perspective, this involves bringing online and OTT content together on the platform, alongside linear programming.
Sef Tuma It's less about being digital first and more about making sure you create an organisation that uses digital capability to drive different business models. What are you doing around scheduling, commissioning and marketing to harness your creative power to build a more holistic relationship with your audience?
iPlayer, My5 and All 4 are viewed as channels in their own right. How does this elevated status impact on the rest of the business?
SM All 4 is part of the commissioning department alongside linear channels. There is definitely a collective focus now on seeing All 4 not just as a catch-up proposition, but as a destination in its own right.
The success of our data strategy means that our digital views are worth the same as our TV views. So we're organisationally neutral, which is incredibly liberating for us because it means we can go full-throttle in driving as much viewing as possible and invest in original and acquired content exclusively for All 4.
JT Our experience is that viewing on My5 can be even more valuable for us. It depends on the demographic, but the percentage contribution in profit can be higher than for linear.
You're competing with Netflix, Amazon and YouTube. Do you consider these pure-play operators to be threats to the wider TV business?
JT We are neither complacent nor unduly worried. Netflix and Amazon have built their businesses on broadcast TV. The content brands that they trade and sell to their consumer base have value because they had an airing on free-to-air broadcast television.
These players also advertise their services on broadcast television, so above all else, they understand the power of broadcast to build brands. The continued power of broadcast television, with the other windows that we can now put alongside that, means that television is as strong as it has ever been.
Neelay Patel We don't see them as an existential threat, but nor are we taking advantage of the opportunities as much as we could be. It's another way to reach an audience and generate revenue. Netflix has deep pockets, so in terms of co-production of content, there's now an opportunity to get more shows out there.
ST The interesting thing about Netflix is its immense scale. Because it has all these distribution networks, it has leverage. Right now it doesn't aggregate content from other providers but there's nothing stopping it from doing this in future. And it has a lot of tools that a next-generation aggregator would need, with the ability to provide more scale than any content provider could imagine.
NT Netflix lacks that linear tie, but I'm sure it would love to have a permanent relationship with linear channels. Is there a point at which broadcasters will collaborate more deeply with Netflix as the springboard for moving onto this platform?
I don't know if any of the people around the table would have any interest in doing that, but I'm sure that around the world, there will be a lot of other people who do not have such rich portfolios to offer, so I'm sure we'll see more examples of this.
JT YouTube is a hugely ineffective commercial engine. PewDiePie is the biggest channel – it generated billions and billions of views in a year and he made £7m. It can't support premium content.
SM We've rolled back off YouTube pretty much for that reason. It is still a great platform for us to market ourselves on and to raise awareness of C4 content, but as a commercial vehicle, it's not very effective.
With BBC3 and Walter Presents, British PSBs also have pure-play propositions. How do these sit alongside the linear channels?
SM The key is to find a way of raising awareness of that original content within the context of the overall proposition for All 4. A lot of content that sits exclusively on All 4 benefited from on-screen promotion of the collection alongside Deutschland 83 on C4.
NP BBC3 is an experiment for us, a completely different way of thinking. We have to view it as a content brand as opposed to a route to market in itself. Whatever content BBC3 is going to make at whatever length – whether it's a short-form video, a gif or a tweet – we will look at it and work out what is the best possible way of getting it out to our target audience. That's a different way of thinking and it comes with a lot of attribution, prominence and curation. Do you make a three-minute teaser for something or a five-minute piece for YouTube? We are going to have to play with this quite a bit.
How does the data that you're gathering from digital change the creative process?
SM Certainly, C4's commissioning departments are aware of how their content is performing on All 4 as well as how they're doing on linear. And there are other examples where content has been recommissioned because of its performance on All 4. First Dates is a good example of a show that performed really well on All 4 and has since gone on to really flourish on linear.
NP There's a separation to be made between using data to infl uence what we're going to commission versus what we're going to use to get someone to choose their next show. The emphasis for us is very much on the latter. What does the user choose as the first piece of content they watch and – the big question – what do they watch next?
We need to gather and use all this information without losing sight of what the scheduler brings to an audience's life. The British value a curated list. We're not going to lose sight of that, but we want to add to it.
JT The immediate feedback that you get from the data is valuable, but while it can help you decide whether to do more comedy or more documentary, I still think that 90% of the success of a piece of content is in the execution. Take that as a blunt way of thinking in terms of where to invest, then invest in the best creative talent – because that will make or break a piece of content.
ST Creatives and technologists just don't collaborate in a lot of organisations. Creating that culture in an agile way will result in a winning formula.
tHe PANel oN… tHe BBC'S DAtAgAtHeRiNg StRAtegY
Neelay Patel Data is deeply important to the BBC around routes to market – and making the best of our windowing models. How can we best deliver value across linear, online and on-demand? That's where data is really coming through from our perspective.
But you don't seem to gather data as actively as My5 or All 4 – there's no sign-in, for example
NP At the right time, we will introduce a mandatory sign-in. We're talking about some time in the autumn – we will try to make sure we navigate some of the big moments. Then we can unlock the value, and that will be for all the BBC online services, not just iPlayer. It only works when we unlock the data so that we can achieve a single user view across the entire BBC digital estate. That way everyone – News, Children's, Radio and so on – can benefit, and users can get the full value across the BBC.
Sef Tuma For today's players, it's going to be a hybrid model. Centralise the data. Democratise it. Collect it, mine it and deliver it to the online teams to see how they can use it.
the panel On… the BBC hosting third parties on iPlayer
Neelay Patel There's a strong ambition – one that I'm driving quite aggressively – to open up the iPlayer. VoD has created this interesting audience relationship, where content from different services no longer sits side by side. We make the user shut down one application and open up another if they want to move from one broadcaster to another. Is there a way that we can help audiences move beyond that?
Would C5 and C4 be interested in having their content distributed via iPlayer?
James Tatam Any outlet that helps us reach audiences that we wouldn't otherwise reach is of interest, but as a PSB and a territorial broadcaster, having our own relationship with audiences is critical to our strategy. There would probably be a proposition that we would design for third-party affiliate distribution and one that we create for our own relationships, which might be slightly different.
Sarah Milton We wouldn't rule out anything, but right now, we're focused on building our own direct relationship with our audiences, which is distinct and unique. Yes, we are a live TV operator and yes, we are catch-up, but we also have a huge depth and breadth of content and box-sets, a deep archive and, increasingly, a focus on original and acquired content. Obviously, being a commercial model, the proposition that we bring to advertisers is also different.
Alex Farber Didn't Kangaroo try to do something like this until it fell foul of competition rules – are you allowed to try to do that again?
NP We believe it is worth revisiting.
SM It's a slightly different proposition as well, isn't it? There's a difference between all the main broadcasters coming together and doing something and the BBC offering up its platform.
Nick Thexton The reason why you might be allowed to try it again is because partnerships like this will start to happen around the world.
THE PANEL ON… THE LIVING ROOM SCREEN
Nick Thexton The view in the living room is still significant in the way that people want to watch content. From a broadcaster's perspective, it would be quite a foolish strategy to ignore the living room.
Neelay Patel The living room is our highest priority: 34% of viewers access their living room screen to watch iPlayer – that's three or four times more than mobile. It's our fastest growing platform.
What's behind this growth?
NP It's the best screen in the house and it's catching up with what we can do on web and mobile.
Sarah Milton The key for us is to ensure that the All 4 proposition on those big screens is as easy, convenient and seamless as possible. When you're on the sofa of an evening, yo u don't want to have to think too hard.
NT People don't want to interact with TV too much. Everything you do is constituted in 15 seconds of decision-making, and if you are exceeding that window, you are taking up way too much of people's time. It's game over.
James Tatam It annoys me when companies like Apple say 'the TV experience is broken – let's fix it' by having you navigate around loads of buttons. The experience can be perfected, enhanced and expanded, but it's not broken.