Young filmmakers reveal the challenges they face industry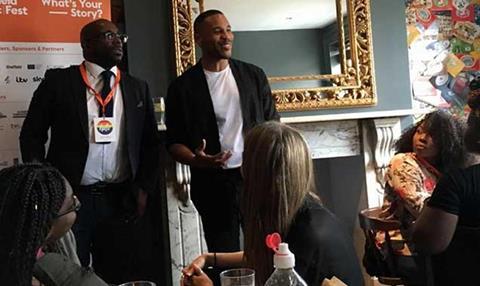 Execs from the BBC, Channel 4, Vice, Pulse Films and The Guardian have met with 20 young filmmakers as part of a Sheffield Doc/Fest initiative that served as a "wake-up call" around the challenges of breaking into the industry.
Conceived by presenter and film-maker Reggie Yates, the inaugural Doc/Dinner was held on Monday (12 June) and offered guidance to attendees about getting their work made and seen.
Yates struck upon of the idea after attending the festival for the first time in 2016, and noticing the lack of opportunities for young talent to receive mentoring in informal settings.
When festival director Liz McIntyre asked Yates what he might do differently, he suggested a casual networking dinner.
"There are a lot of young people who want to be in this world but don't know how to get into it. They don't necessarily feel included," he told Broadcast.
This year's event featured six decision makers, including The Guardian's head of documentaries Charlie Philips, Pulse Films managing director of unscripted television Emma Cooper and Vice UK digital programming exec Eloise King.
Yates said the event was "a massive wake up call for some [commissioners] who think they're accessible and attracting the right kind of talent, when that might not necessarily be the case".
Yates hopes to make the dinner an annual event, and also plans to establish daily mixers. "Having spaces that attract young people to this festival will bring together new voices and decision makers in an organic way," he said.
BBC3 executive editor Max Gogarty told Broadcast he was surprised by the number of participants who felt it was challenging to work with or for the public broadcaster.
"Someone was talking about how hard the BBC's application system is and how that was a barrier for them," he said. "I see the amount of new talent BBC3 has been bringing in through the production schemes or new directors schemes, but I take it for granted that there's such a massive industry out there that we probably aren't aware of."
Gogarty said the initiative "gave him faith in the next generation of filmmakers."
"We want to make it really clear that BBC3 continues to back new talent," he added. "Now that we're online there are many more opportunities both on- and off-screen because it's easier to take risks."
Right place, right time
Rosa Galvin, a 24-year-old Grierson Trust DocLab trainee who took part in the Doc/Dinner, has been trying to get various production roles in the industry for two years.
She said the industry is becoming "way more accessible" through assorted training schemes but that broadcasters such as the BBC remain extremely difficult to penetrate without the right connections.
"A lot of people feel the BBC is really, really unapproachable," she said. "Definitely on the course I've taken, they drum it into you that you're not going to get a pitch [accepted] straight away."
Similarly, another Grierson DocLab trainee, 22-year-old Damali Lawrence, said: "Having this access and these opportunities comes with being in the right spaces or being associated with the right groups, schemes, people and mentors. It is difficult."
Lawrence, a University of Huddersfield broadcast journalism graduate, said the dinner has given her "more hope" to pursue a media career.
"It's been wonderful to get to know everyone," she said. "If you use that inspiration and channel it correctly, it can be a driving force."