Diversity panel discussed emerging opportunities for minorities, defying stereotypes and pushing boundaries.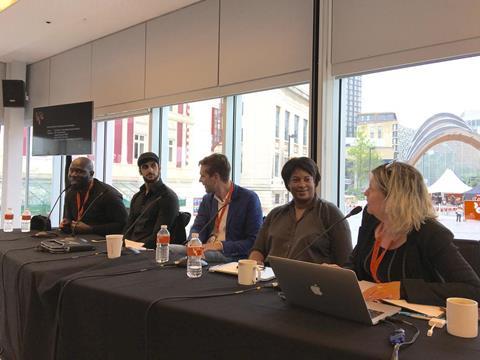 YouTube is offering fresh opportunities for minority voices to gain a foothold, was one of the main takeaways from Sheffield Doc/Fest's Diversity in Documentary panel, which took place Sunday (June 12) in the Adelphi Room at the Crucible Theatre.
Moderator Ruth Berry asked the group of four panelists – South London-born stand-up KG Tha Comedian, US actor-filmmaker-producer Ahmad Saadaldin, US documentary producer-director Dawn Porter and Joseph Maxwell, commissioning editor at Australia's public broadcaster SBS – their opinions on increasing diversity in film and television while maintaining engaging and effective programming.
KG Tha Comedian credited YouTube for his initial success. The sketches he created for his YouTube channel allowed him to "freely speak my opinions", and the popularity he accrued there led to presenting roles with shows including Channel 4's science-based series Futurgasm.
"When I was growing up, there wasn't much diversity on television; that put a lot of pressure on the one diverse actor in the show. I didn't always identify with that one person. So I decided to create my own voice," said Mokgadi.
"Sometimes I am asked to do things I don't like, such as 'behave more street', but you also have to play the game a bit," he added.
"I may not like everything I am asked to do, but I know I am representing a larger community of people who now have the example that a black man can be a comedian, that they can achieve what they want."
Porter downplayed her role as a black female director and instead put the focus on engaging programming.
"Diversity is important, but rather than put focus on a forced rainbow of characters, I want to put the focus on an attractive story," said Porter, whose 2013 feature debut Gideon's Army followed three black lawyers working in the American South. The film won Sundance's Documentary Editing Award in 2013, and was also nominated for an Independent Spirit Award for Best Documentary Feature.
"I tried hard to create a film where the main protagonists are seen as interesting people. Maybe viewers went in to the film initially seeing these three men as black lawyers, but hopefully finished the film seeing them as three talented lawyers."
Porter also praised YouTube for giving rise to a range of ethnic programming and presenters, supporting the argument that audiences are hungry for diverse content.
"When I was pitching a show to a network, they said global audiences were not interested in black characters. We know from YouTube this is not the case," she said.
Defying stereotypes
Saadaldin addressed the difficulty of overcoming stereotypes in casting, citing one casting director who told him that he had to work his way up with character roles such as terrorists and cab drivers before he could be considered for leading roles.
The Florida-based actor said he would not let his "brown skin and big nose" stop him from being considered for "positive" leading roles.
"If I were to deny people from hearing real stories, that would not be the truth. Plus diversity is more interesting, it can change the world," said Saadaldin, who is developing a historic TV series about the 12th-century Muslim leader Salahadin Al-Ayoubi (aka Saladin).
He has raised $84k via Kickstarter funding, and is pitching Netflix for further funding.
Through his production company Peace House Production, he also creates content via YouTube around stories that help prompt change.
Pushing boundaries
Maxwell said the challenge was creating content that engages with Australian audiences but also supports diversity.
"Although around 30% of Australians have parents from other countries, and there is a large indigenous population, [commercial networks] find many audiences don't want to watch content with subtitles," he said.
Maxwell has been focusing on reality shows that embrace multi-culturalism, but claimed that rival commercial rivals can face difficulty getting sign-off for formats that hadn't already been proved successful in the US or the UK.
"You risk a fine line of how to stay relevant. If people aren't watching you, the government will shut you down," he said.
Riskier programming on his station has included documentaries around fiery politician Pauline Hanson and LGBT issues.
"We have to try pushing boundaries, it's important to educate audiences," said Maxwell.