Key scenes for Sky and HBO's first full co-pro are being shot at the giant Ignalina power plant in Lithuania. Gabriel Tate reports from the set
Production companies Sister Pictures; The Mighty Mint; Word Games
Commissioners Zai Bennett; Anne Mensah
Length 5 x 60 minutes
TX 7 May, Sky Atlantic
Co-executive producers Carolyn Strauss; Jane Featherstone; Craig Mazin; Gabriel Silver
Executive producers Chris Fry; Johan Renck
Director Johan Renck
Producer Sanne Wohlenberg
Writer/creator Craig Mazin
Post houses DNEG TV (VFX); Technicolor (picture); Boom Post (sound)
"It's not a normal shoot day when you turn up to work, hand over your passport and they keep it," says screenwriter Craig Mazin, adding: "The size of this place is astonishing – I could understand how Chernobyl felt almost too big to fail."
'This place' is Ignalina, a Soviet-era nuclear power plant in Lithuania that, unlike its sister station Chernobyl in modern-day Ukraine, is still intact (although its decommission is one of the conditions for the nation's entry into the EU).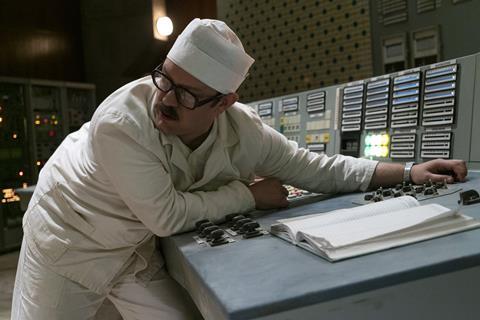 It is also the site for the final week of a five-month shoot on Mazin's five-part drama Chernobyl, which dramatises the catastrophic explosion of one of the reactors during a safety test at the plant in the early hours of 26 April 1986, as well as the ensuing fallout, clean-up and cover-up.
"We thought we wouldn't get access to Ignalina, but after 18 months of negotiations, they agreed," says executive producer and Sister Pictures founder Jane Featherstone.
"It's a military zone and the officials were concerned about terrorism. Even visiting takes two hours to get dressed properly, be decontaminated and so on, and doing that with cameras and crew was a mammoth undertaking. They even let us into the reactor room with two or three actors for a short period."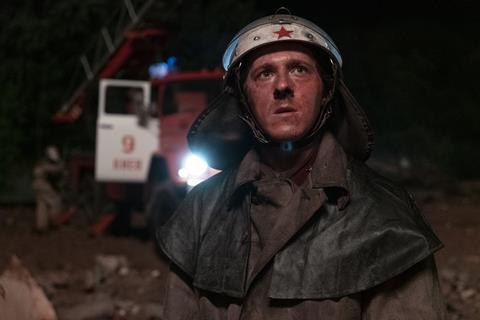 "That adds scale," says production designer Luke Hull. "You can't put a price on it. It's not about the overall geography [of the station], but the language of aerial walkways carrying overhead cabling, concrete pillars and these enormous reactor buildings. Some of the corridors are probably 1.5km long – we could not have built that."
Mazin's project demanded such scale that the series needed not one but two behemoths behind it: Chernobyl is the first full co-production between Sky and HBO following a $250m (£193m) agreement struck in July 2017.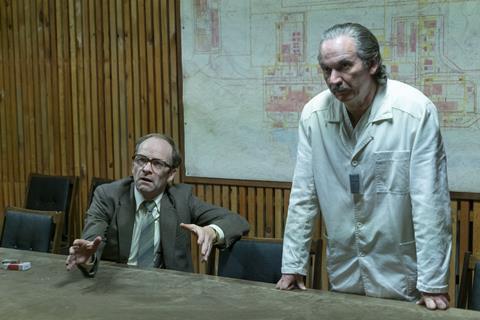 "HBO commissioned a script and we got Sky on board very quickly to help fund and support it," says Featherstone. "The only question was how to realise something of this scale on a budget, but there were no creative compromises."
With 102 speaking parts, Chenobyl tells the story through the scientist Valery Legasov (Jared Harris) and apparatchik Boris Shcherbina (Stellan Skarsgård), charged with handling the immediate aftermath and lengthy clean-up, but also through almost a dozen other characters, from firemen to locals to the 'liquidators' who took part in the clean-up.
Mixing fact and fiction
Mazin's screenplay draws heavily on the oral history book Voices Of Chernobyl, with a mix of real and fictional characters. "Every now and then, one of the liquidators in those stories would say something like, 'I've never felt more alive than when I was in the contaminated zone'," he says. "Their lives had a purpose and there was a camaraderie."
Mazin says that, like most people, he was aware of the destruction in Chernobyl but didn't know why it had happened. "What I thought was a story of an exploding nuclear reactor was, in fact, a story of the absolute worst and absolute best of what humans are capable of doing."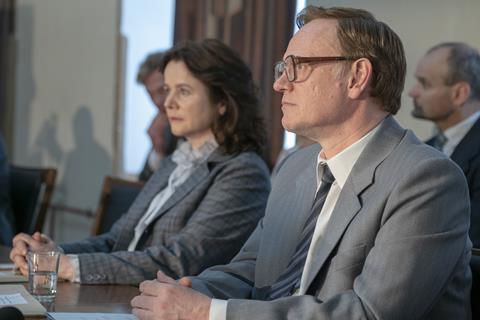 If the best was the sense of community and mission, the worst was the cover-ups and lies perpetuated by a failing Soviet administration desperate to save face. These twin strands allow the series to work its way through several genres: disaster movie, action film, horror, political thriller and courtroom drama.
"This story is a succession of turning points," says Mazin. "The constant re-evaluation of what happened and what it means is one of the hallmarks of the Chernobyl story: every time you think you think you're on top of it, something new, absurd, terrible or unexpected occurs."
Such a complex, multi-faceted story required a steady hand and a clear vision. "I didn't want to do it at all," admits Johan Renck, the series'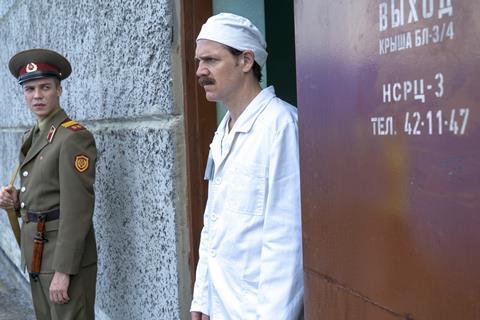 Swedish director, whose wife gave birth to their fourth child in the Lithuanian capital Vilnius during the shoot.
"I'd just come back from shooting The Last Panthers in eastern Europe and wanted to shoot something in the Mediterranean, but I'm drawn to dark, relentless human tragedies. I remember Chernobyl happening – the north of Sweden got a big dose of radiation and is still dealing with it.
"The subject matter was intriguing, and the team was great. I wanted to place the audience right there, for it to feel experiential and authentic."
One of Renck's key lieutenants was costume designer Odile Dicks-Mireaux. "We found a tailor who had trained as an apprentice in a factory in the 1980s," she says.
"Poly ester reigns in this show, which delighted Johan. He wanted it ugly, which is a great bonus for a designer, but he also wanted everyone to look distinct as far as possible, so we've got plenty of variety with the military gear, from daily to dress to field uniforms."
Other key sequences were filmed in and around Vilnius, with the suburbs doubling for the town of Pripyat, built in the 1970s for Chernobyl's workers and their families and belatedly evacuated in the wake of the disaster.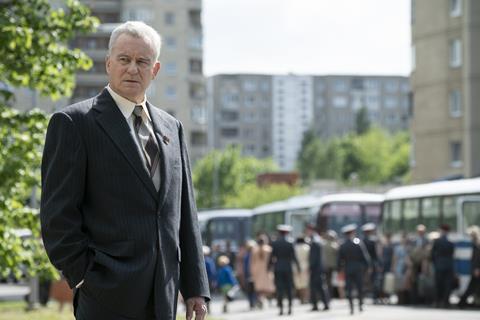 "We managed to close down a few streets to film the evacuation," says Hull. "Lots of places have those familiar Soviet blocks, but this area has the utopian feel of Pripyat, with sculptures and fresh flowers."
Otherwise, everything from the plant control room and system of ducts and pipes underneath the reactor to the Kremlin interior and assorted apartments was built on soundstages and studio backlots.
"It was a big undertaking, but it felt like an important story, not least in tackling the idea that we ignore scientists and experts at our peril," says Featherstone.
"This thing was created by humans but got out of our control, in part because of human error and systemic corruption. With our own democracy in a fragile state, it's a wake-up call."
CREATING RADIATION BURNS
Daniel Parker - Make-up and prosthetics designer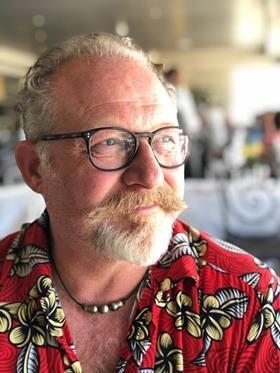 I'm incurably curious and like to understand things, but I was very specific about how I wanted to approach this job: it had to be based on absolute truth and be respectful to the people who died, because we were depicting the effects of radiation from the beginning through to the final stages.
First, you have the superficial thermal burns that take the skin off and cause blisters to appear. Radiation burns are like severe sunburn, but these burns come from within as well. The first things that fall to pieces are the softer tissues, like those just underneath the skin in the ears, up the nose and inside the mouth. Then it attacks the surface as well.
What eventually happens is that the tissue under the skin turns into jelly and the skin literally slides off. It's a very grisly death, like pouring salt into a slug's mouth.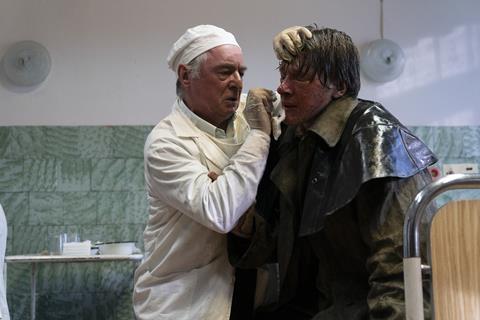 I wanted to have all these colours coming from underneath the skin, which is itself almost dead. We put false tattoos on first and then layered fake skin on top which was clear in some places, opaque in others. I wanted to show colour coming from underneath, so when the skin touched down, it would show the tattoo completely in some places, partially in others.
SHOCKING RESULTS
I broke several rules and, on a couple of occasions, I shocked myself. It really looked like the images I saw during my research. I felt I'd achieved what I wanted to, which was great because you don't always feel that.