Fuelled by an influx of SVoD investment, drama is on a high but how much is this success benefiting producers? Our seven-strong panel discuss the issues they face.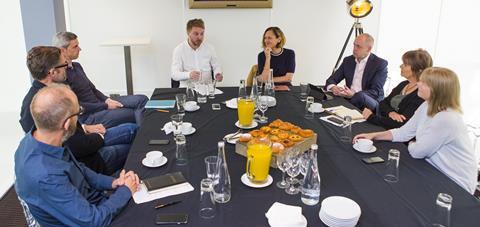 As high-end British drama is helping to fuel a global scripted boom, some of the UK's leading producers discuss working with Netflix and Amazon as well as newer players including Apple and YouTube Red; the impact of the drama tax credit; diversity in drama; and dealing with new and established writers. They also predict the trends for 2018.
What are the main challenges for drama producers in 2017?
DIEDERICK SANTER (Chief executive, Kudos) The brilliant competition. There are so many players in this country and others, there are individuals splitting off from bigger companies, agents turning producers, Americans coming over here, and film producers moving into TV. That makes for an interesting challenge.
Also, there's more money and budgets have gone up, which is great for the high-end shows. But when you're trying to make a smaller, local piece with less lavish funding, that can be a real challenge. We haven't made anything for less than £1m per episode for some years.
There's also huge competition for talent, for great writers and producers. It used to be the case 10 years ago that you'd summon a writer – but it doesn't quite work like that anymore.
HILARY SALMON (Head of drama, London BBC Studios) Trying to find the newer voices that are going to replenish the stock of writers, because a lot of the people we all used to work with are now working in the States.
It's our responsibility to find new voices, which is hard when you're spending big money and trying to secure big backers.
All of you are working internationally. How are British drama producers viewed on the global stage?
GARETH NEAME (Managing director, Carnival Film and Television) Fifteen years ago, if you did the rounds in Los Angeles, people would say: 'We've got no interest in a British subject or a British writer.' That's not the case anymore.
KATE HARWOOD (Managing director, Euston Films) People used to ask whether we could deliver the production values but that question doesn't arise now. It's clear we're working on an international scale.
HS When we made Criminal Justice 10 years ago with Peter Moffat, we only had a police station, a prison and a courtroom. We made it for a ludicrously small amount of money – around £850,000 an episode, maybe even less.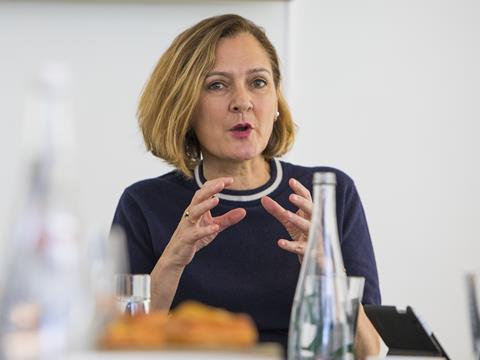 Ten years later, we made Undercover. It's set in America and has a huge cast – that's a metaphor for the change. Look at The Missing or The Night Manager.
Now we can say to writers: 'You can set something half in France or some glossy location around the world because the money is there now.'
JAMES PENNY (Commercial director, Mammoth Screen) Before, if a writer came to you with a bonkers idea, you knew you were never going to get the money unless HBO looked kindly on you. You'd probably not even start it. Now you can do it.
NICK BROWN (Director, Neal Street Productions) There will be someone out there to partner with if the writing is good enough and it's a strong enough idea. There's a distinction between the more traditional US cable networks and the SVoD services.
We never did much with the US broadcast networks – we worked a little with PBS and occasionally with HBO or Showtime. But in the past couple of years, the SVoD platforms have stepped up. It feels Amazon and Netflix are investing in a much broader range of shows, and that's been really transformative.
KH They're setting up bases in the UK and want European productions. We're developing something with one of our European partners for Amazon Europe.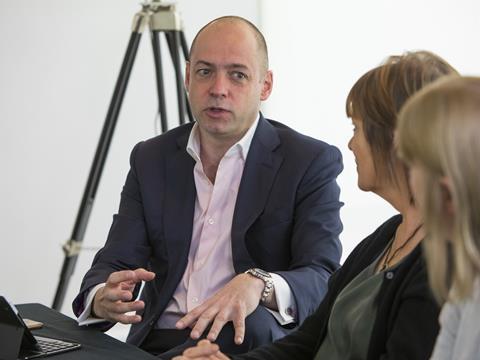 NB I used to think they were another US player but they're not, they're a global player.
KH Netflix and Amazon seem to be relaxing the kinds of relationships that they're having. It's not quite a buyout so that you can't ever sell the show again – they know there are different ways of doing things.
GN There was a real sweet spot for about 18 months around 2012 where your finance plan was based on your UK licence fee and an estimate of the rest of world sales; there was no SVoD in the finance plan. Suddenly, it came in and it was quite a big injection.
Now it's all in the business plan, so it went from being upside to a crucial part of the planning.
Does the way you develop or produce for the SVoD services differ to traditional broadcasters?
GN You have to have a script. They will only react to a script, as opposed to the traditional model where you'd bring them an idea or have a conversation.
KH But I think that will change and they will develop more. They felt they were missing out on shows by not developing.
GN I agree. We're working with Amazon on something now that they're funding the development of.
Amazon content boss Roy Price warned British broadcasters that they'll need to increase their tariffs to stay involved in co-productions, something Channel 4's Jay Hunt called 'chilling'. What are your thoughts on this?
JP In our experience, some of the SVoD platforms have been quite appreciative of what the BBC, ITV and C4 have been doing, and they know what represents a good rate from the BBC.
They understand the pressures it is under, so while the SVoD partner might be paying more, they aren't that grumpy.
Where they see British broadcasters, in their opinion, reducing rates and trying to get a show on the cheap, that irritates them.
HS They respect the quality control that British broadcasters impose on shows. It's not just about the money.
How has the introduction of the tax credit changed UK drama?
HS For years, rates for crews have been kept down because the funding wasn't there. The tax credit allowed the whole industry to relax a little and everyone to be paid a little more.
JP Despite the influx of money, particularly from SVoDs, the tax credit still bolsters much of what we do. Easily 70% of shows are bolstered by the tax credit – like Victoria (pictured), Poldark and Endeavour. Without it, drama in the UK would be very difficult to do.
GN We all grew up [as drama producers] in an age where we did things on the cheap and every deal we made for every service or location was discounted. Finally, we are spending the right amount of money.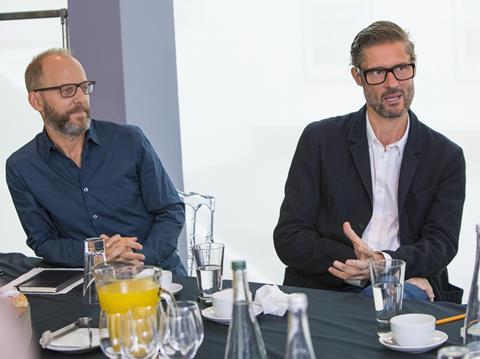 New things are achievable within television, such as drones and VFX. Is it is here to stay?
GN You can never take it for granted.
JP If it was taken away there would be a drain of production to Europe. We'd be in trouble.
NB You can't take it for granted but it doesn't feel like getting rid of it is anywhere near the top of anyone's agenda.
What do you make of even newer players such as Apple and YouTube Red moving into the scripted space?
HS We're meeting Apple soon – we probably would [work with them], it depends on what they're after.
NB It's great we've got a multiplicity of options and people to sell to.
DS With Apple and YouTube coming through, any idea, of any shape or size, is valid. It might be tiny shorts on Snapchat, £10m an episode for Netflix like The Crown, a two-parter from the BBC.
It's great we can now set things in the past, in space or in the future. You used to have to think very differently, in terms of slots and shapes.
Now, as long as it excites you and the creatives, anything goes – and you might find a buyer.
GN Previously, after being told 'no' two or three times, a project was dead. Now it's 15 times.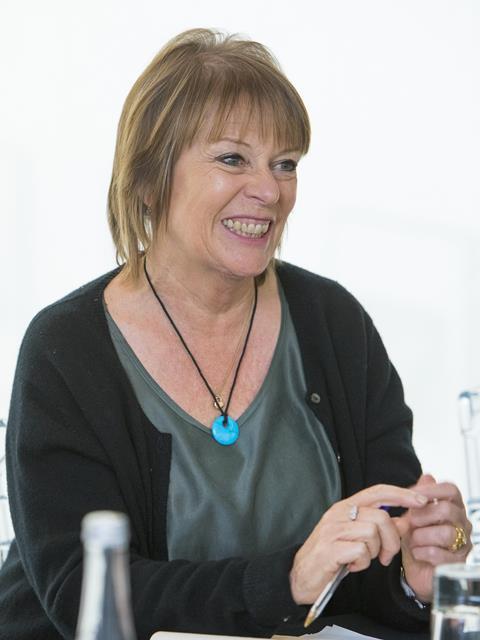 HILARY BEVAN JONES (Founder, Endor Productions) Our relationship with Europe has also changed; we used to think 'ugh', it's a Euro pudding, but now we've got two or three things in development in Germany and France, which is great.
KH That's because dual language is now accepted. The show we're developing with Amazon is dual-language.
HBJ We're doing Fox Network Group's first original drama [Deep State]. It's been fantastic because unlike some of our other projects, where we have lots of partners from America or distributors, we've got one boss.
[Fox execs] Jeff Ford and Sara Johnson are the only people we talk to and we've been filming in Morocco and the UK. It's like having a helpline. It makes the decision-making so much quicker.
What's the current state of drama in the UK? Are you happy now that all of the drama controllers are in place at the BBC, ITV and C4?
DS It was pretty hard going to keep things moving while the musical chairs were taking place, but the trains are now running more or less on time. They seem to know what they want.
The big challenge, particularly at the BBC, is how, in this world of change and scale, can domestic shows get made without our heads being turned by the riches.
If you look at what's broken through recently, it's shows like The Moorside and Three Girls.
NB You would have struggled to sell those domestic shows like Happy Valley to an HBO but the Hulus and Netflixes and Amazons are investing in them because they like the fact that they are authorial.
There's now an incredibly long waiting list to work with the UK's top writers. How do you avoid a logjam?
HBJ It's all about personal relationships. If you've grown up with a writer then you have that creative relationship. I don't know Jack Thorne. I'd be 19th in the queue.
HS There are quite a few writers that only have one or two UK homes and feel very strongly about that, while others are more eclectic in their choice of partners.
KH Promiscuous, you mean.
NB Mike Bartlett came from the theatre, Jez Butterworth had never written for TV before, so we are expanding sideways.
We are working with some completely new writers from LA and we can also go out and find people from a wider pool. There are ways of doing that as well as having established relationships.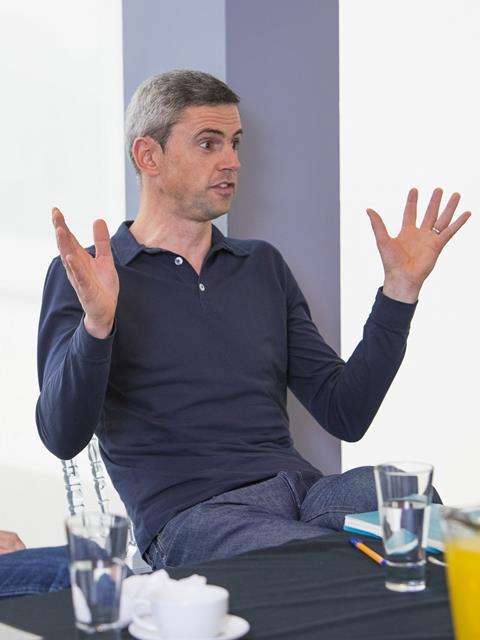 JP One interesting element is that most writers have been exec producers in spirit for a long time. They want to work with producers who will listen to them.
KH It's often about finding big bits of IP or concepts that they want to work on and knowing which writer to bring it to.
GN They're all busy for up to three years so you have to find the thing that they'll make themselves available for.
Then a project jumps to the front of the queue. That's the holy grail.
KH There was a time that telly couldn't get novels. They just sat in film studios and didn't get made. Now people are assuming they will go to TV first, which is great.
HBJ Some authors, like Neil Gaiman, want their books on television more than being made into films because there's more story.
KH Look at Birdsong. That was going to be a film for 10 years and then found its way to TV.
DS We're beginning to option books that came out five or 10 years ago and went to a film company and didn't happen, because the narrative was too serialised. They are much better served by TV.
JP Publishers are starting to come to TV companies more.
How much of your development slate is original ideas versus existing IP?
KH Of our three projects, one is an original idea by Neil Cross [Hard Sun], one is based on a source book and one is based on a novel.
HS The Handmaid's Tale wouldn't have made it onto TV if it hadn't been a Booker prize-winning novel, albeit 30 years ago.
GN Ten years ago, it would have likely been a single drama.
HS We looked at it 10 years ago, and decided at most it would be three parts.
GN A huge part of it is our creative teams generating a huge number of ideas and going out to writers. Writers are like sponges, waiting for ideas.
HS Sometimes it's hard to attract writers to [books] because the story has been told, whereas if it's a territory or an idea, you can strike gold.
GN I went to Bill Gallagher saying I wanted to do a frontier show about the first Brits going to Virginia and he said he'd always wanted to write a Western. That became Jamestown.
How willing are the UK broadcasters to take risks with new writers?
DS It's hard to sell a quite out-there idea from someone new. For a broadcaster to 'get' a project from a newish writer, they need a script. But they share our concerns that we've got to bring people through. We just have to show they can do it.
HS Sometimes it depends on the scale of the show. If it's a three-parter and you have episode one with two great storylines, it's not much of a risk. If you're talking about a six-parter and it's a returning series, you might think: 'Has this writer got the experience to pull it off?'.
NB We had this with [forthcoming BBC1 drama] Informer. The BBC was excited to work with writers that came from a different world and had written something it thought was amazing.
DS There can be informed risk. We worked with a writer in his 50s, Patrick Gale. It's his first original screenplay and as far the BBC and I are concerned, he's a new screenwriting talent.
Are you finding enough diverse writing and production talent?
HS It's interesting how many writers from a diverse background are coming through. There's a little cluster of names that are gaining currency. People writing scrips on spec, playwrights, people who have been to film school.
There's a whole new confidence in the new generation of BAME writers, which is incredibly exciting.
GN It can be challenging because if you're looking at senior grades, it can be harder to fill posts. But it's only through doing it that it will change.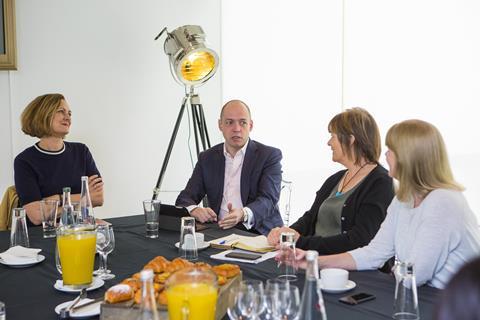 NB Informer has a very diverse cast and we've made a big effort to ensure the crew is as diverse as possible. We've managed a reasonable number but it's been quite hard to find people who are available now, and even harder at senior levels.
I think we might have the only diverse production designer in the country.
DS We shot The Boy With The Top Knot in Birmingham earlier this year. Exec producer Nisha Parti made it a requirement of every head of department to have at least one brown face in the team. I think we might extend that to some of our other shows.
KH Idris Elba used to do that on Luther. He would say: 'I don't want to be the only person on set who looks like me'.
What will be the trends for drama in 2018?
HS Collectively, we'll probably be making more shows for non-UK broadcasters.
NB It feels like we're on the cusp of looking at whether we take a show to a UK broadcaster and then the US, or go straight to Amazon or Netflix, because they've got a global footprint. A year ago, we said we always wanted a link to a UK broadcaster because that's our home and culture, but that's shifted over the past year.
KH We have opportunities to be so much more flexible than we used to.