With my background in documentaries, truth and accuracy were key to dramatising the world of counter-terrorism – but we had to 'smuggle in' some heightened elements too, says Ben Chanan
Production companies Heyday Television; NBC Universal International Studios
Commissioners Piers Wenger; Charlotte Moore
Length 6 x 60 minutes
TX 9pm, Tuesday 3 September, BBC1
Executive producers David Heyman; Rosie Alison; Tom Winchester; Tom Coan; Ben Irving; Ben Chanan
Writer/director Ben Chanan
Producer Derek Ritchie
Post houses Molinare (picture and sound); Framestore (VFX)
The Capture is fiction, and it involves science, but it's not science fiction. Everything that happens in this show could happen.
That's not to say our story isn't, at times, far-fetched. After all, there's no point making a 'what if ' drama if the 'what if ' doesn't imagine a dramatic worst-case scenario.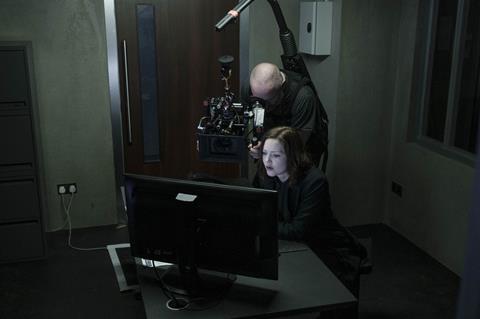 Our series asks what happens if we can no longer trust video evidence, and we track that question to its most extreme outcome. As I prepared to shoot, I needed to figure out how to visualise a story where the extraordinary happens to ordinary people. The answer, it turned out, was to go heightened – but just a little.
The groundwork was laid during my time in docs, filming with counterterrorism police, so when it came to dramatising that world, it made sense to aim for doc-level accuracy. I even roped in a detective with encyclopaedic knowledge of counter-terrorism. Some notes: Brits don't say, "copy that", they say, "understood"; a frame grab is a 'smudge'; and MI5 operatives are known as "the Toads of Toad Hall" because they're "slippery".
Our two leads shared a passion for all things truthful. As detective and soldier, Holliday Grainger and Callum Turner threw themselves into their research, shadowing their real-life counterparts. Their commitment was invaluable and in rehearsals I felt like I had a real cop and a real soldier with me. For a former docs director, it almost felt comfortable.
But what decent work ever came from being comfortable? Our story, with its ambitious twists and turns, demanded something more than vérité. The show would still feel rooted in the real, but it needed room for expression and to pave the way for surprises.
Production designer Tom Bowyer and I discussed 'smuggling in' the heightened. This first meant establishing a grounded tone – police stations brimming with messy detail – then the heightened elements would grow from that naturalistic base layer.
They came in the form of Tom's dazzling 360-degree counter-terrorism command set and in costume designer Hayley Nebauer's hero outfits: Holliday's valiant green jumpsuit and her nemesis's shady costumes, worn by the wonderful Lia Williams. They also came in the casting of US legends Ron Perlman and Famke Janssen and, of course, in the cinematography.
DoP Rasmus Arrildt didn't bring mood boards to the room, nor images ripped from other people's movies. Ras brought in photographs of his own, and I soon found myself captivated by what the look of The Capture would be.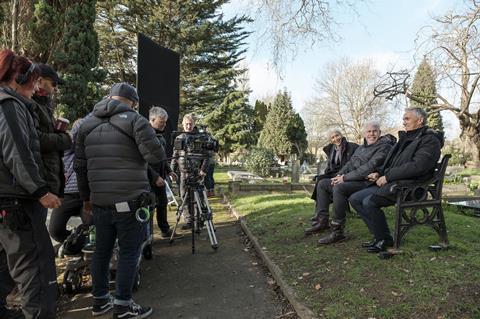 Here was concrete, brutalist London lit up with expressive flourishes of bright colour. There was nothing grim about it; there was beauty, yet a raw, uncompromising honesty too.
Ras and I discussed a broad lighting plan during prep, but once on set, we rarely talked about it. He lit and I liked. One freezing night we were setting up for the most critical scene of the show: the event that triggers everything – a moment by a bus stop that would be returned to throughout the series.
Ben Chanan - My tricks of the trade
If you want 100 extras, tell production you need 200.
Work with people you like. Finding good rapport with someone is more important than their credit list.
Be pragmatic. We're fed the model of the Kubrickian director who makes no concessions for his art. But this is TV – pragmatism will get you through the day.
Stay awake on tech recces. They are so dull and it's easy to lose focus, but it will come back to bite you. Turns out you need a road closure just to fart in the street these days.
Don't take tips. Find your own way.
If that wasn't enough pressure, I needed to cover the sequence that night because the location was being knocked down the following Monday. As I nervously blocked, Ras was lighting. I hadn't noticed it until a young member of the crew on work experience asked: "Can I ask, why the green?"
I turned around. Ras had hung lamps from the bridge, casting pools of green light on the road and I didn't have a clue why. All I could think was: "That looks weird; definitely exciting, but weird. Do I go with it? Isn't there a lot of green in Vertigo? Shall we say that's an influence?" The crew member waited for a response. To my shame, I heard myself shrug: "If it doesn't work, we'll fix it in the grade."
I would never have arrived at the bold choices Ras brought to the party. I'm supremely grateful for them, as I am with all the inventive choices from my exceptional HoDs and their teams.
It was only in the edit that I realised why the green: Ras had remembered the lighting plan and he'd delivered it in the most dynamic and thoughtful way. We did good things in the grade, but we certainly didn't fix that.
FILLING DOZENS OF SCREENS WITH CONTENT
Derek Ritchie, producer
In the early days of prep on The Capture, it was clear to me that this project had some key USPs that were going to need a tailored approach. The first of these was the screens – lots of them, in various sets and locations, in multiple formats and depicting all manner of images from different sources.
The second was having one writer and director working across all six episodes – a monumental task for Ben Chanan on a modern television schedule.
One of our very first hires was surveillance director Mark Doman. He leaped at the opportunity to become hard-wired into this project. He's an artist working in digital media, with a penchant for surveillance culture, and through the years has created art installations on that very topic.
Ben and I were keen to explore the aesthetics of CCTV and its representation in the series, and Mark was central to that – bringing a unique sensibility to hundreds of shots.
We wanted to play in material as much as we could rather than rely on screen comps in post. Not only would that have been expensive, but it would have restricted our shooting on key sets, such as the mothership, which features more than 70 screens. Plus, as so much of the drama relies on characters reacting to what they see on screens, we wanted to allow the cast to engage with a play-in rather than a green screen.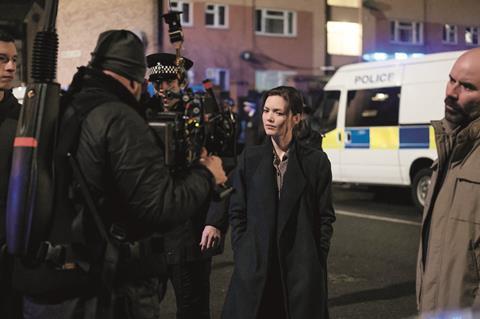 With Ben directing all six episodes, we took a holistic approach to scheduling those key sets. We shot all episodes together, rather than carving them into episodic blocks, and we scheduled those sets that relied most heavily on screens at the end of the shoot.
This allowed both Mark and Ben, together shooting the 'hero' pieces of CCTV, to amass a wealth of material that we could then process and play in with the help of a team from Compuhire.
The result was very satisfying for cast and crew alike. Walking into a fully functioning mothership set – a cocoon of screens – was an arresting experience.