For series two of Tiger Aspect's India-set hospital drama, freshening things up without losing what made the show a hit is key for the producers. Olly Grant reports from the Sri Lanka set
Production company Tiger Aspect Productions
Commissioner Victoria Fea
Length 6 x 60 minutes
TX March, ITV
Executive producers Will Gould, Lucy Bedford, Frith Tiplady, Dan Sefton
Producers John Chapman, Jeremy Gwilt
Directors Alex Winckler, Lisa Clarke
Writers Dan Sefton, Ben Edwards, Nicola Wilson, Gabbie Asher
DoP David Marsh
Costume designer Eleanor Baker
Production designer Debbie Burton
Editors Laura Morrod, Amy Hounsell
Unawatuna, Sri Lanka: It's 30°C in the shade and Tiger Aspect's Lucy Bedford has just taken a breather in the garden of the Good Karma Hospital.
From here, the view takes in a tuk-tuk, some chapatis cooking on a hotplate and a skittish chipmunk – though it's not always clear where the line between set-dressing and real life begins. "Yesterday there was a huge monitor lizard on set," Bedford muses.
A guest artist? She laughs. "No, just a random visitor."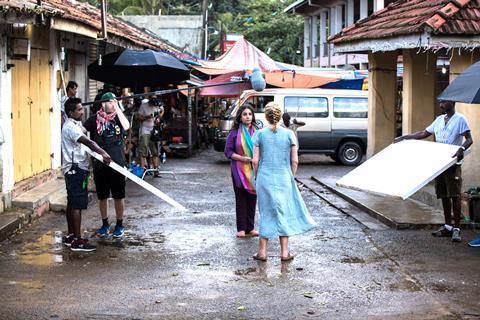 Call this one of the bonuses of crossing five time zones to establish a unit base: filming in Sri Lanka, you get a certain amount for free. ITV's medical drama – set in India but shot on the south coast of its island neighbour – outstripped expectations last year, up 25% on the channel slot average with 5.4 million viewers.
So, 12 months on, the team find themselves back in Unawatuna with what Bedford calls that familiar second-season poser: "Keeping the continuity, but looking at how you evolve and grow the show, and make sure it stays fresh."
The first way they've done that, Bedford says, is to double-down on their core personnel.
Not so much the crew, since quite a few of the second series' HoDs are new ("new production designer, costume designer, DP, directors, two new writers, and me") but the cast, which ranges from household names Amanda Redman and Neil Morrissey (as a senior doctor and bartender respectively) to relative newcomers Amrita Acharia and James Floyd (young medics at the titular hospital).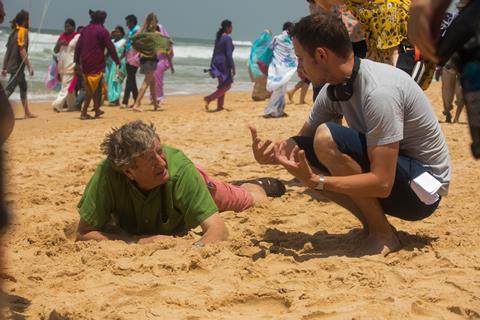 "We made a decision not to bring any new regulars into the mix, because we felt we had some really strong characters and we wanted to explore them a bit more," Bedford explains.
Nor were they tempted to push the format in a cameo-of-the-week direction. "I think there's a version of this show that could do that," she nods.
"But when we talked about the second series, it was really clear that wasn't the road we wanted to go down. "So we've made sure that this year we're seeing more Indian casting in terms of our guest leads. And that's an extraordinary treat, because there's such a depth of talent there."
Most of the show's guest casting happens in Mumbai, with some well-known Indian actors on board for the second run, including Shabana Azmi and Rajat Kapoor.
Having done the foundational scene-setting work in series one, the producers were keen to spread their wings a little with series two. "We wanted to show a different side of the culture and atmosphere of India," explains production designer Debbie Burton, across the tuk-tuk-filled street in the art department, where the walls abound with printouts of Indian street scenes.
"The scripts have been very much about the world around the hospital, rather than just the building and beach. We've gone into the slums, which we filmed in a covered market area in nearby Galle.
"The existing stalls provided us with some framework to add on to. What is great about the market is that it has interweaving sections that gradually get smaller as you go round, so it really feels like you are going into the bowels of the slum."
Wonderful landscape
The biggest undertaking was a Keralan houseboat, which they built on Koggala Lake, a half-hour hop up the road.
"There's a jetty there with concrete piles going into the ground, so we've boarded that to create a platform on which to sit the boat. It's not really seaworthy, but it's not going anywhere." She pauses. "I hope."
The team has also broadened the scope of locations: two of the episodes were shot in Wilehena, an old tea plantation about an hour's drive east.
"It's good to be able to show the topography and geography of the wonderful landscape, and to use those wider lenses," says producer Jeremy Gwilt.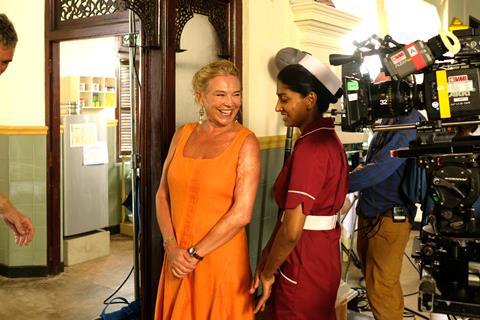 He has been particularly impressed with the enthusiasm of the local crew; in line with last year, they were sourced through Sri Lanka-based The Film Team (Midnight's Children, Jekyll And Hyde) and make up the bulk of the production. At one point, local engineers even rustled up some bespoke equipment that hadn't been shipped from the UK.
"We wanted to articulate the camera and get those high shots. So in between series one and two, they built a camera crane, which is very effective," says Gwilt.
The hospital location has its challenges, from the busy adjacent road to the need to carefully schedule filming around college activities. But when vacant, the building essentially acts as a huge standing set.
"What we have is a virtually 360- degree environment – which, with the least amount of adjustment to framing, enables us to develop shots, and pan and track with characters from interior to exterior and back again," says Gwilt.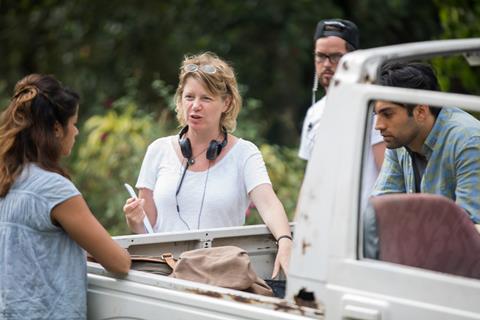 "Then we have outbuildings for our resuscitation room and an operating theatre. When we have 120 supporting artists selling fruit, cooking, arriving and departing, we can create the sense of a fully functioning, busy hospital – and that's a remarkable opportunity."
TV drama production is still in its infancy in the area, but in its own small way, The Good Karma Hospital may be changing that. International tourists have begun to pitch up for selfie opportunities under the hospital sign, and awareness in the surrounding community seems to be building.
"Whether we're hiring a location or buying in services, the trickle-down effect is tangible," Gwilt says. "Sri Lanka hasn't had a lot of filming, but the services are starting to recognise a need and meeting it. It's fertile ground for future film-making."
FROM GOA TO GALLE: RECREATING INDIA IN SRI LANKA
The Good Karma Hospital started life in a very different place.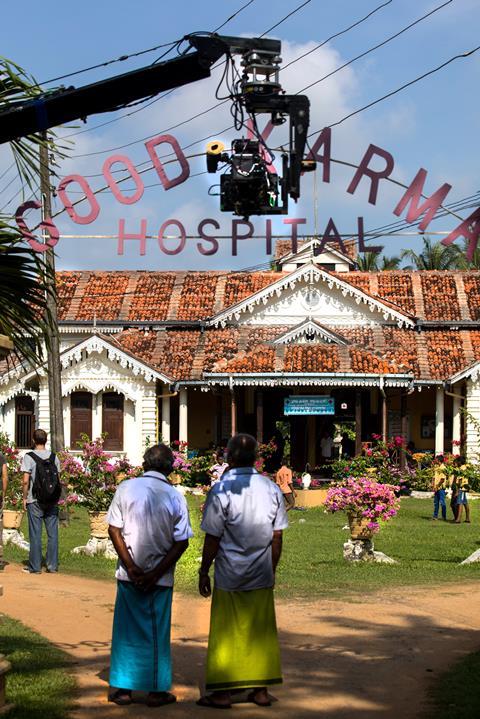 "The initial inspiration was Goa," says writer/creator Dan Sefton. "But when I went out there, it wasn't quite what we imagined. It was a little more developed, a little more touristy. There wasn't quite that sense of isolation. So we decided to move it south, to Kerala, to make it more rural."
But while Kerala worked as a fictional setting, it brought certain production complications. "The monsoon in India is weeks of constant rain, which is no good for shooting. In Sri Lanka, it's fragmented and less intense. We film from July to September when it is mostly dry, then a bit of a mix – which is helpful because you can sometimes get a bit of rain if you want it."
SIMILAR FEATURES
Helpfully, the area around Galle and Unawatuna has distinct similarities to Kerala, with its palm-flecked forests and beaches. Perhaps the chief challenge, understandably, has been distance.
"You'd think, 'What a great gig – three months in Sri Lanka,' but I think everybody has found it quite hard work after the first two weeks," says Sefton.
"People don't have that decompression time that they could have if they were in a position to go home for a weekend. The time difference is surprisingly challenging, too. It's the small things, like having to communicate with set when it's four and a half hours ahead. That's something that just needs to be managed – and it will continue to be a challenge if we go back for series three."