BBC1's The War Of The Worlds adaptation is unusual in sticking to the story's original Victorian England setting. Olly Grant visits the set and finds out why it has rarely been done before
Production companies Mammoth Screen; Creasun Media; Red Square
Commissioner Piers Wenger
Executive producers Peter Harness; Preethi Mavahalli; Damien Timmer; Craig Viveiros; Tommy Bulfin; Minglu Ma; Jamie Brown
Length 3 x 60 minutes
TX 17 November, BBC1
Director Craig Viveiros
Producer Betsan Morris Evans
Writer Peter Harness
DoP James Friend
Editor Adam Bosman
Production designer Pat Campbell
Art director Dean McLeod
Location manager Andrew Bainbridge
VFX producer Angie Wills
VFX editor Kieran Nicholas
VFX RealtimeUK; IMG VFX
Music Russ Davies
How does an ambitious creative approach The War Of The Worlds, the 1890s primogenitor of alien-invasion romps? Answer: take your pick. To date, we've had Orson Welles' panic-inducing 1938 radio drama, Tom Cruise's big-screen movie in 2005,
History's alternate-history docudrama six years ago and a VR experience in east London this year based on Jeff Wayne's 1978 rock opera.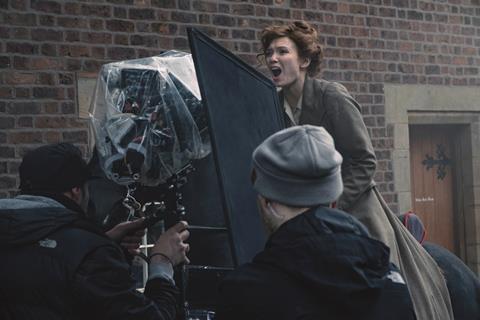 The one thing we haven't had, strangely enough, is a TV mini-series in HG Wells' original setting: turn-of-the- century Surrey. Until now, that is, as BBC1 prepares to launch a three-part version starring Rafe Spall and Eleanor Tomlinson, adapted by writer Peter Harness (McMafia).
It will include some new characters and storylines but will generally stay true to the spirit and tone of the book.
The rarity alone makes it interesting but, as director Craig Viveiros points out, there are good reasons why filmmakers have fought shy of trying to do it this way.
"The War Of The Worlds is such a mishmash of imagery and genre – to make that fit together symbiotically is a challenge," he says, when Broadcast catches him on a break from battling 130m-high Tripods in Liverpool, where the series was shot.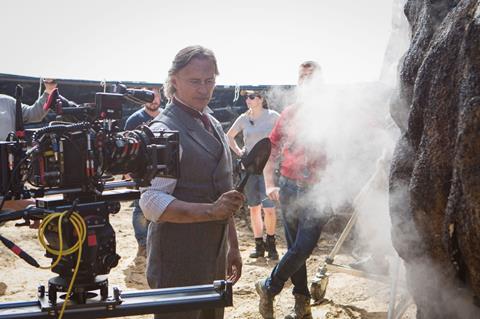 "It needs to be romance, thriller, horror, sci-fi and period – that's five genres just off the cuff. But you also want something that strikes into the core fears of people today, not just in the Edwardian period."
The other question is: how do you do all this with TV-sized resources, especially as the BBC is launching the series without the financial clout of an international SVoD partner? (Though it does have China's Creasun Media attached as a co-producer).
One answer lies in the unlikely surrounds of a former oil-blending plant in Birkenhead. Broadcast visits on a bright morning in late spring, where an apocalyptic- looking dockland landscape of concrete and rubble has been constructed outside an old Mobil building.
Stepping inside reveals the actual apocalypse – Earth blighted by 'red weed', the life-choking Martian super-plant that accompanies the invaders in the book. Producer Betsan Morris Evans says the space was selected because it was available and local, with the "closest studios being on the other side of Manchester".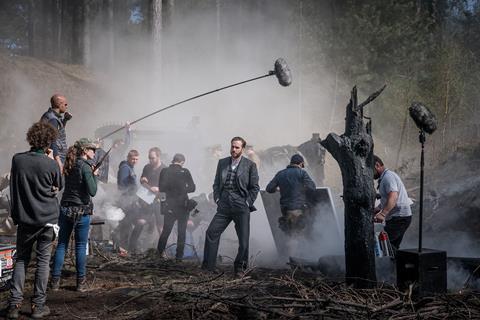 To make it functional, a full lighting grid was installed in the roof. Ultimately, the producers created a bespoke, barebones studio with several thousand square feet of filming space and hanger-height ceilings.
"There are two pigeons we've been unable to remove, but other than that it's very good," says Morris Evans. "It's as big as Pinewood's James Bond stage."
Production designer Pat Campbell shipped in 50 tonnes of sand to create a weed-blighted landscape. This was heaped across the floors and then studded with the little red crystals and lichen often seen in flower displays.
"It's certainly different from the Cruise film, where the weed sort of spread like fingers across everything," says Campbell. "Ours is mossier and more lumpen. The theory is that the rooty tendrils go down into the soil and then these crystals form, and it grows as a surface and obliterates life."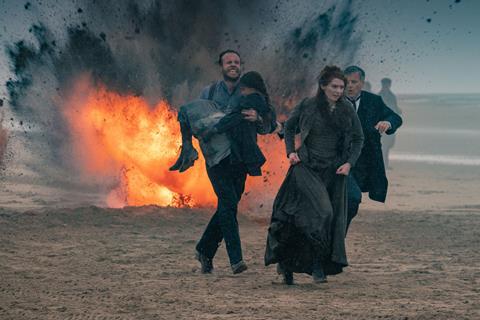 The next challenge was to add scale and depth. Stepping past protruding cadavers, DoP James Friend emerges through the gloom and smoke to explain: "What we're trying to achieve is the illusion of outside space that goes on as far as the eye can see.
"We've put in a 50ft-high white cyclorama, which doubles as the horizon, and by using false perspective and miniatures and filling the space with smoke, you get that sense of infinity."
Friend has also been busy with the colour palette. "The film evolves through stages," he says. "It starts off earthy and natural and goes bluer and darker as you feel the world decaying. Then towards the end we move into reds. "For that we've used a lot of smoke in the air and red filters on the camera.
We also changed to Canon K35 period lenses, to give the show a more vintage, retro look. They give you the imperfections and softness that are really hard to replicate in digital post."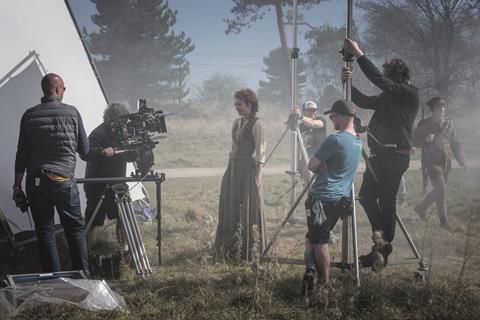 Beyond the docks, Liverpool proved to be a good canvas for the series. In time the city will have its own state-of- the-art studios – in the pipeline is a £50m, 85,000 sq ft complex at the old Littlewoods Building, managed by Twickenham Studios, which Morris Evans describes as a "gamechanger" for local production.
In the meantime, locations like Princes Street and the Cunard and Martin's Bank buildings double for period London. For small-town Surrey, five weeks were spent in Great Budworth, capturing its picturesque period pomp before 'destroying' it by strewing the lanes with rubbish, rubble and burning fires.
Impact zone
Another key location was the nature reserve at Ainsdale. Fortunately, the managers were felling trees to create a heather plantation at the time of filming, so the crew asked for permission to use it as an impact zone for the first Martian arrival, blackening trees with biodegradable paints before parking an alien pod in the clearing.
How the cornucopia of elements comes together will be revealed on BBC1 this month. ITV Studios has secured more than 80 pre-sales, while a feature-length version is being cut for the Chinese market.
Viveiros, meanwhile, has caught the British-period-sci-fi bug. "I already have series two mapped out in my head," he says cryptically. "There's absolutely an element of seriousness to that; wait till you see the third episode."
CREATING THE MARTIANS
If creating a mash-up of Tripods with a period setting sounds like a filmmaker's dream, the reality was a bit more complex, says director Craig Viveiros.
"You're trying to represent a technology that isn't only ahead of its time for the Edwardian period, but ahead of its time for now. So that was the big question: how do you make those two worlds sit together so that it doesn't feel too jarring?"
One solution was to move away from the traditional focus on mechanised terror.
"In artwork of the period, you find a lot of Tonka-Toy-like riveted steel: monsters born of the Industrial Revolution," says Viveiros. "The fear of mechanism is no longer relevant, so what we looked at creating was an exoskeleton that has a life of its own; something that can grow and is always regenerating."
Once the producers had drawn up some concept art, gaming company RealtimeUK was commissioned to create the VFX. On set, supervisor Stephen Coren devised a cunning tool to help the crew visualise the scale – an app that allows users to insert Tripods into any landscape. "It's useful for the actors' eyelines, too," says VFX producer Angie Wills.
Yet Viveiros was also clear that the show shouldn't just be wall-to-wall VFX. From the outset, he and writer Peter Harness worked to embed the less-is-more principle into the scripts.
A SLOW REVEAL
"The most horrific, scary things are the things that are hidden from us and they have to develop continually," he says. "We always have to be learning more about this threat – if you expose everything too early then what's left?
"How does this Martian race always have another trick up its sleeve, or something that changes the way you thought about them completely? I think we've managed to achieve that."