I knew filming this ultra-endurance event would be hard, but when a storm threw our plans into chaos, it quickly turned into the most challenging shoot of my life, says Huw Erddyn
Production company Cwmni Da
Commissioner Llinos Wynne (S4C)
Length 4 x 30 minutes and 1 x 60-minute special
TX 9.30pm, Wednesday 6 November, S4C
Assistant producer Mari Huws
Production manager Scherry Jones
Executive producer Llion Iwan
Producer/director Huw Erddyn
Editor Julian Thomas
When you set out to film something as formidable as the Paddy Buckley Round (aka the Welsh Classical Round), you know it's going to be tough. It's probably the most iconic, one-day ultra-endurance mountain challenge you can do in Wales; a circuit of 106km taking in 47 summits – all within 24 hours.
Thankfully, I like filming stuff like this. I enjoy mountain-biking, mountaineering and climbing in my own time and I've filmed similar outdoor adventure programmes in the past, including a previous documentary with extreme adventurer Huw Jack Brassington – in which he took on the 315km-long Dragon's Back Race down the mountainous spine of Wales in 2017.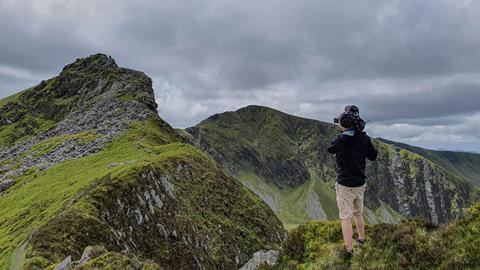 I filmed most of that on my own, but I had others to help me shoot 47 Summits: Huw Jack Brassington's Challenge (47 Copa: Her Huw Jack Brassington in Welsh), so I assumed it would be easier. It wasn't.
This was by far the most challenging shoot I've ever been involved with, not least because we found ourselves in the eye of a horrendous storm.
Initially, we had to consider how to make what is effectively a 24-hour challenge into a mini-series.
For the first four episodes, the viewer gets to know Huw and his wife Gwenllian. We see him meeting other extreme athletes like white-water kayaker Geraint Rowlands, downhill mountain-biker Emyr Davies, para-kayaker Llinos Owen and UFC fighter Brett Johns.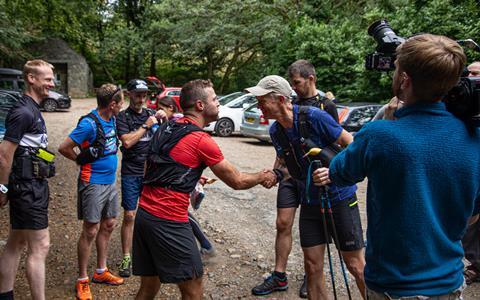 He goes on a journey to find out what he has in common with these athletes and what he can learn from them. Each episode also has a science segment looking at Huw's mind and body, and how he is able to do the things he does.
Huw has a unique approach to training in that he prefers not to do too much of it. He doesn't like to run long distances on his own, so he finds other races to enter – during filming, he went off to Sri Lanka for a five-day event and then did another race in the Alps. By the time viewers get to the one-hour series finale, hopefully they will be really willing him to succeed.
The original plan was to film on the Friday and Saturday, with Saturday and Sunday as a back-up plan. However, on the Monday morning, we realised that a massive storm was heading towards Snowdonia over the weekend. All the planning we'd done had to be scrapped and we had to bring everything forward a day.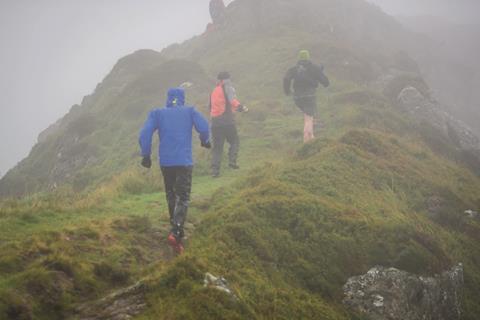 As a result, one of the mountain leaders couldn't make it and some of the camera crew were unavailable, while the drone pilot was flying back from France so he couldn't film the first few hours. When he got back, he headed straight into the mountains – fair play to him.
We were also hiring a lot of kit and had to source all of it again. Luckily, we have a good relationship with the suppliers so it didn't have too much of an impact on the budget.
Safety concerns
Huw had organised several support runners to accompany him but because of the rescheduling, a lot of these people were working, so he had to find a new team in a couple of days.
The storm fully hit around 4am on the Friday, 16 hours into the challenge. I was at a support point trying to get a couple of hours sleep (I couldn't as I was worried about everyone's safety) and could hear the wind howling all around me.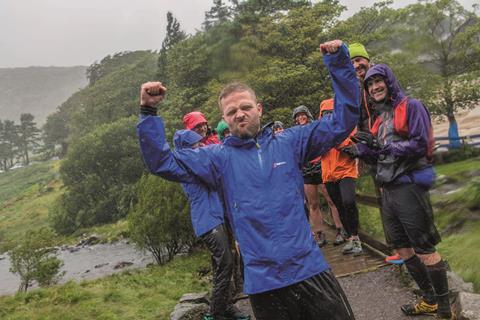 The camera crew on the summits said they'd never been in the middle of something like that before. It was horrendous. There were 60mph winds and the mountain leaders had to hold on to the camera operators just to help them stand up.
We were in the eye of the storm for the most treacherous part of the challenge, the Glyderau range. This area is probably the most dangerous bit – people have been killed here. When you hear of people falling in Snowdonia, it's often on Tryfan.
Huw had the opportunity to stop at any point but he wanted to carry on. The mountain leaders could have easily decided it was too dangerous for the crew to go up some of the mountains.
"In a weird way, everyone really enjoyed the experience. We were filming someone who was doing something so much harder than we were, at the very edge of his limit"
We had the drone flying up at different locations but once the storm arrived, there was no way we could use it. All our planning went out of the window. To keep in contact, we had walkie-talkies and a WhatsApp group, and trackers on Huw and the crew. We used our mobiles whenever we had a signal.
I was in constant contact with all the shooting directors to keep track of the story and make sure they ran with Huw for as long as possible, because of the absence of the drone. Huw was also carrying a GoPro diary cam and when anything happened, he would do his own diary entry.
Huw Erddyn - my tricks of the trade
Always have more than one way to contact your crew. We had three different means of contact: mobile phones, a WhatsApp group and walkie-talkies. We had trackers on everyone too.
Plan for every eventuality.
Hire the right people for the job. This might not always be the very best camera operators – even though ours were excellent – but the best people for a particular job.
In a weird way, everyone really enjoyed the experience. We were filming someone who was doing something so much harder than we were, at the very edge of his limit.
The crew were amazing; everyone was freezing and soaking wet but they all still smiled.
Huw was running to a schedule, so we had a good idea of roughly where everyone needed to be and when he was likely to reach each summit. Then he got ahead of schedule, which made our job a lot harder.
Others did the same. At one stage, one camera operator literally got to the top of a mountain in an hour – half the estimated time. His mountain leader couldn't believe he got to the top so quickly, considering he was carrying a huge bag packed with all his kit and camera equipment.
Valuable lessons
The first cut of the challenge was more than six hours long so we had plenty of footage. Everybody had worked together and pulled it out of the bag and the diary cam was invaluable.
Because of the conditions and the sheer volume of people involved over such a huge area, this was without doubt the most challenging shoot I've ever done – and I learned a lot. The fact we were filming in just a 24-hour period in really bad weather and constantly wondering what would happen next played its part.
One of the things I will always remember is lying in my van, trying to sleep in the middle of the storm. I had no idea where Huw was and whether he and the crew were safe.
He was at the most dangerous part of the challenge and I had no signal on my phone, so I couldn't follow him on the tracker. I ended up getting up and driving a few miles down the road to get a signal. Thankfully, news came through that he was okay and still on the move.
TAKING ON THE CHALLENGE OF THE MOUNTAINS
Scherry Jones - production manager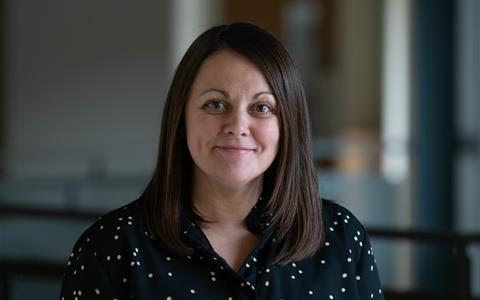 Filming the challenge was a massive logistical operation and everyone needed to know exactly what they were doing. We had a core filming team of eight people, including six shooting directors and a drone pilot. All had either a Sony FS7 or Z150 camera for general filming and GoPro Karma Gimbles for longer running shots.
The camera team in the mountains was split so that three of the shooting directors were telling the story and the other three were responsible for the visuals. The story crew had the job of conveying what was going through Huw Jack Brassington's mind while the other three were shooting the running sequences.
This involved running with Huw for a good few miles. Producer/director Huw Erddyn would film Huw at the support points, to get the stories we didn't get in the mountains.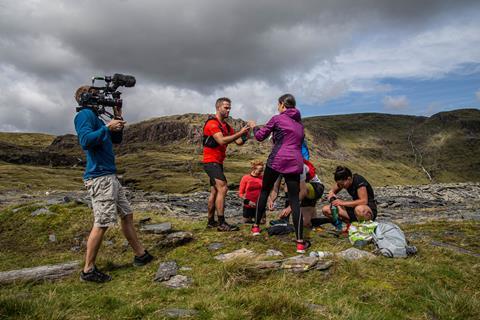 In preparation, we organised mountain leaders for each shooting director to help get them to the right locations on time. These people live and work in Snowdonia and their job is to guide people up and down the mountains all year round, so they know them well. They're all qualified mountain leaders and climbers and some have qualifications way beyond that.
EXPERIENCED CREW
The camera crew were all well looked after, although in fairness, most were more than capable of looking after themselves as they were a mix of mountaineers and runners; people who enjoy being in the outdoors in their spare time.
We did a lot of recces of locations before filming. A great deal of time was spent looking at maps and figuring out what would be the best locations visually and logistically. We wanted to use our camera people in the best possible way and get the most out of them.
It's easy to film in Snowdonia because there are so many roads connecting the mountains but what we couldn't rehearse was the weather.