Following celebrity chef Jason Atherton into Michelin-starred kitchens for our food-meets-travelogue show was hot work, says Dominique Foster
Programme The Chef's Brigade
Production company Expectation Factual
Commissioner Patrick Holland, (BBC2); Clare Sillery
Length 6 x 60
TX 9pm, Tuesday, 30 July, BBC Two
Executive producers Colin Barr; Dominique Foster
Series producer/director Graham Sherrington
Senior producer Amy Ruffell
Directors of photography Justin Evans; Ross O'Callaghan
Post-house Envy
Grand tours were a popular way to see Europe in Victorian times, but attempting one with a 45-strong crew, camera and food kit, plus a Michelin-star chef and a cast of 10 contributors was, unsurprisingly, a massive logistical and editorial challenge.
Plus, we needed to secure access to some of the world's best fine dining restaurants along the way. Fortunately, a love of good food helped.
There was one tense moment, sat in a swanky office for a formal pre-production meeting with the very experienced chef Jason Atherton (below, middle) when we oh-so casually revealed that he would be staying with cast members during filming, in accommodation best described as rustic and simple.
We worried that this was a big ask for someone with his level of success but emphasised the theme of belonging and playing together as a team.
When he turned around and said, "No problem", we realised that our lead talent completely understood what it was going to take to make this experience as authentic as possible. We were thrilled.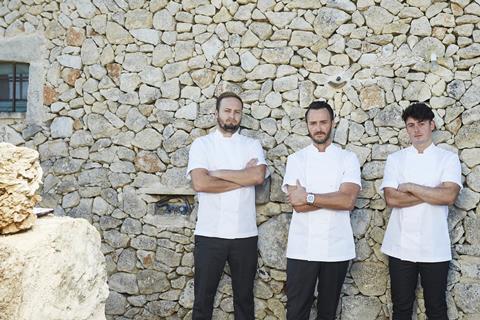 Each episode of The Chef's Brigade was shot in just five days. From the brigade's arrival at one of Europe's foodie destinations, to the episode's final service – a competition between the British and a local brigade in a rival chef's restaurant – the pressure on our crew was immense.
We wanted every location to prove more challenging for the brigade and Jason, which meant trying for access in some of the most sought-after Michelin-starred restaurants in Europe, ending in Paris.
Our team had to persuade some of these top restaurants not only to give us access to interview head chefs and eat and critique their food, but also to hand over the keys to their kitchen and have a British brigade come in and cook their own food against them – all to run the risk that Jason's brigade would win. It was a very tall order, but fortunately we had a brilliant locations producer and fantastic team who all spoke multiple languages between them.
My tricks of the trade – Dominique Foster
Ensure you employ collaborative and enthusiastic team. From the DOPs to the casting team, we asked so much of our team and their willingness to go above and beyond was humbling on long days.
Work really closely with talent. For someone with Jason Atherton's reputation, it was important that he trusted the credibility of the producing and direction from start to finish.
Multi-camera direction meeting ob-doc is a tricky beast to manage. Factoring in shifts where possible for the team is difficult but essential across a long schedule.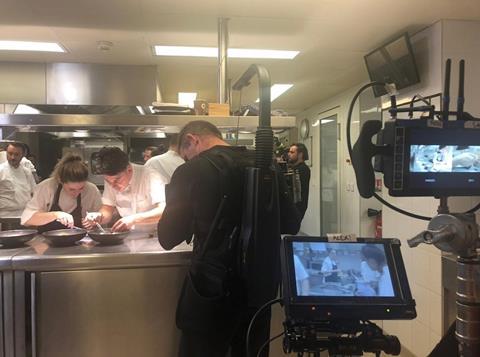 Inevitably, the production took months of planning in order to allow for natural documentary moments to occur. We wanted it to be confident and filmic in its execution and for set pieces to feel like natural actuality.
Jason may be a head chef overseeing 17 restaurants around the world, but we had the chance to show him up-close and real in the kitchen for the first time in this way. Throughout the whole series we established a strong rapport with him and his trusted right-hand men, Dale Bainbridge and Andy Walsh.
Days one to four in each filming block were always long and hard but there was still a lightness about them. As soon as the final service loomed, however, the atmosphere always changed. There was an intensity and a shift in control between us and Jason – the kitchen was his turf, if cameras were an annoyance, we would know about it.
I remember we'd always pop an extra check on the orders so we could always shoot one food dish just for the cameras, but we hadn't been explicit about this to Jason. At a Michelin-starred kitchen in San Sebastian, the atmosphere was intense and the orders become mixed up momentarily because of that one extra dish.
This went down like a lead balloon in the flow of service. Safe to say we were very clear from that point on to make Jason and the team aware of the extra dish for the cameras.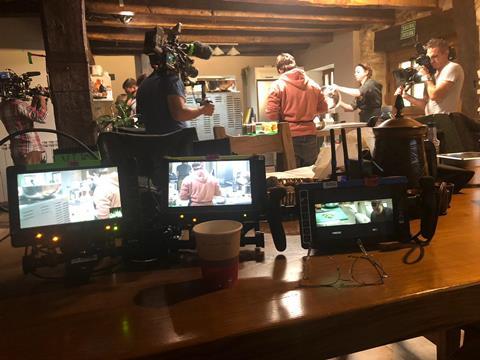 When it came to the final kitchen service, we had a team in the restaurant directing the judges and food, led by our shooting PD – who got to enjoy some of the finest tasting menus in Europe – with an exec in the kitchen sweating and directing Jason and the brigade down below.
Final kitchen services maintained the long lens observational docs feel where possible, using kit like the gimble to ensure we could cover some of those harder to reach spaces with control. It was important for both teams to keep in constant communication, but discretion over comms was tricky.
I introduced a live WhatsApp logging group for the two editorial teams which meant we could discreetly communicate and log moment to moment and we could also export this as a document for use in the edit.
Looking across the footage now, you would never imagine that we faced an outbreak of dengue fever in Spain, flooding in Norway, and gilets jaunes protests in the middle of Paris during the final showdown. Somehow, we got through it all and I wouldn't change it for the world. Well, maybe just a bit.
FINDING THE INGRDIENTS FOR KITCHEN SHOOTS
Amy Ruffell
Senior producer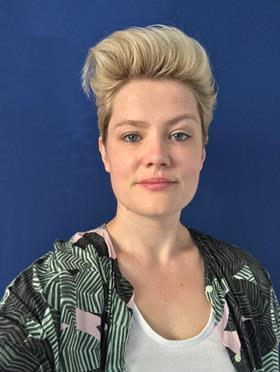 Anyone who has filmed in a kitchen will tell you it's a heady combination of the worst conditions to shoot in: hot, cramped, noisy and dark but for flickering fluorescent lights, with a serious amount of fire and chefs facing walls while they work.
Thus, a central consideration in the casting process for our residences and rival restaurants meant checking out the kitchens. The quality of cooking, food and reputation were the top factors for every restaurant but if an amazing place had a 6ft by 6ft rustic basement kitchen, we just couldn't make it work for a series of this scale.
We also had to build a kitchen in our residence that allowed our chefs to train and cook a top-notch competition menu.
As episodes progressed, the difficulty of the cooking increased and the more complex the demands became for specific kit, so alongside seven cameras, a video village and a full props kit for the residence, was a professional rationale-style oven, a sous-vide, three stainless steel workstations and an 120kg solid top stove.
All of this was driven thousands upon thousands of miles across mainland Europe by the hardest working camera assistants in telly. Surely Norway to Spain isn't that far?
Our talented DOPs and their laser-like ability to execute shooting plans in awkward spaces gave us beautiful visual coverage against the odds, but the nooks and crannies of a working kitchen meant sound looked an even trickier nut to crack, with multiple conversations happening concurrently across a noisy workspace.
Happily, the A-RXMON, designed by sound wizard Colin Bowes, streamlined the audio so the production team was able to tune into separate mic channels at will – ensuring we never missed a critical conversation.
To the eternal question (for me anyway) was whether this was a food show, a travelogue or a documentary? It's probably all three and, ultimately, it's a privileged peek behind the kitchen pass at the life of a professional kitchen brigade.
It turns out our Norway to Spain run was just shy of 4000km. Thankfully, we had an awesome team who made magic like that feat happen on our side of the cameras too.