We gathered the material for our colourised history doc just in time, says Paul Bradshaw
Tutankhamun in Colour, BBC4/Nat Geo/France 5
Production company Blakeway Productions
Commissioners Carolyn Payne (Nat Geo); Simon Young (BBC); Caroline Behar (France 5)
Length 1 x 60 minutes
TX 9pm, Thursday 18 June (BBC4)
Executive producer Greg Sanderson
Producer/director Paul Bradshaw
Editor Glenn Rainton
AP Eleanor Ware
Archive producer Carmen Locke
DoP Paul Lang
Production manager Rita Ribas
Colourisation Composite Films; Dynamichrome
Post-house Films@59
I couldn't get the images of young soldiers from Peter Jackson's film They Shall Not Grow Old out of my head. They were, well, real people, smiling for the cameras.
Curiously, my abiding memory was just how bad their teeth were. Just one facet that humanised these men and boys from the black and white ghosts of old film. This humanisation was especially poignant as many of them must have been killed shortly afterwards.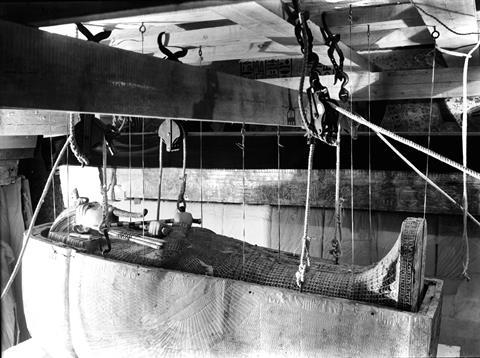 I was desperate to think of another story that colourisation could bring to life. Something from 1919, 1920, 1921, 1922…
Oh, 1922! I had it – the discovery of Tutankhamun's tomb. I knew that it had been captured on film and thousands of black and white photographs. It would be amazing to re-live this global event in colour.
After much excited discussion with the team at Blakeway, we decided to pitch it to National Geographic straight away. Of course, things are never that straightforward in telly, and, sure enough, 18 months of contractual stalemate followed.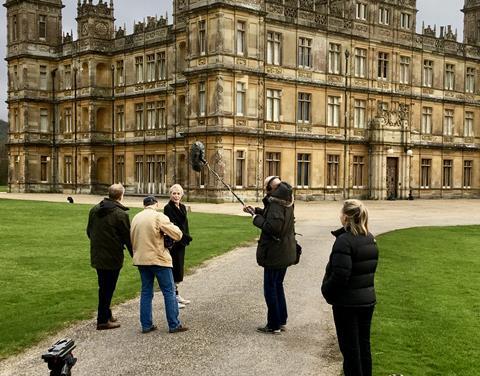 At the beginning of February, I was surprised to find myself set up in Blakeway's office in Bristol along with archive producer Carmen Locke and AP Eleanor Ware with a mission to deliver the show in double-quick time.
Amazingly, the Paris-based team at Composite Film assured us that they could deliver all the colourisation we wanted on our timetable, with the minor proviso that we commissioned the work before we'd actually decided on it. Game on.
We'd agreed to make three quite different versions: BBC4 suggested a new presenter, Elizabeth Frood. France 5 wanted a French angle and, ideally, we needed a couple of American voices for Nat Geo.
Most of all, I wanted Egyptian experts, because theirs is a side of this story that we never hear and yet hundreds of Egyptians were employed in the search for Tutankhamun's tomb – and it was even discovered by an Egyptian: waterboy Hussein Abdul Rasoul.
In Liz Frood, we were blessed with someone who has a natural enthusiasm and confidence in front of camera. Just as well, as she only had an hour to practice.
One slight issue, she warned us, was that walking and talking was out because her prosthetic legs squeaked and there wasn't time to get them serviced.
Coronavirus worries emerge
All filming was to be in the UK, but in early March, as we began, worries about coronavirus were growing by the day. Our American expert pulled out. One Egyptian contributor got stuck on the other side of the Atlantic.
We were treated to some fascinating sequences of Liz poring over Carter's original maps and photos at Oxford University's Griffith Institute, of which she is director, just before that closed.
I wanted Egyptian experts, because theirs is a side of this story that we never hear and yet hundreds of Egyptians were employed in the search for Tutankhamun's tomb
Then it was off to the Tutankhamun exhibition at the Saatchi Gallery in London and finally Highclere Castle, to meet the Countess of Carnarvon. Two days later, both shut up shop.
A picture of the countess doing her own hoovering appeared in the Daily Mirror as she'd furloughed her staff. I felt like Indiana Jones escaping with the treasure, just before the door slammed shut. I told everyone we had grabbed just enough to make the shows. I hoped it was true.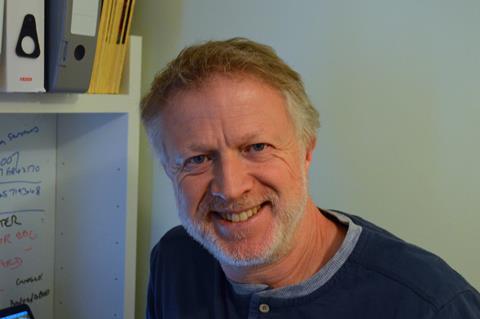 My tricks of the trade – Paul Bradshaw
Producer/director
Use video calls with the team as much as possible, even one to ones. Humans need facial feedback.
Keep trim, so you don't look too much of a slob on Zoom.
Remote editing is slow. Allow 30% more time.
Get copies of all rushes and archive sent to your computer.
Put loads of pictures in your scripts to help the editor.
Get yourself a decent microphone/mixer so that you can record bearable commentary at home and also practice karaoke.
Get a mountain bike, guitar or anything else that takes your mind elsewhere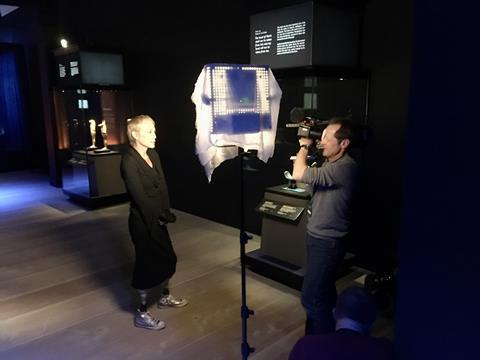 Our editors, Glenn Rainton and Ed, had to work from home. For Glenn, this meant 'pretending to leave for work' in the mornings, so he didn't get invaded by his excited two-year-old.
Archive and colourised footage had to be fed remotely from suppliers via Carmen and Eleanor's laptops. Some were massive files and home connections weren't great. Remote editing meant guidance and feedback were delayed and the editors had to download all new material. Luckily, to compensate, they were shit hot.
I told everyone we had grabbed just footage enough to make the shows. I hoped it was true
As Sam's colourised images began to come through, we started to get really excited. Each photograph and film clip was a pure pleasure to see.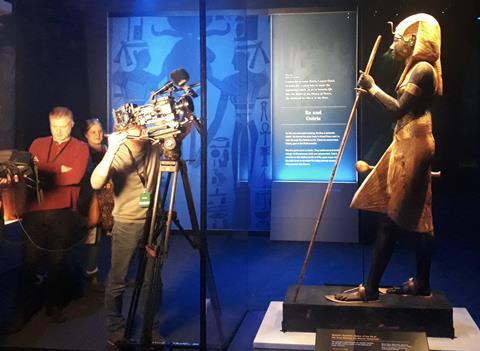 The biggest surprise was the black and white photographs, originally taken on large glass plate negatives. Their resolution was far beyond anything achievable with today's electronic sensors, right down to small scratches on Tutankhamun's furniture.
All that was left was the commentary. Films@59 put together a home recording kit, which was couriered to Liz, so I and the dubbing mixer could listen in from our respective man-caves.
With some help from her family and a clothes airer, a crisp studio sound was somehow created. Liz was brilliant, a natural storyteller.
Despite the challenges of Covid-19, everything came together perfectly – from the incredible access to the pinpoint-accurate historical details – to create a film of which we are incredibly proud.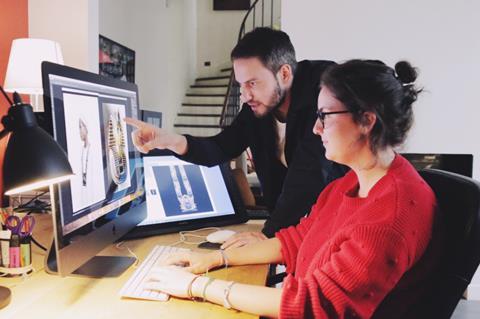 Meticulously researching history to the aid the colourisation process
Maylis Couturier
Colourist, Composite Films
All of the film colourisation and most of the black and white photo colourisation in Tutankhamun in Colour was carried out by us and our team – earlier stills colourisation was done by Dynamichrome.
We regard our roles as a mix of DoPs and set and costume designers, meticulously researching every detail of the materials and objects in these century-old images, to accurately restore their colours.
The first step in colourising film is to stabilise the image and correct the frame rate so that movement looks natural. The next step is to digitally remove dirt, scratches and stains so that the film looks as good as new.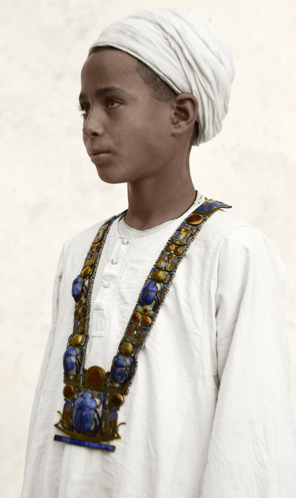 Then, for each object in a frame, the right colours are researched and chosen to create matching coloured objects, which are then animated to exactly track the film, creating the colourisation effect. That's where the detective work comes in.
There are good references for most of the artefacts. The incredible resolution of Harry Burton's original black and white photos, now coloured, allows us to move in and explore the incredible treasures in coloured detail, such as this pectoral necklace, worn by Hussein Abdul Rasoul, the boy who is thought to have discovered the steps to the tomb. However, you can see from the close up just how much detail there is to get right.
As an example of how carefully each image has to be scrutinised, the discovery happened during a time in which the country was in the process of gaining independence from British rule.
In one scene in the film, both the flags of the Egyptian Sultanate (1919-1922) and that of the Egyptian Kingdom (1922-1952), were present. They look almost identical in black and white although one was green and one was red.