Balancing celebration of achievement and scrutiny of progress was essential when exploring the history of black English football, says Gabriel Clarke
Producer Noah Media Group
Commissioner John Claridge, ITV4
Length 2 x 50 minutes
TX 10pm, Tuesday 27 and Wednesday 28 November
Presenter Ian Wright
Writers/Producers/Directors Gabriel Clarke; Jay Gill
Executive producer Simon Corney
Editor / colourist Ian Grech
This week marks a very special 40th anniversary. On 28 November 1978, a shy, skinny footballer from Nottingham ran out at Wembley to make sporting history.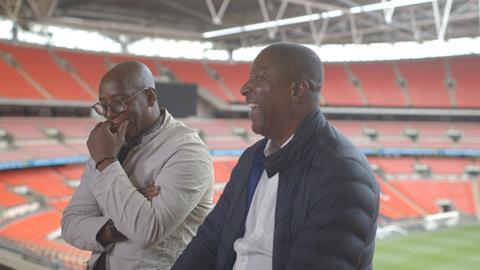 Viv Anderson was the first black man to play for England.
Anderson's achievement is the starting point for Out Of Their Skin a two-part documentary series celebrating the pioneers of four decades of black English football, and investigating what still needs to be done.
Celebration and investigation are not always natural documentary allies but striking that balance was essential if this series was to be as powerful and definitive as we wanted it to be.
The second challenge was the need for originality, as racism in football has been analysed from many angles.
The vast ITV archive dating back more than half a century offered an inspiring start, with its wealth of rarely seen footage, including one of the very first documentaries done on racism in football in the 1970s – a TV land of black comedy stereotypes and post-match interview 'banter'.
My tricks of the trade – Gabriel Clarke
Research archive before filming. It's essential in documentary, not only in terms of understanding the story but telling it. You're also more prepared for an interviewee whose memory might need 'jogging'.
On an archive-based film, even on a tight budget, try and prioritise decent sound dub time. It can add a whole new level of authenticity.
Retain an open mind. A strategic line of questioning must be followed, but don't be rigid.
Between answers say less, even nothing to shift the onus onto the interviewee.
Search for perfection and never lose the passion because, as day follows night, there will be setbacks.
This is all valuable evidence and context, but the key step was to structure a narrative that wouldn't be worthy or repetitive but capture the essence of the challenges faced and analyse the real nuance of the issues. That meant, in football parlance, putting the right team together.
By definition, the best documentary has credibility and authenticity because it's built on first-person experience. Therefore, we would navigate the 40-year timespan through the stories of Viv Anderson and other key English players who'd followed him and made their own history and taken significant pioneering steps.
It's an A-List cast that demanded a 'front man' who understood the subject and shared our aim to do something different. Oh, and ideally, he might have played a bit of football and have a little experience in front of the camera.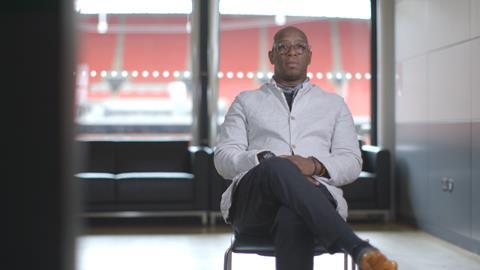 The good news was Ian Wright, striker supreme, 33 caps for England and with a CV in TV almost as long as his goal-scoring record, said yes immediately. But he came with one caveat – Ian didn't simply want to be the presenter, neatly taking us from place to place before fading into the background.
A glimpse into the Ian Wright archive had suggested that might be the case. In a previous documentary we'd done together on John Barnes he'd made his outspokenness clear, saying: "When it came to racism in football, if John Barnes was Martin Luther King – all calm and dignified – then I was Malcolm X."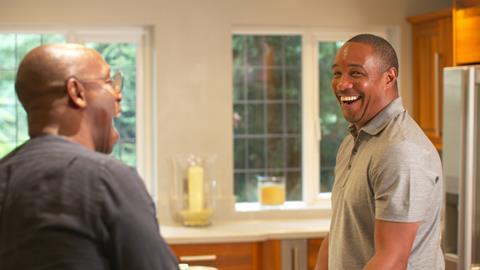 If Anderson, Barnes, Cyrille Regis and all black players had to accept racist abuse in the 1980s, Ian led the next generation who began to speak out and fight back. His own story as a 1990s rebel and role model figures prominently in episode two.
We agreed the traditional presenter role was a non-starter and his links would be filmed differently.
Ian narrates out of vision but contributes his own powerful testimony direct to camera. In these moments he is not diplomatic; he's not neutral. He's argumentative, passionate but most importantly of all, he's authentic.
FINDING THE WRIGHT EBB AND FLOW
Ian Grech, editor and colourist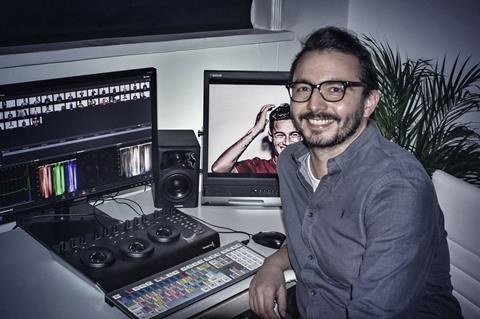 With editing any documentary, getting the emotional tone right is key. Out Of Their Skin was certainly no exception, and with a turnaround of 42 days from offline to delivery of two 47-minute shows on a sensitive subject with around 100 hours of archive, this was no simple task.
We began with sitting down with one of our directors, Jay Gill, and discussing our key stories to get a deeper understanding of what made each event unique to our main narrative.
We could have very easily gone down the route of focusing purely on the racism that was widespread at the time, something that has been done many times in documentaries before, but we wanted Out Of Their Skin to be more of a celebration of black footballers.
This allowed us to create a contrasting ebb-and-flow of the narrative, weaving the horrendous racism that plagued the nation at the time with the euphoria of our key heroes prevailing on the pitch and the impact their actions had on society.
With the first cuts amounting to nearly two hours per episode, there was a lot that was going to hit the cutting room floor. We also had to account for the compliance issues that would inevitably arise from many of the stories covered; sometimes this helped with losing some duration, sometimes the opposite.
As always, music was important for our show's tone and identity. We combined contemporary music of the eras alongside low-key drones that helped our balance between emphasising tone without being over-dramatic.
Once the edit was finally to time and locked, I graded the show in DaVinci Resolve and then sent final pictures to the online edit whilst the final audio mix was in session. It was very much a team effort across the board on Out Of Their Skin to ensure the production would be as good as it could be in such a short space of time.
In a series like Out Of Their Skin, it would be a fundamental failure if there was no raw emotion and it arrived from less likely sources.
In a rare interview, Ashley Cole, now living in the USA, describes his pride in being the only black player to reach 100 England caps, while elaborating on his difficult relationship with his country. He then admits he made a mistake: "I retired too early and I still miss it to this day."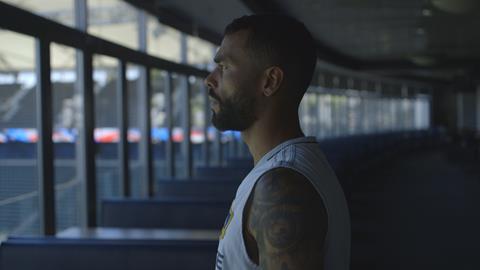 Paul Ince, England's first black captain and the first-ever black Premier League manager, personifies the duel between celebration and investigation at the heart of the series.
Ince was never prouder than when he led his nation, yet today as a black manager unable to get a job (and there are many examples of others) he's never felt more disenfranchised from his sport.
For any documentary maker, it's impossible to be definitive if your story is set on a shifting landscape. That will continue to be the case with race and football for as long as there is prejudice and abuse.
But from the beginning, Out Of Their Skin aimed to capture a sense of hope. From Viv Anderson to teenage star Rhian Brewster, an Under-17 World Cup winner courageous enough to talk about the racism he's confronted, our contributors definitively agreed on one thing: that 40 years of black English football has been a force for change.
Now to carry on that good work…