Documenting reporter Marie Colvin's final assignment through the words of photographer Paul Conroy was an emotional but ultimately rewarding experience, says Chris Martin
Production company Arrow Media in association with Vice Media
Commissioners History Films, BFI and BBC Storyville
Length 1 x 90 minutes TX 7 September, theatrical; BBC4 (Storyville) 2019
Executive producers Molly Thompson; Laura Fleury; Mark Burke; Emma Loach; Mandy Chang; Eddy Moretti; Ben Anderson
Director Chris Martin
Producer Tom Brisley
Co-producers Stephanie Mavropoulos; Danny Gabai; Michael Kronish
DoP Steve Organ
Editor Dudley Sargeant
Distributor Dogwoof
Post house Envy
Vividly remember sitting down to read the draft copy of photographer Paul Conroy's book, Under The Wire, on which this film was based, and giving myself a reasonable three days to finish it.
And I can still remember turning the last page and looking up at the clock – it was 4am. I hadn't put it down.
It was one of those genuine, one-off stories. But even though I'd already met Paul, got on brilliantly with him – which always helps – and knew him to be deeply passionate about Syria, I still wasn't sure if he could tell it to camera and effectively carry a film.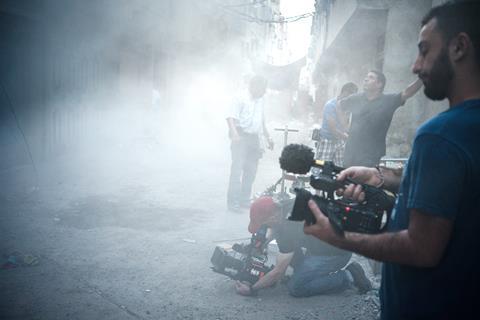 We didn't have any money then, so we filmed the master interview in a dingy arts centre above a bar in south London. In between the rumble of lager deliveries below, Paul poured out an unbelievably intense and emotional story of his and world famous foreign correspondent Marie Colvin's final assignment to the besieged city of Homs in Syria.
We filmed the interview with two cameras and one of them was right behind me just over my shoulder. At one point, I heard the cameraman muttering "Jesus Christ, Jesus Christ" under his breath – and that was before lunch on day one. Three days later we emerged with the spine of the film.
We then started a huge trawl for archive material. Paul had brought some footage back from Syria with him, but much had been lost in the bombing that killed Marie, so we began scouring the Syrian diaspora, tracking down survivors from Homs.
Often, the only way was to visit them personally. I ended up travelling back and forth between Istanbul, Amman and Beirut, urging people to dig up long forgotten hard drives.
There were countless hours of WhatsApp calls to Syrians trapped in Eastern Ghouta, then a rebel-held area of the country, under siege by the Assad regime. They became good friends; lovely people caught up in the middle of a living hell.
On one phonecall, I could hear loud bombing and shelling in the background. It was very distressing, but they seemed happy to keep talking.
Finally, I told them I thought we should hang up and they go somewhere safer. They agreed, but only if I'd answer one last personal question, something they'd been discussing for weeks – they really wanted to know whether or not I'd voted for Brexit.
Our editor, Dudley Sargeant, had the job of working through all this footage. There were hundreds of hours of it – some I wished I'd never seen – and the thankless task was teasing out images from a tiny two-week period in a six-year war.
On and off, over a period of a year, we carved out the story in the edit. It was a very powerful cut, but we still had gaps where there was no available footage and we knew we needed to film ourselves to weave the story together.
Chris Martin - My tricks of the trade
Beg, borrow or steal the best person you can to run the production, they take so much pain away, and make things happen. We got lucky with our co-producer, Stephanie Mavropoulos.
Ignore the tech trap. Turn 4K off and stick with what you really need: less headache, less cost, spend the money on the story and people.
Albert Einstein was right. In every problem, there's opportunity. It may be a cliché, but it's true.
Sharpen your elbows and learn to breathe deeply. Interference is an occupational hazard.
Kill your babies. If it's not working, just lose it.
Enjoy it. What a lovely way to make a living.
I'd like to say that we were guided by some inspired creative vision, but in reality, it was endless trial and error, trying to shoot material that would stay true to the raw style of the found footage and keep the viewer 'immersed' with Paul in Homs.
At a shoot in Morocco, we'd tried almost everything – multiple cameras and every style I knew – to capture the atmosphere of being trapped in a darkened room, under near constant rocket attack, but nothing seemed to work.
Late one afternoon, the DoP Steve Organ came over and waved his iPhone in front of me, pointing to some grainy images he'd just shot. "What do you think of this?" "Great," I lied.
He disappeared back on set for an hour.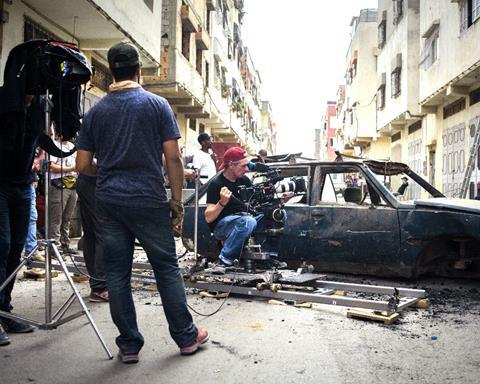 Months later, we were in the edit and still struggling to make that section of the film work. Dudley said he'd run out of options but had one bin left he hadn't looked at. It was the iPhone footage… and it worked a treat. Never doubt your DoP.
By the time we'd finished the film, like every other disturbed director, I was convinced I'd messed it up, that we hadn't quite captured it.
After one of the screenings at Sheffield, a journalist interviewed us and said he thought he was coming along to watch a film about what had happened to Marie in Homs. He didn't realise he was actually going to Homs himself.
It was four years after putting that book down and the nicest thing he could have said.
TACKLING THE FUNDING CHALLENGE
Tom Brisley - producer
Unless you're an A-lister in the feature doc world, financing a film is a challenging prospect. Yet the mere mention of 'the possibility of a theatrical release' is like an aphrodisiac, enough to send producers and directors into spasms of ecstasy. The tougher it becomes, the more it's craved.
This is the position I found myself in when director Chris Martin came to me with the story of Marie Colvin and Paul Conroy and their ill-fated journey into Syria in 2012.
The long road to an opening night is littered with heroic failures, but there were some clear steps we learnt to take. The first was to have something unique to sell. Optioning Paul's book gave us that: the doc rights to a truly incredible story. We had something to talk to potential backers about.
The world of feature docs networking falls into two categories – meeting people who 'talk the talk' and show endless enthusiasm; and a much rarer group who are also prepared to invest. We couldn't have ended up with better funders.
We engaged with them, gained their trust and listened to their feedback, while they bought into our vision for bringing Paul and Marie's incredible story to life.
COMPLEX CONTRACTS
We took time over the contracting – a giant matrix with many pitfalls. The timing of the release, TV windows and download-to-own across multiple territories cannot be rushed. Seven contracts all needed to dovetail together.
Hat tip to Arrow Media's James McGregor for staying on top of it all.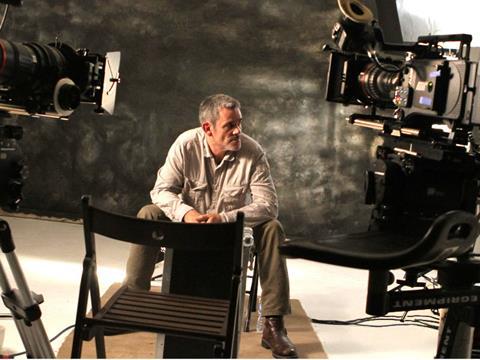 During the process of making the film, keeping the funders in the loop was crucial – with feature docs, it's better to overshare than undershare.
Four years later, we have a finished film – it's an amazing feeling. Now we have to do all we can to promote the film. No opportunity spared… so please, see the film when it's released in the autumn. I hope it's as powerful for you as the story was for me on day one.