NAB 2015: MPEG-H Audio advocates Fraunhofer, Qualcomm and Technicolor are using NAB to showcase a new TV audio system for ATSC 3.0 and internet streaming in a complete broadcast chain for live sports and music productions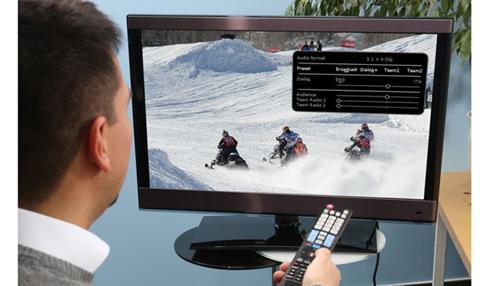 Two demonstrations are taking place of the new immersive and interactive TV audio system being developed for OTT streaming video services.
MPEG-H Audio is designed to offer broadcasters a cost-effective means to elevate the sound quality of their offerings beyond 5.1 surround, while incorporating new interactive and immersive features across the full range of modern viewing devices from high-end home theatres, to tablets, smartphones, and sound bars.
An end-to-end live production demonstration at the Fraunhofer stand (SU3714) will incorporate a live audio feed from a remote truck combined with recorded programming from video servers at the network. The process for distributing the new, live content to affiliate stations, inserting local commercials and emission to homes will be included in the demo.
Aside from the Fraunhofer prototype audio/video encoders and decoders and a Jünger Audio monitoring unit, all of the equipment in the demonstration is unmodified broadcast equipment used in TV plants and remote trucks today.
In addition, in meeting room SU 201LMR, Qualcomm will be demonstrating an end-to-end simulated live broadcast of immersive, scene-based MPEG-H audio.
Every stage of a live Higher Order Ambisonic (HOA) production will be demonstrated: from capture of a live 3D musical performance, through efficient transport through a TV plant (NoC to affiliate), and an emission encoder (MPEG-H) to playback on consumer devices with various speaker configurations.
Immersive and configurable OTT audio
The MPEG-H Audio international standard aims to offers viewers the ability to choose different audio presentations, such as 'home' or 'away' team commentary for a sports event, or volume control over specific audio elements in a program, such as dialogue or sound effects.
Viewers are also able to experience immersive sound over loudspeakers, new 3D soundbars, tablet computer speakers, and headphones. Additionally, the multi-screen audio system tailors playback so programs sound best on a range of devices and environments.
According to the three companies, all of these features will be under the control of the broadcaster or content distributor, providing new creative opportunities, such as the ability to efficiently add additional languages, players, or official microphones, or car to pit crew radios at races.