Our digital conferences have proven we can reimagine how to deliver news and debate, says Elizabeth Fisher-Robins
Experiencing the adrenalin rush as the director counts down to air is usually a thrill saved only for those in the newsrooms and live broadcast teams, but as part of the newly formed virtual events team at ITN, we're not only making the headlines, we're setting the standard.
Over the past eight months, we have been developing, producing, and delivering a game-changer in the world of conferences and global events. Working round the clock, we've built a set in the ITN Atrium, worked with over 250 global interviewees and panelists, stirred up debates between Sir Keir Starmer and the prime minister and heard from the great and good of the business world.
We're not just talking webinars or awkward Zoom calls. What we've delivered is world-class, gold-standard television programming – and like the news, it must be accurate and fast, with no second chances.
"Delivering content in this way will transform the way we run events at the CBI. We've broken down borders and increased inclusivity and conversation amongst our members. ITN is a great production partner – no-one else would have been able to deliver such a spectacular event, especially given the circumstances."
Elaine Anderson-Wright, head of events, CBI
As the buzz from the annual conference dims and our heart rates return to normal, it's a perfect time to reflect on what it's like to work on such a pioneering project in one of the most difficult times our country has faced.
The theme of the main event was 'Build Back Better' and after the immediacy of the initial lockdown, with everything closing around us and all our shoots cancelled, it seems a suitable way to look at the world of production too. But perhaps we have just built back differently?
The gallery is not too dissimilar. Apart from the plastic, clear screens separating us, you wouldn't have known there was a pandemic raging and a lockdown looming as we broadcasted live to BT Tower, the conference platform, and social media – to an audience of over 1 million.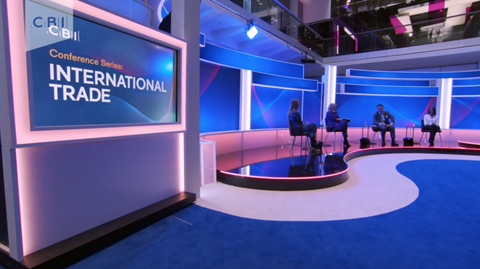 But out in the studio and in the run up to the big day, it was masks and health declaration forms; last minute requests and tech tests; socially-distanced panelists, heads in screens and no creative get-togethers in the edit suite.
Because of this, it has been hard – in fact, one of the hardest projects I have worked on: so many moving parts, everything taking longer because of the restrictions (you can only have two people in the lift at any one time, of course) and unpredictable demands on the budget.
This project has required quick wits, fast solutions and focus, as head of production Sophie Chordia says: "Never has a project required more teamwork, dedication, and trust from across the board than the latest series of virtual events we have produced.
"Organisation, patience, and good cheer has been key, with all members of the team pulling together and putting in phenomenal shifts to bring it all to life. We've had to learn and adapt quickly through unchartered territory and I've never been prouder or had more confidence in colleagues."
Building up relationships and getting the most out of the team was another challenge brought on by the remote management of this project. My leadership style, normally personal and affiliative, had to be replicated in the digital space.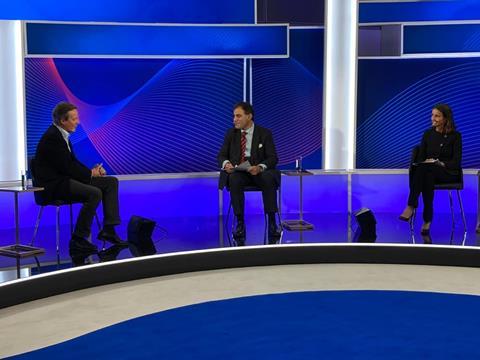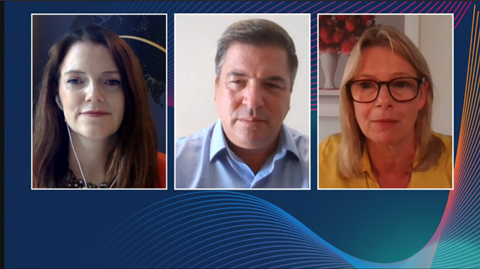 I hadn't even met my client contact before the first shoot day. What usually would have been hours of pre-production meetings, creative development over long lunches and showing off the impressive ITN building, was now simply a series of project calls over Microsoft Teams, and a virtual tour filmed on our iPhones.
But we made it work. We delivered an outstanding 72 hours of television programming that has rocked the events world. This is not the only example of how the pandemic has brought out the creative and resourceful side of this part of the ITN business.
Adapting and thriving
Out in the field, we had to think of new ways to bring our corporate clients' stories to life and be inventive on how we deliver them. Remotely filmed interviews, animation and socially-distanced shoots – we're out of our comfort zone, but still on location. And many locations at that. We've filmed over 100 shoots this year, all over the world.
As part of our fast turnaround Covid-19 response series, we've covered heart-warming stories of lorry drivers delivering food in 'Keeping the Country Moving' and companies making simple hand sanitiser on our 'Chemical Industry Champions' online series.
The clients probably don't really notice, but it's the smaller things that add extra stress to these shoot days. Our reporter Donna Benard notes: "We weren't as free to roam around as usual, gathering interesting footage, so there was a lot of creative thinking needed to keep our films up to their usual standards."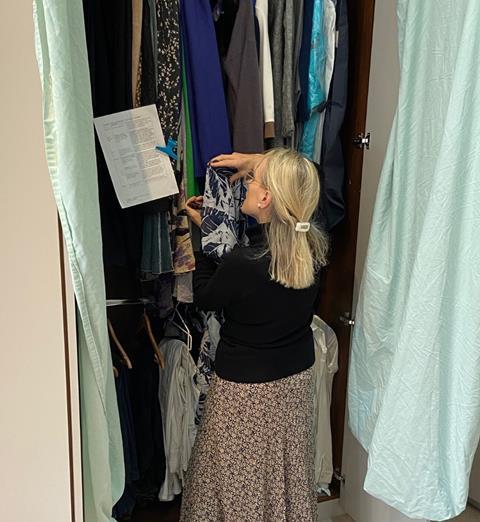 Moving into post-production, with reporters no longer able to sit with our editors, they must find new ways to achieve the same result – sometimes with amusing results.
Sue Saville, ex-ITN healthcare correspondent and reporter for ITN Productions Industry News, developed a new technique for recording voiceover. This involved downloading a professional microphone app, opening her wardrobe doors, draping sheets over them to deaden the sound, pinning the script to hanging clothes and holding a T-shirt over her mouth to catch the sibilants and plosives as she spoke into her phone. "It was quite bizarre yet surprisingly effective," she says.
This is just a snippet into our new, different and innovative way of working. Is it better or not? What we do know is that as the pandemic continues its global path, and the countdown continues to our final filming days of 2020, we feel confident in what we're doing, how to capture the story and deliver impressive results, on and off air.
Elizabeth Fisher-Robins is head of ITN Productions Industry News