Sponsored content
Find out more
As a young man, Darren Throop moved to a new city in his native Canada. When he couldn't find music he liked, he did what any good entrepreneur would do: opened up his own record store.
It is from these humble roots that Throop, President and CEO of Entertainment One (eOne) the global, multi-channel content owner, producer and distributor of TV, movies and music, grew his business.
This journey has given him a bird's-eye view of significant changes in every part of the entertainment industry over the past 30 years. From vinyl and celluloid through to streamed music, movies and TV, technology has changed how content is delivered at rates that are "simply staggering," he says.
These changes have "definitely been for the better for the industry" as they have made it easier for the consumer to interface with and to enjoy content in different ways and have made the world and audiences more connected.
Global is the new reality for content
Over the next 30 years, Throop says the internet will "really drive those changes and make audiences truly global in ways we haven't seen before".
eOne has been careful to change in step and to "mirror these realities", structuring its business to transcend borders and putting global teams in place to service new customer demands. Other content providers are similarly adapting and restructuring to meet these global needs and make the most of the opportunities that globalisation creates.
"The biggest news over the past decade has been the rapid growth of providers such as Netflix, Amazon and Apple iTunes, and the start of the digital download era"
The biggest news over the past decade, says Throop, has been the rapid growth of providers such as Netflix, Amazon and Apple iTunes, and the start of the digital download era.
Along with Playstation, X-box, pay-TV providers and consolidation of cable and satellite operators, these companies have contributed to the creation of truly global platforms, no longer confined geographically and allowing consumers to enjoy content on a range of platforms.
"While technological changes have dramatically changed the nature of content creation and delivery, one of the most exciting developments is the ability for a creative mind to make a TV show, movie or piece of music for adults or children and, with a flick of a switch, have consumers around the globe enjoying it," he says.
Strategically to this end, eOne has focused on developing partnerships with the best creative minds, finding writers, producers and directors who can get the highest quality programming in front of the consumer.
Cinematic experience here to stay
Ultimately, it's the consumer who determines where the entertainment industry is going, Throop says: "People can now find what they want to watch, when they want to watch it, and on many different platforms." These changes mean linear TV is no longer the only avenue.
"One of the biggest opportunities in engaging with big global audiences in future is with content tailored to their specific needs," he says. "There are huge opportunities opening up in developing markets such as China, India and South America."
But while there is increased demand and an insatiable appetite for streamed content, Throop challenges those who predict that the end of cinema is nigh. "They are on the wrong track." Instead, while the industry is undergoing rapid change, the "cinematic experience is here to stay".
"There are huge opportunities opening up in developing markets such as China, India and South America"
To those who say there's too much TV out there, Throop echoes US film and TV producer Mark Gordon, who believes that there might be too much TV content, but there's not too much good content. "High-quality TV will rise to the top."
The rapidly changing entertainment business will continue to be both stimulating and motivating, which is why it has never seemed like a job to Throop. "It's why I look forward to going to work every day."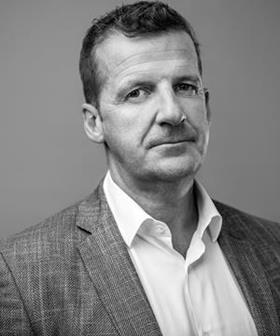 Darren Throop
President and CEO of eOne
Key takeaways
The biggest news over the past decade has been the rapid growth of providers such as Netflix, Amazon and Apple iTunes, and the start of the digital download era
The internet will drive growth in future and make audiences global in ways not seen before
In future, winning content will be user-specific
The cinematic experience is here to stay
Ultimately, it's the consumer who determines where the entertainment industry is going
The facts
Media companies need to be ready for new economic models coming their way as demand for content 'anywhere, anytime' accelerates
Increased competition for exclusive programming is driving up prices
In the UK, the majority of daily media consumption for those under the age of 30 now involves a handset
For the over 55s, smart devices are principally used for communication and linear TV is the backbone of their daily consumption
Conversely, smartphone-based, socially curated short-form video and music are the basis of entertainment for younger audiences