The 18-hole challenge features Tiger Woods, Rory McIlroy, Jason Day and Hideki Maysuyama and some of the world's biggest rugby stars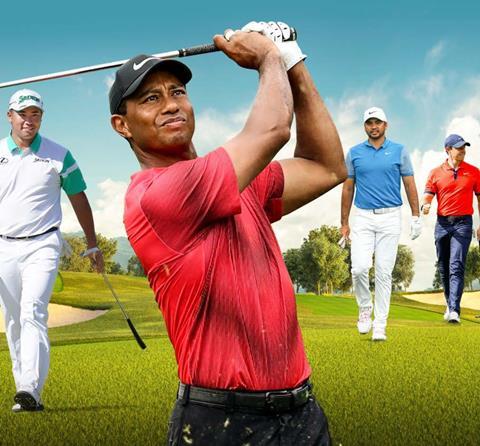 GOLFTV has revealed further details of its inaugural Japan Skins event, which features four of golf's finest - Tiger Woods, Rory McIlroy, Jason Day and Hideki Maysuyama – going head-to-head over 18 holes.
The 'skins' format means each hole has a monetary value – which is the 'skin'. The player with the lowest score on the hole wins the skin for that hole and if two or more players tie for the lowest score, the skin carries on to the next hole.
Skins continue to carry over until one player wins a hole outright. If no player wins the 18th hole outright, it's a sudden-death playoff for the value of the final skin.
The MGM Resorts Challenge: Japan Skins is being played for charity, with the winner being the player who wins the most money for charity.
The event takes place on Monday 21 October at Accordia Narashino Country Club in Chiba, Japan, and will be televised globally.
Given the Rugby World Cup is taking place in Japan at the same time as the Japan Skins, some of the biggest names in rugby are also getting involved. So while the four top-name golfers are doing their 18 holes, George Gregan (Australia), Bryan Habana (South Africa), Brian O'Driscoll (Ireland and British & Irish Lions) and Mike Tindall (England) will also take on a challenge alongside them.
Tindall said: "This is an amazing opportunity to be up close with some of the best players that have ever played the game. I am so excited to be able to watch them from inside the ropes. When you look at Tiger and Rory, they're so robust mentally. They have each had their challenges over their career but have always managed to overcome them and end up on top which is the toughest side to sport so you can only salute them for this."
As well as the details outlined above, GOLFTV promises "a host of other unconventional in-game twists [that] will be unveiled on the day."
MGM Resorts The Challenge: Japan Skins – the details
Tee-off time
1pm (Tokyo), 6am (CEST), 5am (London), 12am (U.S. Eastern time)
How to watch
Fans can watch by registering with GOLFTV and visiting https://challenge.golf.tv. The Golf Channel will simulcast the event in the US.
The event purse
Players will be competing for a total purse of $350,000 USD for the selected charity partners, with hole values divided as follows:
Holes 1 through 6: $10,000 per skin
Holes 7 through 12: $15,000 per skin
Holes 13 through 17: $20,000 per skin
Hole 18: $100,000 super skin
Challenge Holes
During the event, three holes played will include an unconventional twist with additional monetary value in support of our charitable partners. Details of these extra challenges will be revealed during the live broadcast.