Sponsored content
Find out more
The studios famous as the home of James Bond, Star Wars and the Marvel Universe takes green issues seriously and has set a target of cutting its carbon footprint by half by 2030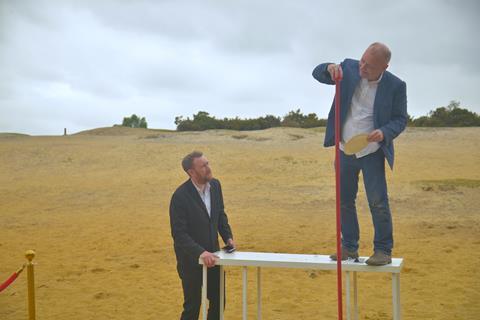 World-renowned Pinewood Studios Group is blazing a trail in the UK film and TV industry by taking on the challenge of sustainability and environmental responsibility.
Home to film and TV production for more than 80 years, the Studios boast more than 40 stages, three TV studios, a permanently filled underwater stage and thousands of square feet of production office and workshop space.
Pinewood sets a good example to others in an industry that potentially leaves itself vulnerable to criticism over sustainability concerns like waste from set construction and energy and water usage.
It's clear from Hannah Bond's role as Group Sustainability Manager that Pinewood takes green issues seriously. She says: "Our sustainability department continues to evolve and I've seen a big change in attitude here and within the wider industry."
She adds: "Being the leading provider of studio space in the UK, we are dedicated to contributing to a sustainable future for the screen-based industries."
Knowing your environment
Pinewood's approach includes being sensitive to the environmental impact of its location bordering a site of special scientific interest. Even as it expands, the Studios take many steps to protect, preserve, sustain and conserve for future generations.
Although visiting production companies are responsible for the waste they create from stage work, Pinewood is committed to zero waste to landfill when it comes to production offices.
Hannah says: "You'd be surprised how much comes out of the offices, after all, on an average production you might be shooting for just two months but there could be a year of scriptwriting, design and other office-based work building up to that."
Pinewood has it own onsite cardboard compactor and baler, which have contributed to a significant reduction in lorry movements as daily bin collections have now been replaced by a single collection once every fortnight.
Road congestion around Pinewood is further cut by encouraging the hundreds of people who work there every day to use the free shuttle buses it provides to connect to transport links to London and the wider area.
Pinewood estimates the service has provided close to a million passenger journeys since its launch. Cycling is also heavily promoted at the studios and there are monthly 'biker breakfasts' and free bike maintenance sessions on-site through the year.
Cutting energy consumption
With the power-intensive nature of TV and film production, Pinewood's in-house carbon management group, which Hannah chairs, has set targets to reduce energy consumption, with an overarching ambition to cut its CO2 footprint by 50% by 2030.
Roof-mounted solar panels at the studio can generate up to 32kW per hour when working at full capacity in the summer sunshine. Even in cloudy weather, they are still able to generate electricity.
Other measures include extensive use of LED lighting and motion detectors to turn lighting on and off in communal areas. With some of the site's buildings being up to 80 years old, upgrading heating systems to more sustainable technology has also helped.
Elsewhere, Pinewood's facility in Wales is almost entirely powered by an on-site wind turbine, which can supply up to 90% of the studio's power with a capacity of 2.3MW.
Pinewood has to comply with a raft of cross-industry standards when it comes to energy – including the CRC Energy Efficiency Scheme, Energy Savings Opportunity Scheme (ESOS) and energy performance certificates (EPCs) .
Waking up the industry
Hannah says the Studios work very closely with BAFTA and its sustainable production certification scheme, Albert. "This is the certification that pretty much all TV productions recognise. We offer a lot of training to our people on site through BAFTA, and we support any productions on-site that are part of Albert."
Pinewood's work with BAFTA is now also focusing on introducing similar certification for film production.
Hannah is convinced the UK TV and film industry is waking up to the need to catch up with other industries on sustainability.
She says: "As a sector we're better than some, and worse than others. I think a lot is being done in the background but maybe the industry needs to shout about it a bit more."
"As one of the leading lights of the UK Film and TV world, Pinewood is taking a lead within the wider industry to achieve it's commitments to the Green Agenda" says Rich Woolford, Head of Film for Barclays Bank.
"It continues to be a pleasure to work closely with this forward thinking studio as we all try to make the production process a more sustainable one."