The late civil rights leader was an inspirational force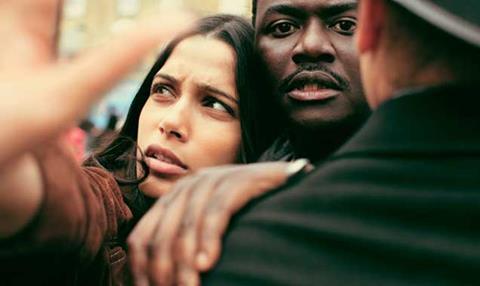 Production companies Fifty Fathoms; ABC Signature; International Famous Players Radio Picture Corporation
Commissioners Anne Mensah; Cameron Roach; Zai Bennett
Length 6 x 60 minutes
TX 9pm, Thursdays from 13 April, Sky Atlantic
Executive producers John Ridley; Patrick Spence; Katie Swinden; Tracey Underwood; Idris Elba; Michael McDonald
Writers John Ridley; Misan Sagay
Directors John Ridley; Sam Miller
Script editor Anna Ssemuyaba
When Darcus Howe walked into the room, he did so proudly, carrying the weight of Britain's untold civil rights history on his shoulders. Starting after the Windrush, this movement mirrored events in America, fighting for justice for black British people – and Darcus was one of its leaders.
Guerrilla is a fictional story, but the world and the forces of oppression depicted are wholly real, and Darcus was instrumental in bringing it to life.
He joined the production back in 2012, when he kindly agreed to sit down with creator John Ridley to describe what life was like for black radical activists in 1970s London.
How they were constantly attacked by the police, and turned away from jobs for which they were overqualified; how it felt to come to a country that your family, as subjects of the British crown, had fought for, and to realise that it did not want you.
He described the vibrancy of the Mangrove restaurant in Notting Hill, the axis of all activist meetings, run by the late Frank Crichlow. Hearing these stories convinced John to set Guerrilla in 1970s London.
Darcus read scripts for the series and gave us insightful feedback. At a readthrough for episode one, he was given a standing ovation. Afterwards, the cast lined up by the door, bursting with questions. He sat down with the actors and helped them understand what it was like to dedicate your life to a cause.
Listening to these stories also affected the crew, many of whom had grown up in Brixton and
Notting Hill but had never known this part of their history. One camera man described how meeting Darcus inspired him to research the movement and to ask his parents, for the first time, what life was like for them back then.
Darcus also helped us with the lighter side of the series. I would often call him for help with '70s slang terms and cultural references.
These small details were crucial to the script. He painted vivid pictures of what the "pusheens" (parties) were like, what people listened to, and where they hung out.
But Darcus really came to life when set beside his wife, activist Leila Howe, and his best friend, writer Farrukh Dhondy, a fellow British Black Panther and a former Channel 4 commissioning editor.
In the 1970s, the three of them had worked together on Race Guerrilla and Darcus Howe: a perfect match Today, a British political magazine and a pioneering platform for black journalism.
They were gracious enough to agree to be supporting artists on our first day of filming, playing community leaders in a scene with Idris Elba. When Leila walked onto set, transformed in a 70s costume, Darcus exclaimed with excitement: "Can that be my wife?"
Darcus was a man who would quote King Lear or The Book of Common Prayer in the middle of a story of how he stood up against the National Front.
A man who rendered the room silent when he described how he represented himself in court after being arrested on false charges, and got a judge to admit for the first time that there was "racial hatred" within the British police.
An uncompromising champion for racial justice, Darcus generously shared his history with us, in a way that irrevocably inspired and affected both cast and crew.
Anna Ssemuyaba was script editor on Guerrilla