In-person event offers opportunity to hear from 40 commissioners and indie bosses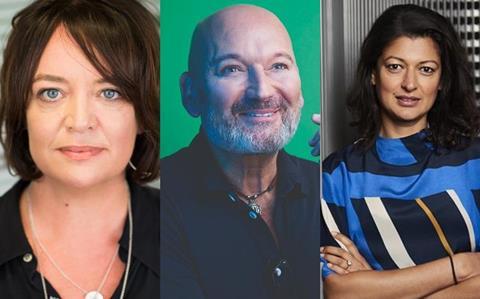 The Broadcast Indie Summit is back with a packed programme featuring 40 commissioners and indie bosses as it becomes the first major in-person conference pitched at the production community for two years.
The day-long, two-stream event will take place at the Barbican on 29 March and offer attendees the chance to get the inside track from commissioners working across multiple genres at the likes of Disney+ and Amazon as well as the BBC, ITV, Channel 4, Channel 5, and Sky.
It will also share best practice ideas from some of the indie sector's biggest names on topics such as commissioner relations, development and pitching, and staff management and welfare.
ViacomCBS (now Paramount) chief content officer Ben Frow will open up on how the US giant's push into streaming opens up significant opportunities for UK producers, alongside two Disney+ sessions that will focus on the entertainment giant's aspirations in the scripted and unscripted space. Johanna Devereaux, Lee Mason, Carolyn Payne, Sean Doyle and Simon Raikes will all appear.
Polly Hill (ITV) Caroline Hollick (C4) and the BBC's Mona Qureshi are hosting a PSB scripted session, while an entertainment panel encompasses Pinki Chambers (BBC), Kevin O'Brien (ITV) and Steve Handley (C4).
A trio of PSB popular factual formats commissioners are also represented in a dedicated session via Alf Lawrie (C4), Catherine Catton (BBC) and Jo Clinton-Davis (ITV).
There will also be plenty for indies to learn about improving the way in which they operate.
Jimmy Mulville (Hat Trick), Lucy Pilkington (Milk & Honey), Tanya Shaw (Zinc Media) and Tim Hincks (Expectation) will bare their souls in a session designed to help delegates not repeat the mistakes others have made, with Glenn Hugill (Possessed), Jonny Collier (South Shore), Kelly McGolpin (Objective Fiction) and Sarah Stevenson (Yeti) issuing advice about how best to develop and pitch ideas.
A focus on staff well-being and productivity comes via Broadcast Award's Emerging Indie winner Colleen Flynn (Flicker), with Lou Patel (Share My Telly Job) and Sanjay Singh (Voltage).
Commissioners turned indie bosses Cameron Roach (Rope Ladder Fiction), Fatima Salaria (Naked) and Michelle Chappell (Workerbee), will be joined by Andrea Hamilton (Modest) to discuss the best ways for producers to manage their broadcaster relationships.
The day-long event will also feature the reveal of the Broadcast Indie Survey 2022 by editor-in-chief Chris Curtis.