Before they could hijack primetime with their Highland caper, the team had to turn a sleepy village into a setting fit for glamorous bandits and (not too) dark plotlines, says Brian Park.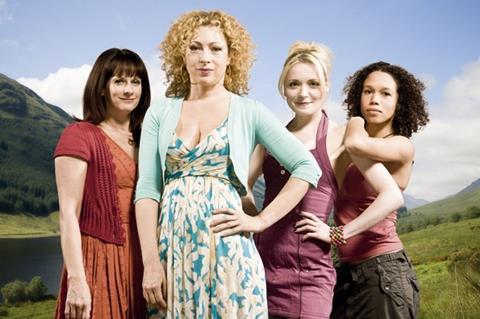 The genesis of Hope Springs sprung from the most unlikely of settings – the bar of the Beverly Wilshire in LA. If things had turned out differently, you might have been treated to the US version first. But as fate would have it, Hope Springs was greenlit two years, and many drafts, later in December 2007, proof that a good idea can have transatlantic legs.
Set in Scotland, it's a primetime drama for BBC1 in an eight o'clock slot on Sunday night. Therein lay the challenge, or as it's known in popular parlance, the poisoned chalice. Why the hint of hemlock? Well, with such television templates as Hamish Macbeth and Monarch of the Glen before us, we had to strive for something different but reassuringly familiar at the same time.
In fact, Hope Springs was one of those famous 'but' commissions. You know the drill: "We want it to be edgier than Monarch, but not too edgy for eight o'clock. It can be quite dark in tone, but not too dark. It should feel new, but…"
So the everyday story of four female ex-cons on the run with £3 million of stolen loot tipping up in a remote Highland village with its own dark (but not too dark) secret is our brave attempt at squaring that particular circle – Whisky Galore with a dash of Twin Peaks.
This double-edged approach carried on to the casting. Our gang of four had to be 'baddies' – the odd spot of GBH and arson – but characters with, hopefully, a warmth and heart that would have you rooting for them no matter what.
Creators Ann McManus, Maureen Chadwick and Liz Lake had also written some very funny scripts, so our cast had to have the comedy chops as well.
Alex Kingston had already ventured out as a gangster's moll in the film Essex Boys, so we were delighted when we managed to entice her over from LA for a similar role, though this time with a bit more fun and no full frontals! Sian Reeves, Christine Bottomley, and Vinette Robinson completed the crim quartet. We were blessed too to secure two of Scotland's – nay, Britain's – finest comic talents: Annette Crosbie and Ronni Ancona as a lethal mother and daughter.
Location, location
There were other challenges. Picture postcard villages abound in Scotland, but they also abound with tourists. And though various locations would look tranquil and ideal on a recce in wintry January, we had to take account of what they would look like at the height of summer, when those 'banks and braes' are choked with bus loads of camera-toting Germans.
More remote settings might have been the answer but a competitive budget dictated we had to be no more than a day's travel from our studio base in Dumbarton. In the end, we plumped for Wanlockhead, which bears the proud moniker 'The Highest Village in Scotland'. Confusingly, it's not actually in the Highlands but in Dumfries and Galloway down in the Borders; such is the artifice of television. The cruel irony being that if – no, surely when – Hope Springs becomes a hit, this sleepy little hamlet will be transformed, making filming nigh impossible as Teutonic coach loads descend to snap the 'Hope Springs Hotel' and other such landmarks. Holmfirth, eat your heart out.
Monsoon season
The notion of global warming also seemed to have bypassed the land of my birth. The south-west of Scotland basks in its own microclimate. Unfortunately, no one told us that climate would bring a Java monsoon season.

So while last July the metropolis basked in temperatures up in the 80s [high 20s celsius], cast and crew battled with horizontal rain and gale-force winds. One of the unexpected consequences of filming in The Highest Village in Scotland was that one day, we actually seemed to be shooting not under but rather inside a cloud, an experience that must rate as a personal first for me.
Given that our storyline called for our women to be clad in finery intended for a Caribbean summer, it was a testament to the forbearance of our fine female leads. Standing in a skimpy backless frock with temperatures barely in the 50s [10-15 celsius], we didn't have to call on all of Alex Kingston's formidable acting skills to wail the line: "We should be in Barbados by now."
Even when the wind and rain occasionally relented, it only heralded another exquisite torture: 'ceratopogonidae' (midges to you and me). A particularly Scottish phenomenon. To the uninitiated, these are like tiny mozzies – only extremely hardcore. A swarm of them can descend and turn any actor's porcelain features into something resembling tapioca pudding, seemingly in minutes.
Netted hats of beekeeper proportion and giant fan-like machines that lured the female of the species to their death were all applied to deter the little monsters. Weirdly, the best line of defence turns out to be Avon's Skin So Soft moisturiser, which was ordered up by the gallon. Another unexpected line cost on the budget. So while cast and crew may have risked looking like something out of The Elephant Man, they did smell lovely.
The acting-with-animal-laurels must go to Christine Bottomley whose ditzy character Shoo gets cornered by a sheep she thinks is rabid (it happens all the time in the Highlands, honest).
Her task was made considerably harder because the sheep's owner chose to prepare the animal for its screen debut with a shampoo and blow dry. It was so white and fluffy, it looked like a cuddly toy sponsored by L'Oréal.
These travails aside, the production sailed through the 17-week schedule, our studio set housed in a former bonded warehouse in Dumbarton outside Glasgow. The studio's previous incarnation was all the more appropriate as it was converted into a large bar and hotel set that would witness three killings, one attempted murder, an arson and (remembering the plea to not be too dark) a wedding ceilidh. Glasgow locations stood in for London and, amazingly, the Cayman Islands (see if you can spot the join).
Hope springs indeed that this series will be the first of many to bring a sustainable production slate back north of the border.
Building the Hope Springs Hotel
When the women stumble upon the Hope Springs Hotel, it's not quite the luxury living they had planned. It's decrepit and run-down, sorely lacking in guests and screaming out for a make-over.
Production designer Andy Harris explains the challenge of creating this unique set in BBC Scotland's Dumbarton Studios: "As the plot of Hope Springs is full of twists and turns, so the layout of the hotel had to be designed to cope with the comings and goings of the characters," he says.
"We used a youth hostel in the village of Wanlockhead for our exterior, replicating the position of the doorway and the windows in our version of its interior.
"To imbue it with character and a sense of history, I tried to reflect the influence of a variety of historical styles in the hotel set, choosing elements from Art Deco through to the '70s, the period when we decided time stood still and the hotel remained in aspic.
"Our heroines, initially, fail to appreciate Hope Springs, but for the viewers, I wanted to capture the magic of finding an undiscovered gem, just like Brigadoon, hidden away in the Scottish hills."
Credits
Producer: Shed Productions
Broadcaster: BBC Scotland for BBC1
Producers: Brian Park, Spencer Campbell
TX: 31 May, 8pm, BBC1
Length: 8 x 60-minutes
Commissioning editor: Jane Tranter
Writers: Ann McManus, Maureen Chadwick, Liz Lake
Directors: Sheree Folkson, Ian Barnes, Dermot Boyd, Brian Kelly
Executive producers: Anne Mensah (BBC Scotland), Brian Park (Shed Productions) Directors of photography Jono Smith, Lawrence Jones Len Gowing
Production designer: Andy Harris
Make-up and hair designer: Irene Napier
Costume designer: Trisha Biggar
Composers: Tristan Norwell, Nick Green
Editor: Ben Yeates
Principal cast: Alex Kingston, Sian Reeves, Christine Bottomley, Vinette Robinson, Annette Crosbie, Ronni Ancona, Paul Higgins, Alec Newman