Market wisdom dictates that if you can make a six-year-old laugh with an animated comedy featuring great characters, you'll be able to sell it.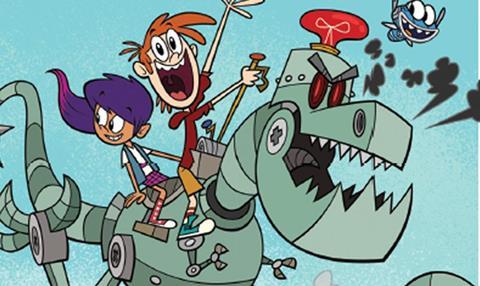 Distributor DHX Media
Producer DHX
Length 40 x 11 minutes
Broadcaster YTV (Canada)
To this end, DHX Media is heading to Mip TV with the 2D animated Chuck's Choice, aimed at kids aged six to 11 and directed by Kid Vs Kat creator Rob Boutilier.
The series revolves around the saying 'be careful what you wish for' as the show's protagonist, Chuck McFarlane, is able to control his destiny and choose his own adventures.
The 10-year-old and his friends learn new lessons in each episode. While being given the power of flight sounds amazing, for example, what would it be like if it comes with a larva sac attached to your abdomen?
Currently in production at DHX's Vancouver studio for YTV Canada, the toon has already been picked up by Turner Broadcasting in France for its Boing channel.
Steven DeNure, president and chief operating officer of DHX Media, says: "The series is packed full of humour as our eponymous hero makes destiny-defining choices that lead him on adventures with unanticipated and often hilarious consequences."
Other comedies for the six to 11 age group on the Canadian production/ distribution behemoth's 2016/17 slate include movie spin-off Cloudy With A Chance Of Meatballs, a Sony co-pro headed for Boomerang, plus Fangbone – based on the tales of a nine-year-old barbarian warrior from Skullbania – which has been pre-sold to Disney.