Ruff-Ruff, Tweet And Dave producer Collingwood & Co is taking a taster to Mip TV that could end up being the UK's first pre-school show using marionettes in more than 50 years.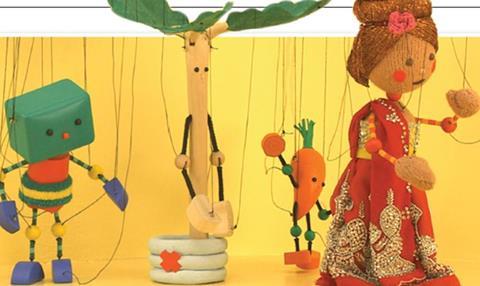 Producer Collingwood & Co
Length 52 x 11 minutes
Country UK
Things On Strings is a sitcom in which a family of puppets have fun together.
Dad is a cuddly bear who works in a string factory and Mum is a knitted doll who has just landed herself a job as a writer of instruction manuals in 10 different languages.
There's also a mini-show within the show, Bits On Sticks, which differs stylistically from the marionette world but provides another angle and insight into each episode's theme.
To complement the action, the show's music is dominated by string instruments: harp, guitar and violin, with a lot of staccato plucking.
The pitch document promises a sparky script ("Eat up your spaghetti! It's good for your strings!") and some off-the-wall support characters, including the daughter's invisible friend Jill (we can only see her strings) and their next-door neighbour Mr Rhubarb, who just utters the word 'Rhubarb' (but perhaps only viewers over the age of 30 will get this reference).
According to the show's writer and director Tony Collingwood, whose credits include Harry And His Bucket Full Of Dinosaurs and The Cat In The Hat Knows A Lot About That, its distinctive style will be its standout point.
"There are no special effects, no animation – just things on strings," he says. "The road to CGI land is gridlocked with shows. The road to marionette land is completely clear."