Fremantle Media's new reality format Football Nightmares challenges two of Italy's best-known former players to resurrect the fortunes of failing amateur clubs.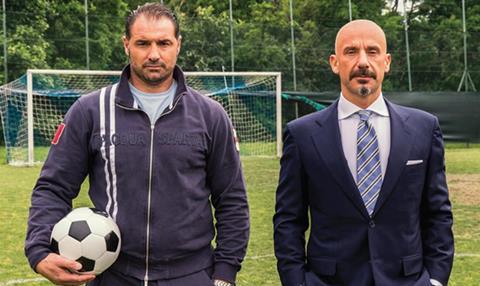 Distributor Fremantle Media
Producer Fremantle Italia
Length 8 x 60 minutes
Broadcaster MTV8 (Italy)
Gianluca Vialli and Lorenzo Amoruso travel the country, spending a week with clubs in the seventh or eighth tier of the game – good enough for the players to take matches seriously, but not to be paid money for playing.
In many cases, the club is the focal point of a village or small town, so its underperformance really matters to local people.
"These are teams that are full of passion, but have difficulties. There could be conflicts in the dressing room or really low morale, which mean it is time to intervene," says former Juventus and Chelsea striker Vialli, who is an executive producer. "There's always something to complain about, but we leave them with a new sense of dignity."
There are elements of comedy and human interest in the 8 x 60-minute series, which is produced by Fremantle Italia for Sky Italia-owned free-to-air station MTV8.
"It's a show about relationships," adds Vialli. The players at each club have no idea that Vialli and Amoruso are on their way to reinvigorate the club, so it is a surprise when they arrive and already have an understanding of some personal issues.
"On the pitch we act like managers, but off it we are more like mind coaches," Vialli says. "Maybe a player has split up from his girlfriend, or is coming back from injury. We offer a lot of advice."
The pair complement each other – Amoruso is "a tough guy, honest but direct", while Vialli has "a different way of saying things".
The former striker is being modest. He is a sophisticated and charismatic figure; Amoruso is more of an action man.
There is a makeover element too, as the duo improve training facilities, give dressing rooms a lick of paint and generally provide players with the tools to train properly.
At one club, they had floodlights installed, rather than relying on switching on the headlights of cars parked around the pitch.
Vialli believes football's global popularity makes the format a good bet for versions around the world, as does its authenticity.
"There are universal themes to the underdog stories from each episode. There is nothing fake about this show."
Fremantle Media director of global entertainment Rob Clark adds: "Whether we're watching it, playing it or following it, football is the only truly global sport. This series celebrates that love and adoration for the beautiful game while tapping into the community spirit that comes with supporting a local club."
Football Nightmares is one of a number of formats the RTL-owned firm is launching at the market.
Also on offer is ITV gameshow Bang On The Money. In the Thames-produced 8 x 60-minute competition, hosted by Kiss FM DJs Rickie and Melvin, two teams compete head-to-head in a series of challenges to hit a specific score 'bang on' and walk away with a cash prize.
Clark says the show is particularly suited for family audiences, with two teams of young people facing a mix of physical studio challenges: "With its energetic atmosphere, this show is like one big party."