Mipcom can sometimes feel like a human zoo: thousands of TV executives crammed into the bars and restaurants of Cannes or trying to find a seat in the Grand Auditorium of the Palais for a keynote session.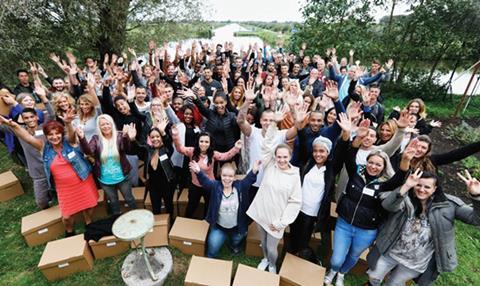 Distributor Fremantle Media
Producer Blue Circle
Length 60 x 60 minutes
Broadcaster RTL5 (Netherlands)
Fremantle Media's latest non-scripted format Get The F*ck Out Of My House shines a light on this condition by exploring what it's like for 100 complete strangers to be crammed into a family home in a bid to become the last person standing and win a jackpot prize.
The group will elect a leader and work collaboratively to spend a household pot of money, which doubles as the prize money, on items such as alcohol and pizza.
The stamina and determination of the group will be pushed to the limit by a group of reporters constantly questioning, provoking and subverting the contestants.
The Big Brother-meets-Survivor-style show is produced by Blue Circle, the Dutch indie owned by Fremantle Media and best known for producing local adaptations of Idol, Got Talent and The Great British Bake Off.
The show launched on RTL5 in the Netherlands earlier this month, fronted by Nicolette Kluijver, model and host of nude dating format Adam Seeks Eve. It is being stripped daily.
Fremantle Media will be pitching the format to broadcasters in the UK via one of its indies, and the fi rm's distribution division is hoping to attract interest from global buyers.
Fremantle Media director of global entertainment Rob Clark says its Mipcom slate is a "Jekyll and Hyde" line-up.
"On one hand, it is our loudest and most controversial slate ever, but it is also packed with family formats, from bold and provocative reality through to feel-good entertainment and gameshow classics," he adds.
Such classics include ABC's Alec Baldwin-fronted Match Game, better known as Blankety Blank in the UK, where it is being brought back by ITV, and Steve Harvey's Celebrity Family Feud.
Both shows launched as part of a gameshow block on US network ABC over the summer and performed well. "The combination of the slot [on ABC] and very clever casting contributed to attracting a young and broad audience," said Clark. "We want to help other broadcasters to try this scheduling using our gameshow catalogue and our expertise."
The firm is also selling the first fruits of its relationship with Simon Andreae's Naked Entertainment: Families Gone Wild and 100% Hotter. It has particularly focused on a US remake for Families Gone Wild, after holding initial discussions with Discovery.
Finally on the formats front, Fremantle is cooking up an alternative to The Great British Bake Off.
In Wedding Cake Challenge, set in Beaver Creek, Colorado, five teams compete to create the most spectacular wedding cake. The series has been sold to The Food Network.
In the scripted space, Fremantle Media will be promoting two of its most high-profile dramas to date.
Paolo Sorrentino's The Young Pope is co-produced by Sky Atlantic in the UK, Italy and Germany, HBO and France's Canal+. Neil Gaiman's American Gods was produced for US network Starz and recently picked up by Amazon in the UK.