The Witness For The Prosecution is a gripping adaptation of Agatha Christie's short story about a wife's attempt to rescue her husband from a murder charge by becoming an unreliable witness.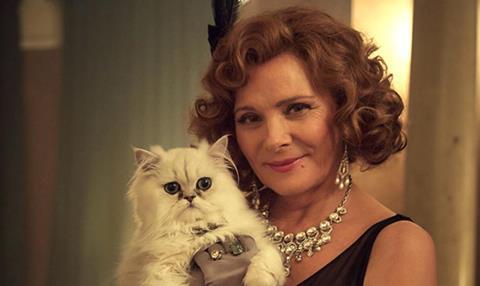 Distributor A+E Networks
Producers Mammoth Screen; Agatha Christie Productions; A+E Studios
Length 2 x 60 minutes
Broadcaster BBC1 (UK)
The two-part drama has been adapted by the team behind BBC1's three-part adaptation of Christie's And Then There Were None, which was the fifth highest-rated drama of 2015, with a consolidated audience of 8.6 million (31.9%).
Writer Sarah Phelps teamed up for a second time with Mammoth Screen and Agatha Christie Productions to craft a pacy drama that manages to feel modern and relateable, despite its period setting.
The story follows the murder of wealthy older woman Emily French, whose heir, Leonard Vole, is subsequently arrested.
Vole's wife, Romaine, then hatches a complicated plan to free her husband by becoming an untrustworthy witness for the prosecution.
The drama is in addition to a slate of seven bold adaptations of Christie's work to which the BBC has committed over the next two years.
Agatha Christie Productions chief executive Hilary Strong says: "We're definitely looking for them to have the same scale and filmic feel as And Then There Were None," adding that she wants to "surprise audiences with the kind of freshness and modernity that we bring to it".
The Witness For The Prosecution is being distributed by A+E Networks' distribution arm, which also handled sales of And Then There Were None.
A+E Networks' International content sales and partnerships managing director Joel Denton says the international appeal of Christie's work helped it sell the previous drama to TF1 in France, Antena 3 in Spain, NHK in Japan, BBC First in Australia and SVoD platform iFlix in Asia.
Denton says he would expect Phelps' latest adaptation to travel well. A+E worked with the writer at an early stage, he adds, and she has created a narrative arc that will work for the original BBC cut or a 3 x 45-minute version that will be favoured by commercial broadcasters.
"Phelps gives a pace, darkness and modernity to something that is a costume drama piece. But it has that modern feel, which is really appealing to us," Denton says.
"We're keen to see it not just play out on state broadcasters but actually try to push it out onto some of the bigger commercial broadcasters and into the SVoD space as well."
In addition to The Witness For The Prosecution, A+E Networks is selling a slew of US series.
One of its key titles is Six, an 8 x 60-minute drama about Seal Team Six, the secretive special forces unit best known for killing Osama Bin Laden. The thriller follows the life-and-death decisions they must make in their attempts to protect the US.
Produced by the firm's in-house production division A+E Studios in association with The Weinstein Company, the History drama was written by father and son military veterans William and David Broyles.
Similarly, A+E Studios is producing 10 x 60-minute drama Knightfall, the story of the Knights Templar, guardians of the Holy Grail and the road to Jerusalem, and founders of the modern banking system.
The Don Handfield and Richard Rayner-created series, which will also air on History, is executive produced by The Hurt Locker star Jeremy Renner.
The US cable group also has a number of non-scripted titles and formats. It will be distributing long-running factual series After The First 48 and Born This Way, and will be hoping to strike format deals for prison series 60 Days In, which has been optioned by Pulse Films in the UK, and marriage formats Seven Year Switch and The New Wife.