Truth And Power is an ambitious investigative documentary series in which members of the public go to extraordinary lengths to expose abuses of power.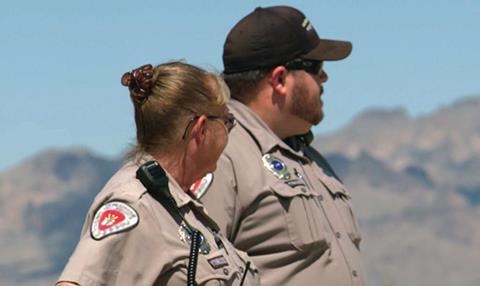 Distributor Participant Media
Producer Luminant Media
Length 10 x 60 minutes
Broadcaster Pivot (US)
The 10-part series asks what happens when private institutions and governments abuse their power and break the public trust.
It was created and produced by Brian Knappenberger, director of feature-length docs including The Internet's Own Boy: The Story of Aaron Swartz and We Are Legion: The Story Of The Hacktivists.
It came about after he finished The Internet's Own Boy, the story of a computer programmer and political activist, which was distributed by Participant Media. "When you start scratching the surface, there are a lot of places where the average citizen is at a disadvantage to large corporations, moneyed interests or abuses of governmental power," Knappenberger says.
Issues explored in the series include the rise of private prisons in the US, campaign financing rules, security, surveillance and profiteering in the digital age.
"I wanted to investigate these issues and frame them around personal stories and institutional failures," says Knappenberger. He adds that many of the stories in the show are related to technology, including an investigation into 'Stingrays' – mobile phone devices that trick phones into transmitting their location and personal information. "I feel like we're at a critical moment where the way we communicate has changed drastically.
A lot of people don't understand potential abuses of power in this new space, with the convergence of new technology, civil liberties and traditional human rights," he adds.
Knappenberger says many of the stories would not necessarily stretch to a full documentary feature and work better as a TV show. "I want to do longer-form features as well, but TV offers a wonderful opportunity – I'm looking for ways to make the most of the medium," he says.
The show airs on US cable channel Pivot, which is owned by socially conscious fi lm firm Participant, producer of movies including An Inconvenient Truth, The Cove and Spotlight.
It is narrated by The Honourable Woman star Maggie Gyllenhaal. "I was initially doing the voiceover myself and someone suggested Maggie," Knappenberger says. "I'd worked with her before and it was a great fi t because of her voice – and she's already fired up by these same issues."
Belisa Balaban, Pivot's executive vice-president of original programming, says: "Maggie has helped elevate the profi le of the series. We wanted to ask a woman because there aren't that many female narrators in this male-dominated field."
Balaban says Pivot had been looking to develop a weekly factual show to sit alongside Hit Record On TV with actor Joseph Gordon-Levitt and All3Media-produced Secret Lives Of Americans.
"From a network perspective, creating a news magazine show that could tackle issues of importance to us as a company had been a priority for a long time," she adds. "Every piece of content
Participant creates is designed to inspire audiences to affect their own social change in a range of ways."
The broadcaster is one of the more outward-looking US broadcasters, airing series such as Australian comedy Please Like Me and Sky Atlantic drama Fortitude.
"Because audiences have the opportunity to watch shows from around the world on various SVoD platforms, they want things that feel authentic and different, and have a range of options. Shows that come from different territories are exciting for us: Please Like Me, for example, was actually being pitched to be adapted, but we said 'leave it is as it is, leave it in Australia and keep going'."