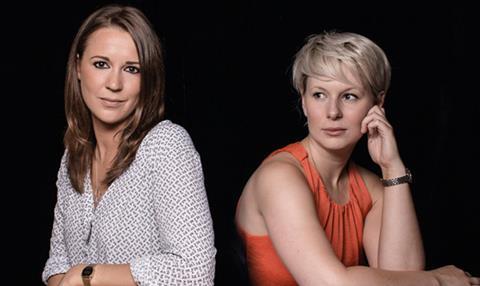 Ben Noot
29
Manager, global acquisitions
National Geographic Channels
More than 1,000 hours of content has landed on Nat Geo's global channels thanks to Ben Noot's efforts. Maintaining relationships with 100-plus vendors, he recently secured the UK team's first scripted programme and was project manager for the launch of Nat Geo's Kids' Block in the Middle East, leading his team while keeping communication open between Washington, London and Abu Dhabi.
"Ben is both a tough negotiator with strong executive presence and an easy-going team player," says National Geographical Channels' director of global acquisitions Michelle Bagliebter. "He has taken on departmental changes and new challenges in his stride and proved he can adapt and excel in this changing industry. His potential is limitless."
Ben arrived at Nat Geo with four years at DRG under his belt, working his way from runner through to factual acquisitions executive, buying the distributor's first foreign language documentary.
Nat Geo executive vice-president and head of international content Hamish Mykura says Ben is "a key executive" on the company's global team. "Ben's creative thinking, his industry knowledge and the wealth of TV trivia at his fingertips always put us one step ahead of the competition."
Philippa Chuter
27
Senior acquisitions executive
DCD Rights
Philippa Chuter has only recently started at DCD Rights, having joined the distributor from Passion Distribution. Working alongside head of acquisitions Pilar Perez, she'll be helping to expand DCD's factual output for the international market.
So what attracted her new employer? A heavyweight factual portfolio at Passion for one thing. As acquisitions distributor, Philippa put Dan Reed's Amos Pictures on the global map after acquiring titles such as BBC2's Charlie Hebdo: 3 Days Of Terror and Channel 4's Frontline Fighting: The Brits Battling Isis and From Russia With Cash. Similar deals with Knickerbockerglory (C4's Lookalikes) and Postcard Productions (C4's The Stranger on the Bridge) had a similar effect, while she was a key contact for Passion's fellow Tinopolis companies such as Mentorn Media, Firecracker Films, Daybreak Pictures and Pioneer Productions.
Philippa's ascent at Passion was fast: from assistant to chief executive Sally Miles in 2014 to junior acquisitions manager and then manager.
"Philippa has built up a trust and respect with new and existing producers, clients and potential clients, which is extraordinary in the timeframe she has been in the business," says Miles. "I have no doubt she is going to be a major deal-maker in the future."
Holly Tyler
28
Marketing executive
ITV Studios
Just a year since she joined the ITV Studios' marketing and research team, Holly Tyler has taken ownership of key global brands and set up a new system that arms the sales team with around 200 promos and clips every six months.
Holly's work has recently shouted from billboards and magazines in the shape of the arresting orange-hued campaign for Ann Summers drama Brief Encounters. Writing creative briefs, commissioning and directing artwork and photography, she developed the cinematic art that will become the show's international marketing identity, shooting exclusive footage with cast members and editing it into on-air and social media content.
"Her innate people skills are second to none," says CPL Productions commercial director Janet Oakes. "Nothing is ever too much trouble for her, she is exceptional at problem-solving and is always there to lend a helping hand when needed."
Holly's international profile is growing too, with a presence at MipTV, Mipcom and NATPE and she heads up all after-sales services in South East EMEA.
"Since Holly quietly joined us, she has become louder and louder through the brilliant work she's been doing," says Adrian Last, executive vice-president/marketing director of ITV Studios. "Production partners talk highly of her, her customer contacts love working with her and her ITV colleagues really rate her. She is smashing it."
Stephanie Moore
27
Associate agent
United Agents
Greg James, Tom Bennett and YouTube star Cassetteboy are just some of the names signed to United Agents by rising star Stephanie Moore.
Joining in 2011, she was promoted to associate agent last year and is building up her comedy client list while assisting senior agent Duncan Hayes on projects including Netflix deals on Ricky Gervais' Channel 4 series Derek and movie David Brent: Life On The Road; Stephen Merchant's HBO development deal, including series Hello Ladies; and Amazon's acquisition of Sharon Horgan and Rob Delaney's C4 hit Catastrophe.
Stephanie manages Hayes' office, recruiting, training and managing his team while building her skills in scheduling, pitching, development, contracting, budgeting and planning. She also helps stage events at Soho theatre to introduce clients to a wider audience.
"Stephanie has grown to become a paramount part of my team and has led the charge in numerous key deals," says Hayes. "Continually expanding and nurturing her contacts, she is personable, confident, never fazed and represents her list with passion and dedication."
Rohini Sarkar
26
Digital research and insight manager
UKTV
Retail data insight is an untraditional route into TV, but it's a skillset that is becoming increasingly useful in understanding viewer behaviour and developing online strategies.
Rohini Sarkar joined UKTV last year after three years at Dunnhumby, where she analysed e-commerce sales performance and shopper loyalty for the likes of Microsoft, Sony Pictures, News UK and Warner Bros.
Today, she heads up digital research, strategy and insights across all 11 UKTV channel brands and its VoD service UKTV Play, analysing how well the broadcaster serves the five viewing 'need-states' and working with the development team to improve the user experience through a redesign.
UKTV executive director of research and strategy Simon Brown says Rohini has "revolutionised" the way that broadcast looks at VoD and notes her "very mature approach" to her brief to bring on-demand insights to the same level enjoyed by the linear channels.
"She single-handedly built up our VoD reporting system and has gone out of her way to ensure that the teams are getting the insights they need to grow our services," he says.
Rohini has also taken these learnings to the market, creating a cross-industry form for UKTV, the BBC, ITV and Channel 4 to collaborate on the future of British on-demand services.
Joanna Abeyie
29
Founder/director
Shine Media
Joanna Abeyie is many things – producer, presenter, journalist – but it's her efforts in improving the industry's diversity that truly stand out. As founder of diverse talent recruitment business Shine Media, she has helped to place more than 3,000 people from diverse backgrounds in permanent and freelance jobs in the creative industries. Shine has become a key diversity partner for the BBC, ITV, ITN, Channel 4, Sky and others and has has won plaudits from the likes of Sir Trevor McDonald and Alesha Dixon.
Joanna's social campaigning also takes in a seat on the NUJ's Black Members Council and the board of advisers for Ghana-based leadership and upskilling initiative Cedi Street.
Through her own production company, LH Productions, she has developments in (the pipeline?) with ITV and Kep Films and has produced and presented items on alcoholism for ITV Breakfast and on female ex-offenders struggling to find employment for the BBC's Inside Out.
Her biggest commission to date is Hip Hop Millionaires, a series of C4 shorts co-produced by LH with Sugar Films and Big Head Productions and supported by The TV Collective.
"Joanna is a really exciting talent," enthuses Sugar Films managing director Pat Younge. "She combines her important work off-screen with a growing portfolio of commissions on a range of stories and subjects. She is definitely one to watch."
Chrissie Broadway
28
Company co-ordinator
Sid Gentle Films
Chrissie Broadway joined Sid Gentle Films three weeks before principal photography on the fledgling drama indie's first production, with the next two projects set to film soon after. Single-handedly, she set up systems and structures to make an in-house production department from scratch, which has become the bedrock of how the company manages all of its productions.
Not resting on her laurels, she spearheaded an arrangement for Sid's music publishing administration and registered the indie as one of first companies to join Bafta's Albert affiliation scheme.
Meanwhile, chief executive Sally Woodward Gentle had no qualms about putting Chrissie in charge of the entire post production process of Sky Arts drama Neil Gaiman's Likely Stories when producer Gina Marsh was unable to finish the job. "There isn't a single detail Chrissie isn't across," marvels Marsh.
A Romany Gypsy, Chrissie entered the industry via Channel 4's production training scheme for diverse and disabled candidates. Chrissie was previously in-house production co-ordinator at Carnival Films, at one point overseeing post production on five shows simultaneously, and her role as liaison between freelance teams and distributors was credited in Downton Abbey's global success.
"I have rarely come across someone who shows such passion and ability to operate in such a fraught, time-pressured and often delicate environment," says Woodward Gentle. "She is fiercely loyal, but also fair and very human, with a strong instinct for story and aesthetics and attention to detail."