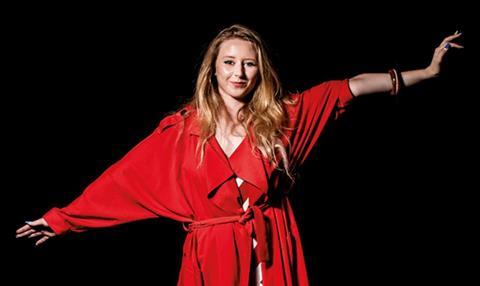 Alessana Hall
25
Writer/director
Alessana Hall is worthy of the title Broadcast Hot Shot, but in truth, she cannot be constrained by one medium. Equally at home in radio drama, TV documentaries and multimedia immersive theatre and installations, she has won the trust of the equally uncategorisable Penny Woolcock, with whom she frequently collaborates.
The pair first worked together on Utopia, Woolcock's installation at Camden's Roundhouse, where her fearlessness stunned the veteran documentary-maker. "Alessana quickly found people I had been unable to track down after several months, including night-time street security guards who protect affluent houses, and a sex worker," she says.
They teamed up again for the British Film Institute's Out Of The Rubble and BBC3 documentary series Teenagers, on which Alessana negotiated access to secondary schools and conducted workshops on topics including the impact of social media on mental health. Woolcock noticed Alessana when Invisible Community, a short she shot, directed and edited on second-generation Somalis, won the Roundhouse Online Film Fund 2014.
"The Somali community is notoriously under-represented and suspicious of outsiders, but Alessana is deeply committed to diversity and giving a voice to those to whom nobody listens."
Coming next: Leila's Shame, a 45-minute Radio 4 drama she has written and directed based on the true story of a friend who fled her traditional Somali family home.
Ian Aryeh-Thompson
28
Director, Hoi Polloi Media
Ian Ayreh-Thompson's calling card as director was no walk in the park. On The Wembley Cup, a 10-part football comedy/documentary hybrid for YouTube, Ian adapted creative concepts, scenes and storylines into 140 minutes of content involving 28 YouTube 'influencers', six football stars, a multi-camera live OB shoot and a three-camera live-action unit on multiple locations.
A bit of an experiment for YouTube, the series clocked up 35 million views and was used by Google in case studies to attract brand partners. Challenge achieved, Ian is back on board for series two, which promises to up the scale further.
In more conventional TV, Ian joined Emmerdale as a trainee in December last year and will helm his own episodes, and is on the longlist for EastEnders. Also in the works are a single-camera sitcom for ITV, Night Bus, from Talent TV, and episodes of CBBC comedy The 4 O'Clock Club and CITV Saturday morning show Scrambled.
Emmerdale director Tony Prescott, who first met Ian at a multi-camera workshop, was impressed by his ability to find creative ways of using multiple cameras in a studio environment. "Ian is intelligent and a good communicator and collaborator," he says. "He is a strong enough to get people to buy into his ideas, and both actors and crew respond positively to his direction. He is a star."
Guy Simmonds
29
Producer/director, Firecracker Films
"Being a top director is about having the confidence to find your own voice, Guy Simmonds has achieved that in his first two films," declares Firecracker Films chief creative officer Jes Wilkins.
Indeed, Guy's first film as producer/director invited viewers to witness 2,000 Tatttoos, 40 Piercings And A Pickled Ear – a Channel 5 doc that showed the human vulnerabilities of extreme body modifiers and the challenges they face in their everyday lives.
But this was just the warm-up for Channel 4's much talked-about single The Secret Life Of Human Pups, on which he won the trust of a very secretive community and reflected their lives with warmth, insight and humour.
Guy cut his teeth as a researcher, AP and DV director on Firecracker's Big Fat Gypsy Weddings and Thelma's Gypsy Girls, and dreamed up Sky 1's eight-part fact-ent format Quiz Nights. He is now the indie's sole in-house director, using his early experience on docs like BBC3's The Baby Bomb, Nat Geo's Clash Of The Collectors and C4's The Man With The Ten Stone Testicles to find more subjects that shed light on some of the more unusual and extreme aspects of the human condition.
Wilkins describes Guy as a strong all-rounder. "He is fantastic with difficult characters and technically, he shoots much better than many more experienced directors," he says. "He has learned his trade working with great directing talent on very difficult projects – and the bigger the challenge, the more he thrives."