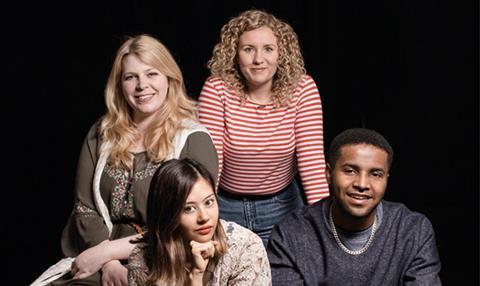 Kayleigh Llewellyn
30
Hospital People
How many writers can say they have written both for a primetime continuing drama and for the President of the United States?
Kayleigh Llewellyn can lay claim to both credits, having penned two episodes of Casualty and created a sketch, Asking For It, which was a collaboration with the White House for President Obama's It's On Us initiative to stamp out campus sexual assault.
Both on her own and with her regular writing partner, former Hot Shot Matthew Barry, Kayleigh is putting her stamp on TV comedy and drama, including an episode of Sky 1's Stella and developments with Fiction Factory, Objective Productions and John Stanley Production.
Kayleigh is currently part of the small writing team on Roughcut TV's BBC comedy Hospital People, headed by Matt Morgan, and is one of six film-makers selected for the 2016 BFI Flare mentorship programme for emerging LGBT voices in film and TV.
Abi Morgan, who is mentoring her, describes Kayleigh as "a fresh, exciting and unique voice, whose work captures the extraordinary in the ordinary, rich in comic potential and yet with a tender heart beating at the centre".
Bad Wolf co-founder Julie Gardner, who is developing two of Kayleigh's projects, says she has a "fearless spirit". She adds: "Kayleigh has
a robust, distinct voice and writes authentic characters and situations often under-served on network TV, with flair, good humour and real team spirit."
Roanne Bardsley
28
Hollyoaks
Born in a small Welsh working-class town and initially finding a job as a former production secretary on The Great British Bake Off, Roanne Bardsley got one step closer to her dream of being a writer when she was picked to attend a Hollyoaks storylining workshop in 2012.
Joining the team, and rising to become a senior storyliner, she has helped to generate more than 400 hours of the Channel 4 soap, writing her first episode in her free time last year. She has since gone on to write 13 episodes more after becoming a full-time writer on the show in January.
She has won praise from the team for her versatility on storylines ranging from the intimate, emotional dialogue of Jade's cancer diagnosis to pacey, plot-driven episodes such as the culmination of the 'gloved hand' story.
Executive producer Bryan Kirkwood sees Roanne as a future showrunner. "She has got to where she is through sheer grit and determination to a succeed and is a self-starter but also a team player who is generous towards other people's ideas," he says. "She clearly has an innate gift for writing dialogue, but what she has in abundance that sets her apart from other writers is her passion, enthusiasm and drive for perfection."
Kayode Ewumi
Tyrell Williams
22
#HOODDoCUMENTARY
"Two of the most exciting new talents in comedy" is BBC Studios head of comedy Chris Sussman's verdict of school friends Kayode Ewumi and Tyrell Williams.
Shot around their neighbourhood, pulling in favours from friends and recent media graduates, their mockumentary #HoodDocumentary attracted more than 2 million hits. Co-written by the pair and starring Kayode in the lead role of delusional creative R.S. (Roll Safe, or Reece Simpson to his parents) and directed by Tyrell, the show was picked up for a BBC3 pilot.
"Kay and Ty have created a brilliantly funny and credible character and I'm sure that's just the beginning of their journey," says Sussman. "Smart and instinctive, they're bound to have a big future ahead of them."
Fudge Park Productions executive producer Phil Gilbert, who made the pilot with them, praises Kayode as a "funny-boned clown" and admires Tyrell's "terrific directorial eye for detail".
As comedy writers, he says, "they have an understanding of the craft that belies their years". As for the future? "In 10 years, they'll still be working together, with a few series and a film behind them, and will be about to board a flight to Los Angeles. Don't forget me, guys."
Mika Watkins
26
Troy; Stan Lee's Lucky Man
Mika Watkins is making her mark on a huge range of dramas, from children's shows to comedies, fantasy dramas and sweeping epics.
Getting her break two years ago as a development assistant at Left Bank Pictures, her potential as a writer was soon spotted. Securing a commission for her first original script, Origin, as a co-development with Chinese state-owned roadcaster CITVC convinced her to leave her development role and embrace being a writer full-time.
As well as her own projects – Bringing Back Bobby, in development with ITV Studios; Love And Let Die, which she's working on for Kudos; and Objective Pictures comedy pilot Chwyrligwgan – Mika has become a valuable assets to writers' rooms.
Among these are series two of Carnival Films' Sky 1 series Stan Lee's Lucky Man and an episode of Kudos' blockbuster BBC1 period drama Troy.
"Mika has tremendous scope and ambition," says Left Bank chief executive Andy Harries. "Her story ideas and characterisation are particularly strong and she has her eye on high-end, returnable and international series. She'll be an A-list writer within 10 years."