Picture post, audio post and VFX on Kudos' Channel 4 drama.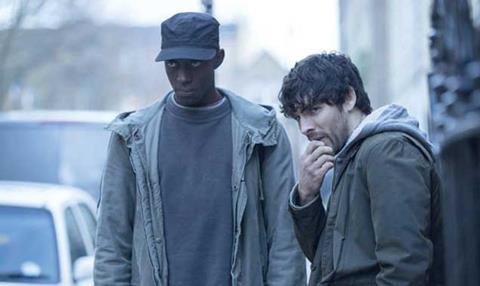 Picture post
Encore
Client Kudos Film & Television
Brief Picture post-production for the eight-part drama, ensuring the robot servants, known as synths, are recognisable by their subtly choreographed movements and striking green eyes.
How it was done Online and VFX editor Adam Eddy worked with Nuke, using Avid DS to assemble the programme and perform the more procedural tasks.
There were numerous screens and interfaces to adapt and animate together with sky replacements, the addition of atmosphere and dust, the enhancement of the synth's eyes and the removal of human breath.
Colourist Paul Staples used Nucoda to grade the series. To make sure the eyes were consistent following the main grade, a secondary pass was made to maintain the rhythm desired by director Sam Donovan and producer Chris Fry. Max Caswell managed the project.
Audio post
Jumbuck Film & Television
Client Kudos Film & Television
Brief Create a distinctive soundtrack of real-world drama with dark undertones. Producer Chris Fry and first block director Sam Donovan gave a strong brief that Humans was to be set in an 'alternate present' rather than feeling futuristic.
How it was done Sound supervisor Tim Barker and dialogue editor Alex Horlick steered clear of science fiction and instead defined the robotic nature of the synths with clever sound design and dialogue treatment.
This subtle shift from what might be expected gives Humans an "eerie reality", said senior dubbing mixer Richard Davey, who worked with Utopia composer Cristobal Tapia de Veer on the series. The result is a fresh soundtrack, full of emotion, tension and humour. Sound post was carried out using Pro Tools 11 HD, while Foley was completed by Universal Sound.
VFX
The Flying Colour Company
Client Kudos Film & Television
Brief Provide visual effects, including the synths' distinctive eyes, which set them apart from their human masters, while retaining a sense of realism.
How it was done Creative director Dominic Thomson designed a specific kit for each synth's eyes, taking into account different environments, including interior and exterior daylight and night-time shots.
Autodesk Flame was used to create an image and texture-overlaying technique that would change eye colour while interacting with both the characters' natural eye colour and the lighting of the scene.
Each character's eyes were tracked throughout every scene and the overlay effect applied and refined in Flame, which was also used for motion control and crowd replication shots. The team, including senior artist Jami Leonard, completed up to 300 VFX shots per episode across the series.