Watching stereoscopic 3D content in the home was one of the hot topics of IBC this week but there was little consensus amongst broadcasters and technologists about whether it is yet a viable business proposition.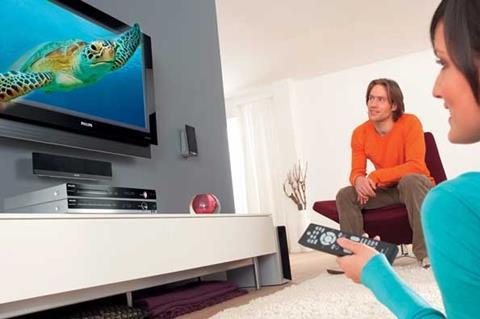 While countless exhibitors showed off products for producing, manipulating, storing, transmitting and viewing 3D, the conference halls in Amsterdam were awash with debate about how and when the industry should make it happen.
Several broadcasters were very cautious. Arnaud Simon, Eurosport's broadcast director, said that he is "not 100% sure that it is mature" enough for broadcasters to be considering seriously.
While the BBC's Roger Mosey, who is director of London 2012, said that there are plans to shoot 'some' 3D for the archive. "We should capture some of the Games in 3D because it would be a shame not to have that for the archive," said Mosey, who also hinted that 3D content could be transmitted to cinemas.
David Hill, the chairman and chief executive of Fox Sports Television Group in the US, said free-to-air broadcasters there couldn't afford it as - judging by the reaction to the recent move to HD - they have no way of charging advertisers extra.
"We are still getting over the cost of HD," he said. "A bunch of people made money on HD, but not us. 3D is a case of fool me once shame on you, fool me twice, shame on me. Let me tell you, the broadcasting industry will not be investing in 3D technology until we know if we are going to be reimbursed one way or the other. I am only talking about the part of the broadcasting industry that I control but if the others have any sense they will say exactly the same thing."
At the same time, David Wood, the EBU's head of emerging media, demanded an industry standard that included a government health warning on all 3D products and shows.
"It won't say that 3D kills like cigarettes do," he said. "[But] when broadcasters screen 3D content, they should mention up front that there are viewers who cannot fuse left and right images. Shows should at the very least carry a caution that viewers should not watch 3D for long periods."
Gerry O'Sullivan of Sky, who will launch a 3D channel next year, was more bullish, trying to dispel some of the urban myths and urging broadcasters to get on with it.
"You don't have to stand on your head, or be exactly 1.2m away from the screen," he told delegates. "Nor is it the old Hollywood movies of 30 or 40 years ago. It does not give you a headache. Stop reading about 3D, and start watching."
O'Sullivan received support from Walter Munarini of Eutelsat subsidiary Open Sky who is backing a system capable of running on existing HD receivers.
"We know standards always look for the perfect view, but we are deeply involved in the standards that allows us to roll it out now," he said. "Hopefully the standard will then come with something that is backwards compatible with what we have now."
Within the consumer electronics manufacturing sector things are equally at odds with no clear sign of which format is going to come out on top.
RealD president Joshua Greer said during the show: "By the end of the year you are going to see every major consumer electronics company make announcements about 3D products. But it is going to take a few years for this to settle down on standards. There is not one silver bullet that will solve 3D in the home. It is going to take a lot of leadership. We are going to see participation from gaming, alternative content. I think the landscape for 3D in the home will be more diverse [than it is for cinema]."