Broadcast Intelligence report highlights US cable channel network's scripted requirements
AMC Networks is looking to double down on its success in genre shows following the success of titles such as The Walking Dead and Preacher.
Executive vice-president of international programming and programming innovation Kristin Jones said she is interested in continuing to mine the space. "Genre is something we're constantly looking for, because of our very successful shows [in that area]," she said.
"In an era when there are 500 shows on TV, Killing Eve cut through the clutter. That's hard to do"
Kristin Jones, AMC Networks
It forms a key part of a 150-hour pipeline of original scripted programming the network commissions each year for a trio of channels – AMC, SundanceTV and BBC America (a joint venture between BBC Studios and AMC).
Elsewhere, Jones is looking to continue AMC's charge into "upscale drama" following its involvement in high-profile projects including Mad Men, The Night Manager and Top Of The Lake: China Girl. However, she added: "We want to make it accessible – it can't be too erudite."
Meanwhile, BBC America's breakout hit Killing Eve has upped AMC's creative ambition. "We want things that are utterly distinctive," said Jones. "In an era when there are 500 shows on television, Killing Eve cut through the clutter. That's increasingly hard to do, so we are constantly evaluating ideas through that filter."
Producer relationships
Jones said her team has "tonnes of relationships" with production companies around the world but is always open to more conversations.
"As long as producers are reputable and have either a real track record or are represented by lawyers or managers or agents we know, we're comfortable talking to them directly."
She said it is vital that whoever is pitching does so in a "concise" way. "The pitch could be based on a book, a podcast, a true story, or an original idea."
Ensuring that any necessary underlying rights have been secured is a must, however. While Jones prefers to hear joint pitches from a producer and writer, she does not insist projects arrive fully packaged.
For further exclusive insight into programming strategies, funding and rights models and an up-to-date market overview of 12 US scripted networks, visit broadcastintel.com to learn more about the 'Working with US Commissioners' report.
"We're happy to help," she said. "That said, if somebody wants to entice us further with some meaningful level of talent, that's always a helpful thing."
Across the channel portfolio, which is skewed towards 18 to 54 year-old men, the full range of scripted programming, bar half-hour comedy, will be considered.
AMC has proved an active coproduction partner, with notable recent British projects including McMafia with the BBC, Humans with Channel 4 and upcoming crime drama Quiz with ITV.
Programming on AMC broadly fits into two categories: fandom-driven shows, most likely to sit in the sci-fi, fantasy and supernatural realms, and character-driven drama, such as Better Call Saul.
SundanceTV is equally committed to international co-production deals, having previously partnered with broadcasters in the UK, Italy, Australia, Germany and Norway.
Its focus is on drama, and while it only orders around eight hours per year, it is keen to push into "new form" following the launch of Nick Hornby's 10 x 10-minute marital-therapy comedy State Of The Union (pictured above). Its commissioners, including vice-president of international programming Chris Loveall, are eager to continue to experiment with genres and form.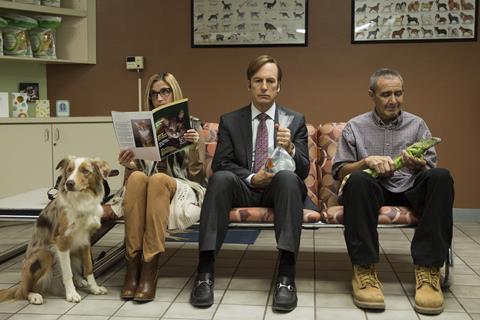 Shows aired by AMC, BBC America and SundanceTV can be made under a variety of funding models, with Jones well aware that spreading its net so widely means it needs to be able to navigate an array of existing relationships.
"We deal with people that have distribution deals or their own entities, but then there are things we wholly own because we like to have ownership where possible. Everything is evaluated and it is completely à la carte."
However when production division AMC Studios commissions a show, it usually takes global rights for all platforms. AMC Networks International (AMCNI) then exploits the rights and deliver programming either via local AMC and SundanceTV brands or local specialist channels.
In southern Europe, for example, AMCNI produces or distributes 24 pay-TV channels including Canal Hollywood, Dark, Xtreme, Somos and Blast.
Jones says: "There are lots of projects out there that are carved up in different ways, so it's a question of availability and what [deals] people are willing to do."