Leading industry figures outline their expectations for this year's production technology event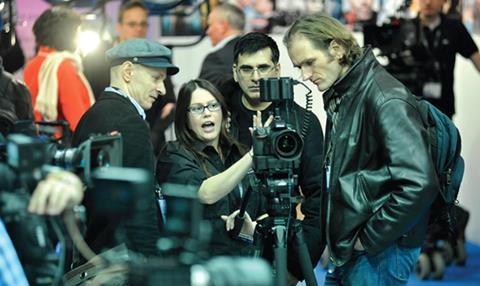 The influence of IP across the industry, the demand for OTT delivery and the challenges of 4K production are likely to be key trends at BVE this year. But, as always, networking, the chance to see working versions of new technology and the programme of seminars will be just as important to delegates making their way to the Excel in London.
Alain Lolliot
Technical director, Pro Motion Manchester
Two things stand out for me: 4K acquisition for HD delivery and a return to glossy lighting. So we'll be scouring the show floor for hardware/software solutions akin to AJA's TruZoom real-time 4K-to- HD scaling technology, as well as any on-set gizmos for making shooting in this manner more manageable. We have seen a resurgence in soft lighting recently, so we'll definitely head over to Band Pro to get a good look at the Fill- Lites. Chinese lantern-style lighting products look interesting too, so we'll check out the BBS Flyer on the Prokit stand, and anything similar we can find.
Steve Sharman
Media technology specialist
I'm mainly interested in two areas: advances in software-defined networks, virtualisation and 'proper' end-to-end IP that doesn't just replace SDI at the ethernet level – plus workflow automation, management and monitoring tools. Clients are looking to sweat their infrastructure and have the flexibility to try out new workflows, particularly distribution ones, quickly and at sensible cost, but there isn't much around that supports that yet.
Peter Hampden
Managing director, LipSync Post
We'll be taking in some of the seminars on drama commissioning and the evolution of multiplatform content. The DPP seminars are likely to provoke lively discussion. In terms of technology, colour calibrated monitors are of interest.
Hugh Waters
Studio projects consultant, Waters Technical Services
I specify and build small TV studios for clients in education and local TV, so I'll be looking at integrated production systems. BVE is usually good for seeing actual products, with little fluff; I go to IBC for the blue-sky ideas. I'm keen to know what's new in small studio cameras and I always look out for innovative, low-cost studio infrastructure. I'm interested in seeing what the state of play is with small IP-based playout systems too. Finally, and most importantly, I shall be doing plenty of 'notworking' in the bar. It's like networking but more fun.
Ian Burton
Director of photography
After a few years working heavily on DSLRs for my main camera and becoming a little bored by them, I'm going to check out the Sony PXW-FS7. In my world of fastpaced and remote adventure documentaries, I am looking forward to shooting on Sony cameras again as my main machine, as they rarely let me down. They have an 'old school' form factor – a shoulder mounted camera with the view finder and handgrip up front – which lets me feel part of the camera, instead of being divorced from it, as I do with DSLRs.
Jon Folland
Chief executive, Nativ
I'm going to be looking at how workflow orchestration platforms are evolving and how tape-based workflows are moving to file-based. I'll be looking for evidence of media workflows being integrated with data management and supply chain management solutions. My view is that in the world of OTT and Netflix, end-to-end data management is as important as end-to-end media management.
Liam Laminman
Managing director, Trickbox TV
I'm excited about new 4K product launches and the continued takeup of 4K. But it's not just about the new kit coming onto the market – it's the producers and production companies embracing it that make it interesting. A big driver for 4K production is digital cinema and theatrical production, but we're also seeing increasing demand for multi-camera music production. It will be interesting to see at BVE where 4K production is going.
BVE 2015 takes place 24-26 February at Excel in London