Netflix prison drama Orange Is The New Black is primed to launch on TV channels around the world as the show's linear holdback expires in December.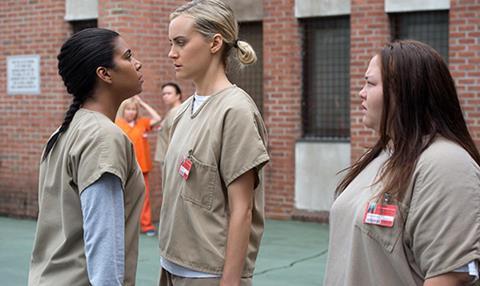 Producer and distributor Lionsgate is shopping the drama, which stars Taylor Schilling, to broadcasters in territories including the UK.

The holdback on the show ends in a number of markets in December, three and a half years after it launched on Netflix in July 2013. The fourth series is due to get underway on Netflix on 17 June.


A handful of free-to-air digital broadcasters in the UK are understood to be interested in acquiring the second-run rights to the show, which is the most watched Netflix original.

However it is unlikely that a pay-TV broadcaster such as Sky would be interested due to its own on-demand service. Channel 4 chief creative officer Jay Hunt told Broadcast that she would be "reluctant" to take a show that has been brand-enhancing for a rival SVoD service.

Feeding The Beast
Lionsgate held a number of events at the LA Screenings, where it also showcased Nick Nolte-fronted presidential comedy Graves and Pop comedy Nightcap, set behind the scenes at a late night talk show.

It also presented mob restaurant drama Feed The Beast, starring David Schwimmer, which has been acquired by AMC in the UK.

Lionsgate president of international television and digital distribution Peter Iacono told Broadcast that Feed The Beast, which is based on Danish drama Bankerot, had benefited from the appearance of the Friends star.
"Friends is still such a global phenomenon," he said. "There's a touch of Ross. He's moved on and he's a different character - but there's a little hint."
Diversity difficulties

The company also has high hopes for Oprah Winfrey-produced drama Greenleaf, which centres around a family in a Memphis mega-church.

However Iacono admitted that it could be difficult to secure international sales for a show with a predominantly African American cast.

"It can be a concern but there are always shows that break the mould and hopefully this will be one of them," he said.
"The world is waking up and asking what this bias is about. It's about the quality of the production, not the colour of skin of the people in the production," he said.

Iacono's comments echo remarks made by Case Histories and Shaun of the Dead producer Alison Owen, who said in 2014 that raising money for high-end dramas with a diverse cast was tough.

"Try selling something to Italy with black people starring in it, try selling something to Asia with women in it," she said. "It's really hard."