Netflix, touted for years as the bogeyman for linear broadcasters, is beginning to work closely with its traditional rivals in the latest phase of its global expansion.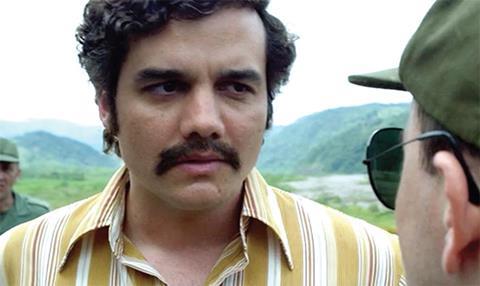 The SVoD service is partnering with free-to-air broadcasters around the world, including a deal struck last week to air Pablo Escobar drug-dealing drama Narcos on Hispanic broadcaster Univision, one of the top five broadcasters in the US.
Additionally, Univision's youth-skewing station, UniMás, will air Club de Cuervos, Netflix's first Spanish-language original.
Netflix hopes the move will help it bolster subscribers in the US – it currently has 47 million – as part of a global drive to hit 100 million customers.
"Narcos is a huge global success on Netflix, and sampling the series to every Spanish-speaking living room in the US will give additional viewers the opportunity to fall in love with its unique storytelling," said chief content officer Ted Sarandos. "Promoting these original shows on Univision is a great way to further reach Hispanic audiences and help them discover Netflix."
This strategy has also been employed in France, where Gerard Depardieu-fronted political thriller Marseille aired on TF1. The first two episodes of the eight-parter aired on the country's highest-rated broadcaster earlier this month.
It is thought that this strategy is promotional rather than a new revenue stream for Netflix; the broadcasters are understood to have paid only a small licence fee for the rights and promised sizeable promotional spend.
Could this strategy be adopted in the UK? Left Bank Pictures' royal drama The Crown launches globally on 4 November 2016, and a prominent free-to-air window would draw further attention to Netflix's service in the UK – and potentially add to its 5 million-plus subscribers.
But it is debatable whether the BBC, ITV or Channel 4 would be willing to strike such a deal. More likely is that Netflix will replicate this strategy in markets where it has lower take-up.
Later this year, it is launching Boutique Filmes' Brazilian sci-fi thriller 3% and Mexican political drama Ingobernable. Next year, it will begin producing originals from Spain, with an untitled period drama from Gran Hotel indie Bambu Producciones; Italy, with crime drama Suburra, produced by Gomorrah indie Cattleya; and Germany, with super natural family saga Dark, produced by the maker of hit German film The Lives of Others.
Blurred lines
Box-set strategies are blurring boundaries on both sides. As well as digital streaming services taking lessons from traditional networks, linear broadcasters such as Channel 4 and Sky are beginning to borrow from the binge model.
C4 is airing foreign-language dramas on its main channel, (including Belgian dark comedy The Outlaws) and on More 4 (including French political thriller Spin), but is also using its channel as a shop window for other shows.
The first episode of Spanish prison drama Locked Up aired on C4 last week, and the 405,000 (2.8%) people who watched the primetime thriller were directed to Walter Presents' online service to watch the remaining episodes.
Sky is similarly experimenting. Many of its recent commissions, including The Tunnel 2: Sabotage, plus some acquisitions, including Showtime's Billions, are available in their entirety before playing out in the linear schedule.
For both SVoD players and traditional broadcasters, the binge-viewing battleground is taking on a new shape.