The tech advancements are based on business intelligence, analytics and machine learning
LaLiga has unveiled a series of tech innovations at its Technology, the secret behind LaLiga event, held at its offices in Madrid.
The sports federation used the event to reveal details of new and emerging projects that have been developed by LaLiga in recent months.
All of the innovations are based on business intelligence, analytics and machine learning. They are detailed below.
Players App
This provides players with information relating to pre- and post-match analysis. Facial recognition software enables each player to receive their personal clips at the end of every game.
The app features stats from LaLiga's Mediacoach tool, providing players with in-depth information on their match performances, including distance covered, peak speed and the percentage of recoveries in the opposition's half. The data is adapted to each player's position (goalkeeper, defender, midfielder or forward).
LaLiga director of competitions and the players' office Luis Gil said: "This app sees us offer the players, who are one of our main assets, a unique and top-quality service. The facial recognition software and the distribution of images amongst the athletes will represent a before and after in terms of how we communicate with them."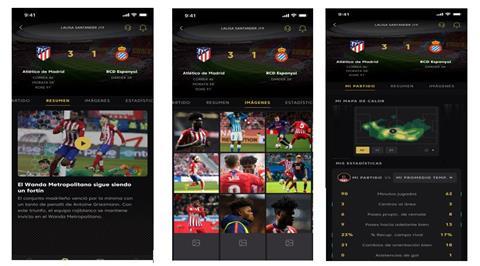 Calendar Selector & Sunlight Broadcasting Planning
These are new versions of existing tools, developed by LaLiga. Calendar Selector uses machine learning and algorithms to indicate the best possible time for fixtures to be staged. It's based on historic audience and attendance figures, and 30 other variables relating to historic data and team and competition trends over recent matchdays. The updated version enables users to select different worldwide regions when establishing match schedules.
Sunlight Broadcasting Planning works alongside Calendar Selector to predict the levels of natural light in every game, using 3D reconstructions of the stadiums. It indicates which areas of the stadium will be in the sun and the shade and generates an image of how the sun will impact on the television image, supporters, players, and so on. The aim is to influence both match scheduling and the position of cameras.
Gil said: "The new features included in these applications will allow us to optimise stadium attendance figures, whilst making it easier for spectators from all over the world to watch our games, with this data adapted to each geographic zone."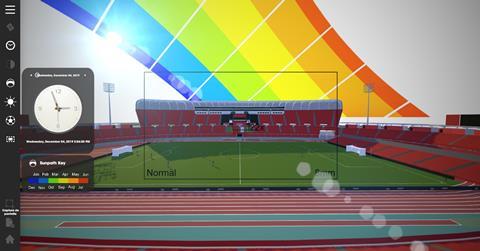 LaLigaSportsTV (OTT)
LaLiga used the Technology, the secret behind LaLiga event to reveal the latest updates to LaLigaSportsTV. It has 410,000 registered users and broadcasts competitions from 30+ sports.
LaLiga head of strategic projects Loreto Quintero, said: "[LaLigaSportsTV] is far more than sports broadcasting via streaming. It's all about the ability to improve our knowledge of the user and how they consume the product, with a view to developing strategies that look to improve their experience. The ultimate aim of the OTT is to ensure that LaLiga is prepared for a possible change in the sports content consumption model. It's through this platform that we're laying the foundations for what may happen in the future."
Smart technology programme
LaLiga is running a pilot project to implement smart technology – a tag that can be incorporated into items of clothing or merchandise. It protects the club from false merchandise and offers premium experiences and content to fans that scan the tag.
Real Sociedad director of digital transformation, Juan Iraola, said: "Thanks to LaLiga's start-up competition, we've been able to roll out some really innovative pilot projects like this one, which offer us a new communications channel with football supporters, whilst opening up new ways of understanding associated sponsors."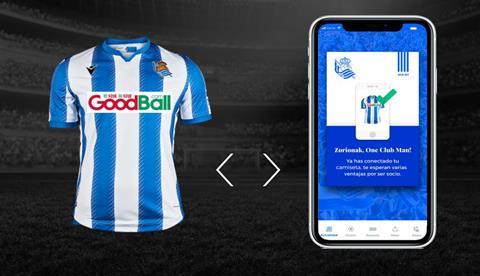 Tyche 3.0
This tool was developed as a part of LaLiga's integrity programme, which seeks to detect possible cases of match-fixing within both the professional and amateur ranks of the game. The aim of the tool is to identify abnormal movements in the global betting markets that could provide an indication of match-fixing. It's based on a machine learning algorithm.
LaLiga head of integrity Jose Ignacio Arbea, said: "Tyche 3.0 has placed us at the forefront of the battle against match-fixing on the global stage. We're the only league to have developed this software in-house, with the rest of the competitions typically subcontracting this service to external providers. This gives us far greater potential, not only in terms of our activities on a national scale but it also allows us to help other leagues and sports that are now beginning to develop integrity programmes.