Innovation showcase on sidelines of Mobile World Congress focused on AI, VAR, VR and tech advances in broadcasting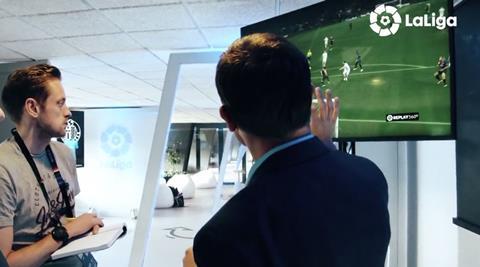 Spain's LaLiga presented some of its most recent technologies during a showcase on the sidelines of Mobile World Congress (MWC) in Barcelona this week.
The LaLiga Innovation Showcase at the RCD Espanyol de Barcelona stadium focused on artificial intelligence, the technology that makes VAR possible, as well as tech advances in broadcasting and the evolution of virtual reality.
"At a time when there is much talk about artificial intelligence and machine learning, LaLiga is demonstrating its leadership as we start to use these technologies to optimise scheduling of our matches," said Joris Evers, LaLiga's chief communications officer.
The technologies showcased were:
Calendar Selector/Sunlight Broadcasting Planning
Optimising TV viewership and stadium attendance using artificial intelligence is the objective of "Calendar Selector." The tool applies machine learning and algorithms to suggest optimal match schedules, taking into account historical viewing and attendance data and about 70 variables.
Alongside this application, LaLiga has started using "Sunlight" software. This predicts the natural light conditions for each match, indicating the areas of sun and shade in the stadium, revealing how the sun will affect the television image, fans and players, and also help with match scheduling. To achieve this, LaLiga uses 3D reconstructions of stadiums.
Video Assistant Referee (VAR)
Together with technology provider EVS and the official producer of the competition, Mediapro, LaLiga uses the multi-angle review tool Xeebra for referees to make decisions on the field. It has built-in artificial intelligence that calibrates the playing field to allow the insertion of graphic overlays to support decision making.
During the first 19 match days of LaLiga Santander, totalling 190 matches, the VAR system reviewed 2,280 incidents, after which the referee modified his final decision on 59 different occasions. In total, VAR averaged 3.2 interventions per match.
Mediacoach
Mediacoach is a suite of tools and match analysis services, developed with Mediapro, which LaLiga makes available to the coaching staff of all teams to analyse games before, during, and after each match.
It also helps to improve broadcasting. This year's technology includes the intelligent detection of the ball's position on the pitch. The movement of the ball is used to locate, in real time, where the action of the game is. Ambient microphones distributed around the stadium are automatically activated to give more realism to the sound of the broadcast and bring the action closer to viewers.
Virtual Reality (VR)
Mediapro's R&D teams, together with LaLiga, are experimenting with VR technology. During the Innovation Showcase, attendees were able to see recaps of the 2018-19 season in 3D virtual reality via a Samsung Gear headset
Replay360
LaLiga uses Replay360, a technology that allows you to recreate 3D replays of any move. 38 cameras installed throughout the stadium allow spectators to fly over the action or even position themselves from the point of view of a player. Six LaLiga stadiums including FC Barcelona's Camp Nou and Real Madrid's Bernabeu already have this technology.
Bixby
LaLiga has its own intelligent virtual assistant, which seeks to improve contact with fans, offering them information through voice and text. Through artificial intelligence and cognitive services, fans can use voice and text on multiple devices to get information about the competition and the clubs, such as schedules, classification, results, statistics of players and videos of the most outstanding plays.