The creators of this pioneering reality format are looking to shake up the entertainment landscape with a boost from the virtual world.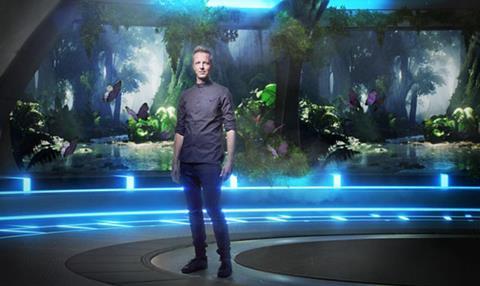 Lost in Time
Distributor Fremantle Media
Producers Fremantle Media Norway; Future Group
Length 8 x 60 minutes
Broadcaster TV Norge (Norway)
Lost In Time, a partnership between Fremantle Media Norway and Oslo-based new media company The Future Group, creates a mixed reality that places real people and objects in a virtual world, and then merges the real with virtual backdrops.
Because the virtual world needs to respond to the players and render in real time, the $42m (£34m) technology used is more complex than, for example, that required for a mixed-reality film in which scenes are planned.
During an Oslo set visit, Future Group chief content officer Stig Olav Kasin tells Broadcast: "There is a tremendous difference in instructing an actor in doing something that you've planned for months, versus putting a person on an obstacle course and saying 'go'. We have no idea what they're going to do."
Lost In Time – which debuted on Discovery Networks-owned TV Norge in March – pits three contestants against each other in a series of high-paced challenges set in six virtual worlds, including Ice Age, Wild West and Jurassic.
While it works as a standalone competition programme, a strong play-along component is integrated into the format.
A smartphone and tablet app allow viewers to play in real time against show contestants and other players from across the country for a separate cash prize. The app is open to users throughout the week leading up to the linear show.
Kasin has spent the past 10 years bolstering the interactivity of primetime reality shows such as Norway's The Voice and Who Wants To Be A Millionaire.
"We're turning passive viewers into active viewers," he says. "By adding interactivity to entertainment, it will become much more engaging, so you will be part of the story in a different way. However, we've focused on making sure the format itself works for everyone, even if you're not playing along."
Fremantle Media senior vice-president of development production for global entertainment Dug James says his team was "very strict" about the accessibility of the end-product.
"It had to work as a TV show and if it didn't, then we weren't interested because our sights were always set on primetime family viewing. We didn't want to create a show for gamers."
Future Group and Fremantle Media – who share IP on the format – are eyeing international adaptations via a network of hubs.
Kasin says: "There can be a hub in Norway, or in different places around the world. The tech is also made in a way that it's very easy to transport, so we can hook into existing studio systems."
There has been interest in the format from larger territories, but countries such as Mexico and Indonesia are also keen to learn more. Ultimately, despite a big upfront investment, Lost In Time will cost less to make than a show like I'm A Celebrity… Get Me Out Of Here, says James.
"The beauty of this show for a broadcaster is there's not much unknown. You can already see the environment; you can see your set. You're not stepping into something thinking: 'Will we be able to recreate this?' It's already there."
James says Fremantle Media's short- to medium-term goal is to start looking at other formats that can use the technology in a similar way. Kasin says Lost In Time is only the "first vehicle" for the tech.
"This is the first of many and we will be in many types of verticals – everything from pure entertainment to sports to fiction," says Kasin.