Vision Charity founder says industry support has helped thousands of youngsters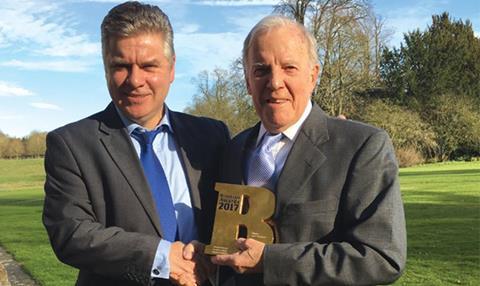 In October 1976, more than 400 guests gathered at the Intercontinental Hotel on London's Park Lane for the inaugural Vision Charity Ball. VIP guest Eric Morecambe worked the room and Joe Loss and his orchestra played.
The event had been organised by leading executives from the UK's burgeoning broadcast industry, many of whom had built their businesses on the back of the boom in the nascent video sector that catered to corporate and broadcast clients alike.
By the end of the night, thousands of pounds had been raised to help children who were either blind or seriously visually impaired, and the ball had established itself as a 'must-attend' event in the industry's diary.
Sony UK, JVC UK, JVC Professional, 3M and Panasonic all backed the charity ball in its second year, and the event continued to attract sponsors for more than 40 years, until the curtain fell on the final ball in November 2012.
One of the founding fathers of the Vision Charity Ball was Peter Thompson, the first elected chairman of the Association of Professional Video Dealers that launched the event, and managing director of Zoom Television, which distributed video hardware and tape equipment.
"At its height, there were 1,000 people at the Vision Balls," says Thompson.
Some of the companies that created the charity were acquired and others folded, he says, but the Vision charity and annual ball were "the glue that kept the industry together".
In 1977, Vision added dyslexia to its fundraising remit, following an appeal by a trustee of the video trade body to recognise the lack of support for children who suffered from "word blindness".
Over time, the charity would outlast the trade body that created it, with Thompson and other industry leaders volunteering to continue its work.
They were not alone. TV presenters, sports stars and celebrities such as Susan Hampshire, Melanie Sykes, David Ginola, Michel Roux, Noel Thatcher, Cheryl Baker, Jeremy Beadle and Katie Price, whose son Harvey is blind and disabled, all lent their support, while media magnate Richard Desmond was a member of the charity's organising committee for a number of years.
The charity also benefited from fundraising activities hosted by those working in the broadcast sector – ranging fromVision Golf Days to the Avid-sponsored Soho Fun Run. One supporter, Jon
Sidwick of Maverick AV, ran 50 marathons all over the world in 2012 to mark his 50th birthday – raising thousands for Vision.
Vision's success in London also led to the creation of a Scottish Vision Charity Ball, which was held annually for 15 years, alternating between venues in Glasgow and Edinburgh.
"We had great support," says Thompson, singling out Lady Astor, the charity's leading patron for its first 10 years until she retired, for helping to establish Vision.
Broadcast was the charity's media partner for many years, supporting the charity through the Broadcast Fives football competition, which contributed £50,000 in funds to the charity's work over the years, and events held in conjunction with the Broadcast Awards and Broadcast Digital Awards.
In March, Broadcast presented Peter Thompson with a Special Recognition Award for his services to the industry and Vision Charity, which over four decades has raised £4m in support of blind children.
Vision's achievements
■ 27 minibuses
■ 3 estate cars
■ 19 guide dogs
■ Computer equipment
■ Television cameras, recorders, editing systems and monitors
■ Swimming and diving equipment
■ Sailing holidays and training
■ Adventure holidays
■ Sensory gardens in England and Wales
■ Braille reading books
■ Electronic white boards
■ Tandem bicycles and tricycles
■ Three Vision homes furnished and equipped for blind youngsters to live independently
■ iPads, talking watches and talking books
■ Built and equipped a school for blind children in Sierra Leone
■ Cricket equipment for blind young cricketers
■ Sight restoration and cataract procedures in India and Africa
Thompson was handed the special award at a lunch in his honour, but was quick to say it was recognition of "the many people who have contributed to Vision for so many years". That work has enabled Vision to help and enhance the lives of thousands of young people.
The list of services and experiences the charity has donated is long and impressive.
It includes 27 custom-built minibuses, three estate cars, 19 guide dogs, holidays, leisure activities, and teaching and broadcast equipment.
One of Vision's most successful initiatives was the creation of the Schools Radio scheme, supported by Arqiva and Channel 4, to encourage blind and sight-impaired children to launch their own school radio channels.
Some 1,200 schools registered for the government-backed scheme and since 2015, it has continued under the auspices the Royal London Society of the Blind. Over its 42 years, Vision has had 24 chairman. Bill Vestey, formerly Sony UK director of public affairs, has held the post since 2010, making him the longest-serving chairman.
But the past few years have been tough for the charity sector. When Vision was created, there was no Comic Relief orChildren In Need, and the schools and organisations that benefited from its work had few other ways to raise funds.
"The charity sector is much tougher today than 40 years ago, but sadly the country is very dependent on the efforts and support of charity giving," says Thompson.
The economic challenges of recent years include the economic slowdown, changes in the broadcast technology market and the fact that smaller charities have found it difficult to compete with the bigger players.
As such, Vision has scaled back its operations since 2012 and recently announced it will merge with the Royal Society of Blind Children. While securing the future of Vision's work, the move will see Thompson, president of the charity, retire from his post, along with fellow trustees Bill Vestey and Richard Morgan.
Looking back on Vision's achievements over the past four decades, Thompson says: "To see children so excited to be diving into swimming pools, sailing in a dinghy, reading Braille; to see people's lives helped by the work Vision and its many supporters have done: it has been a humbling experience."