IBC 2016: Manufacturers were keen to show attendees that they have made great strides over the past few months in their efforts to provide broadcasters with the tools they needed to move from SDI infrastructure to IP-based workflows.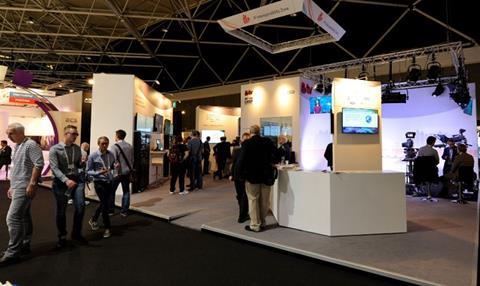 However, not all vendors were as effusive about the progress that has been made.
The benefits of a shift to IP include the ability to share centralised equipment and staff across different productions and work remotely.
But there are concerns about the ability to mix and match kit from different manufacturers.
Many manufacturers used the Amsterdam exhibition to show their products working with kit from rival firms in end-to-end, IP-based workflows, but it was a dedicated IP demonstration area that provided the focal point for discussions about IP.
"Disarray"
The area was led by the International Association of Broadcast and Media (IABM) and cross-vendor group Alliance for IP Media Solutions (Aims), which was established at the end of last year and now has more than 54 members.
"At IBC last year, the world was in disarray in regards to IP," said Tom Lattie, vice-president of market development at Aims member Harmonic.
"Customers were terrified about how to move from SDI to IP without a standards-based approach and the industry coming together.
"We have bonded together and what we see at IBC is fully functional ecosystems from multiple vendors. In less than a year, we have moved from disarray to focused innovation."
EVS
To demonstrate content moving from sports venues to a broadcast centre control room through to viewers EVS set up its stand as an "IP-enabled hub".
It featured the the C-Next contribution platform which EVS introduced over the summer and allows remotely located teams to share files and metadata over IP.
Sony
As well as demonstrating an end-to-end UHD workflow based on standards SMPTE ST2022-6 and SMPTE ST2059 and TR-03 (SMPTE ST2110) and NMOS (IS-04), Sony unveiled six new IP Live based products.
They included the HKCU-IP43F Networked Media Interface (NMI) board for HDCU-4300 camera control system and an SDI/IP converter unit for the integration of an IP-based production system with a standalone 4K/HD source.
SAM
SAM (Snell Advanced Media) showed its range of IP Edge Routing System, including routers, switchers and its dedicated IP-only processing and control products, in full for the first time at IBC.
The Newbury-based firm also announced that it is setting up a Global Customer IP Innovation Center to show off its IP portfolio.
Imagine Communications
Imagine Communications took part in and hosted interoperability demonstrations to show what it described as industry-wide support for field-proven procedures and specifications, including SMPTE 2022, AES-67, and VSF TR-04/TR-03.
The company's production and contribution products provide encoding and decoding and the delivery of uncompressed media over IP transport, as well as support for Sony Network Media Interface (NMI) and intoPIX Tico mezzanine compression for UHD.
Grass Valley
On the third day of IBC, some 350 miles from the RAI, the Liverpool v Leicester Premier League game provided the setting for an all-IP UHD broadcast.
Arena's OBX truck has a 'glass-to-glass' Grass Valley workflow which includes the company's GV Node IP Edge Routing Platform with integrated multiviewer, Grass Valley LDX 86N Series cameras and Grass Valley's Kayenne production switcher with K-Frame.
It is also equipped with a Cisco Nexus 9000 series switch and a layer of virtual control panels from Lawo.
The IABM and Aims-led live production set-up at IBC was based on a proof of concept that has been used over the past few months by Belgian broadcaster VRT for live programming.
It comprised a studio floor and control room with a separate data centre containing the studio's network equipment hosted on another stand, away from the studio.
VRT project manager Karel De Bondt told Broadcast that while some manual intervention was required to allow the different components to work together, for static set-ups, the available IP technology "is robust enough for real, live TV".
He said: "IP is ready to go. You can already do the same, and more, with remote production and flexible reconfiguration. You can do the same as SDI for roughly the same price."
Caution
However, Ross Video chief executive David Ross sounded a note of caution.
He stressed that while his company is committed to the future of IP the use of IP kit brings new problems that aren't present with SDI, such as signal dropouts and jitter – or delay.
"This is not streaming on the web, this is mission-critical, worldwide live events for broadcast, so we need to make sure we solve these problems properly," he said.
Ross said it is likely to take five to 10 years for IP kit to be as truly interoperable as SDI.
"We have a decade of work ahead of us to get to where we already are with SDI to move forward with the new exciting things we can do with IP."