The programme for the Media Summit has been revealed – including sessions dedicated to the future of the BBC, the battle for high-end drama and keynotes from FremantleMedia and Endemol Shine Group chief execs.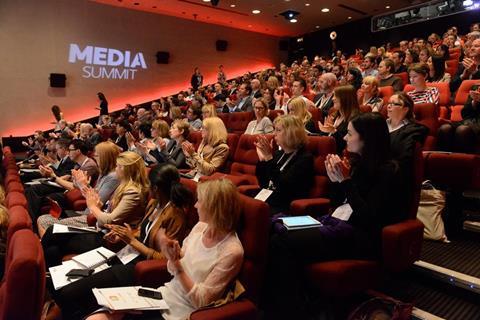 The two-day event, organised by Broadcast publisher Media Business Insight, takes place on 7 – 8 June at 30 Euston Square, London.
Day One
Deloitte's media metrics: where to play; how to win
Navigating the changing dynamics of the media & entertainment market and making strategic choices remain critical to survival and growth in the creative economy.
Deloitte media and entertainment leader Dan Ison will reveal key industry performance analysis and highlight the most important strategic choices facing content organisations today.
Dan Ison, media and entertainment partner
Keynote interview with Fremantle's CEO
Global production strategies will be in the spotlight as Fremantle's chief executive officer assesses how digital disruption has opened up content and distribution opportunities.
Cecile Frot-Coutaz, chief executive officer
How to win in the online world
Content businesses are having to rapidly evolve as audiences spend more time engaging with entertainment and news media brands online. We hear from an expert panel of industry leaders who are on the front lines of reinvention and who are succeeding in making money from the content they create and the audiences they deliver.
Alan Hunter, head of digital The Times
Mimi Turner, marketing director, The LAD Bible
Keynote interview with Endemol Shine Group's CEO
Sophie Turner Laing outlines the key challenges and opportunities facing the Endemol Shine Group and how the role of the mega-indie is changing in the content sector.
Sophie Turner Laing, chief executive officer
As increased investment is poured into the virtual reality market, our panel of industry visionaries debate the impact VR will have on the worlds of TV and film, and whether the new technology and user experience justify the hype.
Neil Graham, head of VR, Sky
Alex Mahon, chief executive officer, The Foundry
Anthony Karydis, founder, Mativision
TV or OTT: who'll steal the crown in high-end drama?
TV leaders in drama and broadcasting debate the impact investment in high-end dramas is having on the international market, and discuss how the the rise of big-spending OTT platforms will impact traditional drama players.
Jane Featherstone, co-founder, Sister Pictures
Pippa Haris, co-founder, Neal Street Productions
Wayne Garvie, chief creative officer, Sony Pictures International
The broadcast industry's main on-demand players discuss how they are enticing viewers to their platform and what the continued rise in on-demand means for the channel brands.
Julia Barry, editorial director of on-demand, Sky
Neelay Patel, general manager of digital, TV, BBC
Richard Davidson-Houston, head of All 4, Channel 4
Paul Kanareck, director of online and brands, ITV
Day two
Bain & Company reveals key consumer research
Bain & Company, one of the world's leading management consultancy firms, reveals key findings from its most recent research including its #GenerationHashtag report, the annual survey of global consumers and their digital media consumption habits and preferences.
Laurent Colombani, partner, Bain & Company
The power of social: trends and behaviours
Twitter UK MD Bruce Daisley offers unique insight into the ever-evolving power of social trends and consumer behaviour, and examines how it continues to impact content development and influence the way in which media and creative companies think about their own approach to social media.
Bruce Daisley, vice president of Europe, Twitter
The BBC and the future of public service broadcasting
The BBC's role and funding has never felt more under fire. With the publication of the government's white paper on the BBC expected in May, the BBC's director of strategy James Purnell will discuss the role of the BBC and public service broadcasting in the UK.
James Purnell, director of digital and strategy, BBC
The reinvention of BT and the value of TV sport
BT has quickly become a force to be reckoned with in the UK TV sports market, and what was regarded as a massive gamble looks to have paid off. We question BT TV & Sport MD Delia Bushell about the company's strategy and ask what's next for its ambitious TV and sports deals.
Delia Bushell, managing director, BT TV & Sport
Blurred lines: advertising and entertainment
Saatchi & Saatchi COO Kate Stanner examines how and why advertising and advertisers are having to evolve to embrace a more content-led approach. With the blurring of boundaries between advertising and entertainment, how are successful brands making themselves visible?
Kate Stanner, executive creative director, Saatchi & Saatchi
What's in a name? Creating a channel brand in 2016
What is the role and relevance of the channel brand to viewers in today's TV world – and how do you build a great channel? Our expert panellists discuss how to make channels stand out in a crowded multichannel market.
Susanna Dinnage, general manager, Discovery Networks UK
Kerry Taylor, chief marketing officer, Viacom International
Zoe Clapp, marketing director, UKTV
Leaders from four creative businesses discuss how they have brought an innovative approach to their area of the industry and why doing things differently has meant success. Essential thinking for any creative business.
James Stafford, senior vice president, Europe, StyleHaul
Ben Jones, chief technology officer, AKQA
Efe Cakarel, founder, Mubi
Robin McNicholas, creative director, Marshmallow Laser Feast
The Media Summit will take place at 30 Euston Square on 7 and 8 June.