Systems integrator TSL is putting out to tender the contracts to supply equipment to MediaCityUK's studio technical block following a deal with Peel Media Studios.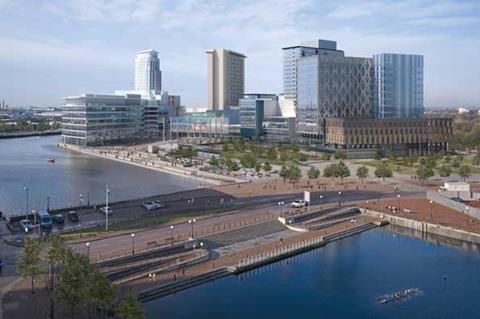 TSL has been overseeing the installation and professional services for Phase 1 of MediaCityUK in Salford for the past two years.
The additional agreement includes the procurement of all the broadcast equipment that will be used within the studios. All technology will be chosen via a detailed tendering process.
TSL managing director David Phillips said, "TSL has been working with Peel on the MediaCityUK project since its very inception and has built up a strong relationship with our client. We are delighted to have received this additional business related to this major investment by Peel. Initial pre-building of the system is already underway at our premises in Maidenhead, UK and we shall be following the detailed timeline to ensure completion of the whole programme in 2010, as scheduled".
The procurement process is already underway with Pixel Power Clarity 5000 character generators set to be added to the studios.
At the same time, two Vista audio consoles have been bought from German manufacturer Studer that will be used for two radio studios at MediaCityUK.
One will be used in the recording hall for the BBC Philharmonic Orchestra. The other will be installed in a Multi Purpose Audio Suite (MPAS) for productions that require a large studio such as radio drama or pop music recording.
Peel Media recently announced a collaboration with Ascent Media Group to provide a range of services at MediaCityUK and last week launched a new website www.mediacityuk.co.uk and a film about what life might be like at MediaCityUK once the Salford development is operational: http://www.youtube.com/officialmediacityuk