Tim Hincks has predicted a bright future for Endemol Shine Group and denied that the merger, which created the UK's first mega-indie, accelerated his exit.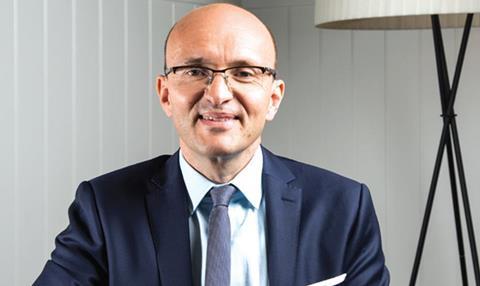 Hincks (pictured) was named president of the enlarged production group in October 2014 and has been a key figurehead in the past 15 months, before ESG announced his departure earlier this week.
He is the latest high-profile executive to leave the business since the merger, following the likes of Jane Featherstone, Henrietta Conrad, Kelly Webb- Lamb and David Flynn. UK chairman Lucas Church also left after 20 years in the autumn.
But Hincks, who spent 17 years at Endemol, praised the business and said he had made a personal decision to seek a fresh challenge.
"Of course a merger is a time of disruption, and sometimes that can be painful. But talent retention has been a huge part of all of my 17 years – it has always ebbed and flowed," he told Broadcast. "The merger was a continuation of where Endemol was going – the company was ready to move to the next level. I wanted to play a part in a global company becoming something bigger, and make sure it went well."
Staunch defender
Hincks has been a staunch defender of consolidated, foreign-owned producers and reiterated his view, expressed during his Bafta lecture last year, that corporate culture bears no direct relation to scale.
"Big companies can be run well or run badly, and small companies can be run well or badly. And there's creative leadership at ESG whether I'm there or not – it has very strong-minded people in charge of their own destiny in the UK and around the world."
Hincks said he was proud to have helped broaden Endemol's range over the years. "We took a company that was largely known for one show [Big Brother] and made it a vibrant place that was difficult to define, with shows from Snog Marry Avoid? to Peaky Blinders."
He also picked out several memorable moments, starting with creating Channel 4 show Flatmates from scratch in 2000, succeeding in getting it on air, and then watching it flop.
"Baz [Sir Peter Bazalgette] was gracious and helpful, and it taught me an incredible lesson about the need to close your eyes, hold hands and jump off the cliff together," he said.
He also cited the adrenalin rush of big live events, such as watching Bobby Davro belly flop off a 10m highboard for The Games, and his pleasure at moving international formats into new markets for ESG.
This includes taking German format The Brain to Fox in the US (as Superhuman) and Spain's Your Face Sounds Familiar to 39 countries.
Broadcast understands Hincks will be on gardening leave until around October, having handed in his notice in autumn last year.
Sources have argued that Hincks is a major loss.
He is set to be replaced but it is unlikely that a new appointment would take on all of his responsibilities, which include oversight of the company's UK and US businesses international formats division.
Hincks said: "To quote the late, great David Bowie, when you know, you know. I've read a million press releases riddled with clichés, but it's absolutely the right time for a new adventure."
He remains ambitious but has not begun to make decisions about his future.
"Some people move around a lot, but the idea of jumping from this wonderful role to just 'another job' fills me with horror. I'm going to take my time and move on to the right thing – I'll be watching Deal Or No Deal, so don't expect to hear from me until after the summer."
Tim Hincks: in the eyes of his peers
Jay Hunt, chief creative officer, Channel 4
"He is one of the industry's most charismatic creative leaders. He's bright and energetic and has great skills around the lighter end of pitching – you want to spend time with people like that. He's also a fantastic man manager – he'll be a great get for any business."
Phil Edgar-Jones, director, Sky Arts (former Big Brother executive producer)
"Tim takes it all seriously without ever seeming to. He's very funny and incredibly supportive; you never felt like you were in trouble even in the middle of another Big Brother crisis, which was about to bring down Endemol, Channel 4 and the world."
Wayne Garvie, chief creative officer, international production, Sony Pictures Television
"Tim is a class act. He's clever, has good values, great music taste and is one of the best creative leaders in the industry, if not the best. He is also one of the funniest people alive."