Covering the Silverstone MotoGP race meeting for BT Sport is a mammoth operation for North One, with 26 hours of live outside broadcast over three days
It's late on Friday afternoon at Silverstone and production house North One has already been live-to-air on BT Sport for eight hours straight.
A premium presentation and commentary team have been busy fronting the show throughout the day, covering the practice sessions for all three classes – MotoGP, Moto2 and Moto3 – with experienced commentator/reporter Gavin Emmett at the helm, alongside ex-world champions Neil Hodgson and Colin Edwards, former Grand Prix rider Keith Huewen, and ex-British Supersport champion Michael Laverty. Lead presenter Suzi Perry will take over the reins in the evening.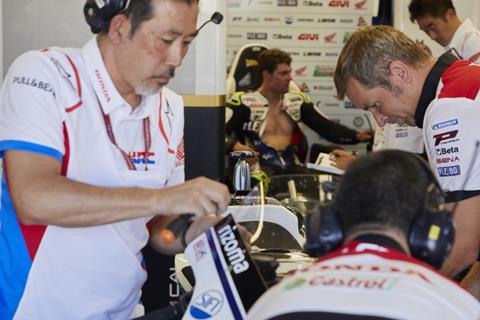 Hodgson's excitement and enthusiasm is not only infectious, but impressive – he bounces out of the commentary box and jumps on a scooter, whizzing through the paddock to arrive at the pit lane with camera and sound crew in tandem. There he quickly suits up to mount a motorcycle rigged with five GoPros for a VT that will feature during Sunday's race-day coverage.
It's here where Hodgson previews a lap of the track. It's the only time in the weekend when the track is free for him to do so.
"All I want to do now is 20 laps around here on my own," he says after returning from completing three full laps. "It's what I miss. That's the drug, riding around on an incredible track like this. It's amazing. It's a fairy tale for Silverstone because last year was a proper disaster for them."
As Hodgson notes, last year's MotoGP at Silverstone wasn't an overwhelming success – a downpour flooded the track and a new surface that had just been laid wouldn't drain. No racing went ahead.
The good news is the 'billiard table smooth' track has been done all over again. And, combined with the 30°C weather forecast, British fans are set for a treat at their home Grand Prix.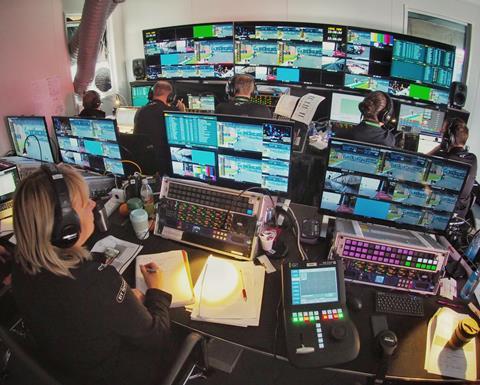 After filming the VT and another quick change, Hodgson is shuttled over to the Woodlands campsite, where he joins Perry and the rest of the presentation team on stage for a special one-hour show in front of a live audience. The crowd cheer as 'Hodgy' runs up on stage.
The carnival atmosphere and informal nature of the show captivates by way of a hot-dog challenge, a fitness challenge, fun-park rides, and interviews on-stage with riders: MotoGP stars Jack Miller and Danilo Petrucci, Moto2's Jake Dixon and Sam Lowes, and Moto3 rider John McPhee. North One enlists a separate production crew and OB truck to broadcast this show.
"Thursday and Friday – that's when the really hardcore people are here who love the sport, and so creating something like that is a way for the [North One] team to show a bit of creativity," says head of BT Sport Simon Green. "It's a lovely way of us allowing the team at their home Grand Prix to be able to express themselves in a slightly different way."
North One provides a bespoke service for BT Sport, which pays for the UK rights from Barcelona-based Dorna, the host broadcaster. At any race, BT Sport is one of three major broadcasters on site, along with DAZN in Spain and Sky Italia. This year is the first of a new three-year deal with Dorna, which runs until 2021 and came off the back of an initial four-year deal (2014-2018).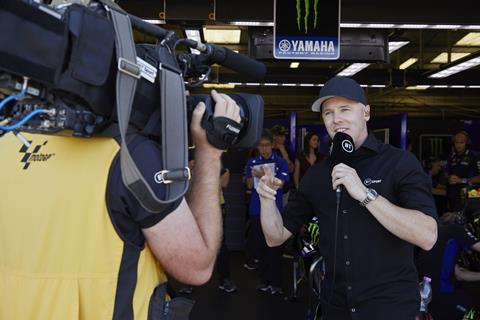 "Before 2014, there were meagre rations if you were a fan," says North One chief executive and MotoGP executive producer Neil Duncanson. "You'll now see every second of everything that happens on the track across a MotoGP weekend, from Friday through to Sunday."
With a total of 26 hours of live broadcast across three days of race coverage, MotoGP content is on air for around eight hours a day.
"You'll hear from just about every rider in every possible competition. We're in and out of the garages talking to everybody, from the team bosses to the mechanics. We have good access to everyone; everyone knows we put the effort in, so they give us the effort back.
"I think the team is very insightful and, at the same time, we try to grow the personalities of the riders. It's unlike any other coverage of the sport there's ever been."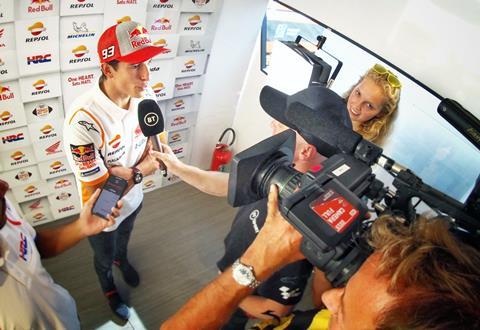 Green adds: "MotoGP provides a separate narrative to the main narrative of what is BT Sport, which is football. We can still make it feel like it's all BT Sport property – there's a presentation style that we put into it.
The number of hours, and the in-depth coverage you can get from having a sport like MotoGP, is a fantastic part of the weekend schedule. It also runs through the summer when a lot of our sports don't."
North One's approach to its MotoGP production has evolved over the years working with BT Sport. In 2014, the format was half studio-based from London, but by 2016, it was decided that having the whole team on site provided more exciting and comprehensive coverage. It now has around 28 staff travelling to each Grand Prix weekend across a 19-race season globally.
This year, Dorna added a 360-degree camera to its production arsenal, creating a live source that is available on the BT Sport app. North One has also applied this technology to its touch-screen analysis segments, where it is operated by Hodgson.
"The 360-degree camera is assigned to one bike at any race weekend, and it gives you that real-time feeling of what it's like," he says.
POST-RACE ANALYSIS
Footage from on-board cameras is also used during the post-race analysis. These camera sources are available to director Richard Coventry for North One's presentations, along with the world feed from Dorna and three RF cameras.
"One might go with Gav [Gavin Emmett], one might go with Hodgson and the other will stay with Suzi. We've got quite a bit of coverage – we can be in the pit lane, in the paddock, or we can be out near the track at various places," he says.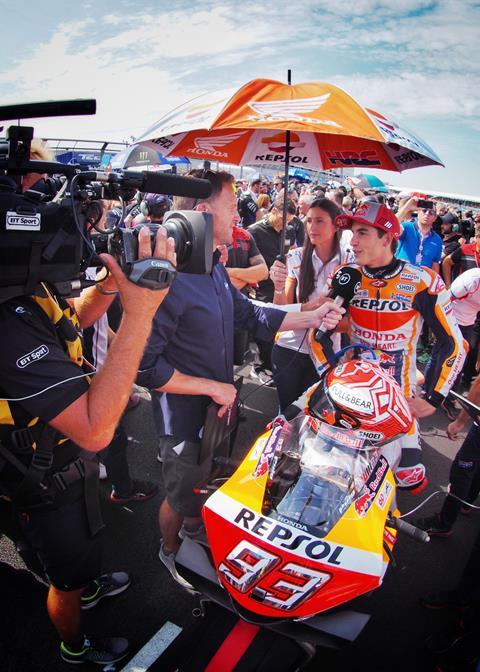 Dorna has around 28 track cameras at each circuit, with more than 100 on-board cameras. In total, there are 140-150 sources available, including helicopters and specialist high-motion cameras.
"We can access a lot of Dorna's footage," says Coventry. "Where there's a particular British interest – when Jake Dixon crashed, for example – but it didn't go out on the world feed, there's a system called 'best clips' where we can log in and look at all of Dorna's clips and see whether they have it available for us to run ourselves."
Fast forward to Sunday morning, after the Saturday qualifiers, where the big story is that nine-time world campion Valentino Rossi is back on the front row, behind championship leader Marc Márquez and ahead of Australian rider Jack Miller.
Series editor Kevin Brown briefs his team in clusters, as opposed to hosting an all-in pre-production meeting. It's 7.30am and he's chatting through the plan with Perry and the on-screen talent, after firming up the running orders. He'll then chat with the comms team, gallery and so on.
"We've got to try to make Silverstone special because it's our home race. It's about taking people to an event they can't go to. Doing shows like the one at Woodlands the other night does that. It felt like a little festival out there, and I hope people at home got some feel for what it was like to be here at Silverstone this weekend."
Passion, spirit and a sense of oneness is an imperative part of the production for North One, says Duncanson. "Everyone looks after everyone else, and everyone respects each other's role and their contribution to the coverage. No one's role is any less important to the team than the other."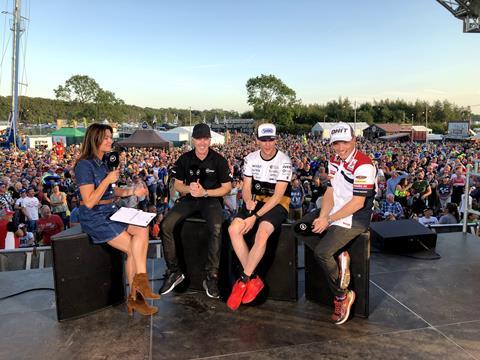 The message filters down from the top. Perry, a motorcycle broadcaster for 23 years, says: "Everybody's very passionate here and good at what they do. We aim to deliver the highest-quality content that gives a proper feel for what it's like here.
"We're not sitting in a studio, we're walking around, working on the fly, from the heart. Nothing is scripted, nothing is sitting in front of us on autocue or anything and we're just going moment by moment with stories, which is more exciting."
The chemistry and respect is what makes the on-screen talent sparkle. "The presentation team is a group of friends. We've all known each other for more than 20 years," says Perry.
"I used to interview all of them and now we all work together and we have an inherent trust. What you see on television is what you get. It's like a bunch of mates down the pub talking about bikes, and that's it – it's just that they're world champions at it."