We asked attendees of last week's NAB trade show to tell us about the most impressive tech that was on show in Las Vegas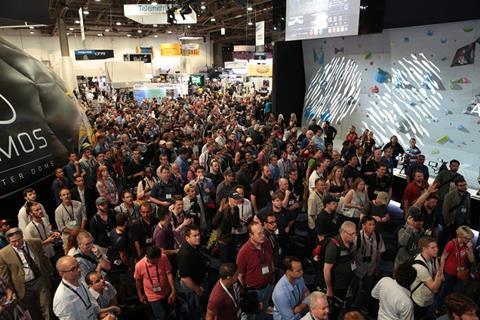 Jessica Lolliot, facilities director, Pro Motion Hire
One thing we have all been waiting for and working around is the lack of timecode when using GoPro Cameras in broadcast.
Timecode Systems has solved this with the simple and elegant SyncBac. It allows you to sync multiple units and for the first time drop your GoPro footage into your production workflow seamlessly.
Even more exciting is the versatility they've brought to live or hidden camera environments with the B:Link Hub and :pulse products so you can control and monitor multiple GoPros from most devices.
HDR was a buzz word at NAB and the Atomos stand was no different, however here they're really bridging a gap to bring HDR monitoring to the acquisition end rather than just the post side of the equation.
We were really impressed with the demo of the Inferno with 1500nit, HDR, 10bit and 4K over Quad-SDI. It packs a powerful punch in its 7-inch package. The ability to easily toggle between Log, Rec709, AtomHDR and when in HDR mode control the brightness levels to match what you're seeing in reality to what you're seeing on the screen was truly impressive.
Mike Thomas, commercial director, Top Teks
NAB 2016 was conspicuous in that there wasn't much new at the heavy end of equipment. There were lots of products we simply don't sell that grabbed my attention but if I had to pick a product that was relevant [for the broadcast industry] I'd go for Sony's new AXS-R7, the new RAW recorder for the Sony PMW-F5 and PMW-F55 that will be available this summer.
The headline features are picture cache, 120fps 4K (for the F55), 240fps 2K, a weather-sealed unit for around $7,000. It is fundamentally a new accessory for these cameras that breathes life into an established piece of kit.
Wildlife cameramen are one of our key market areas and 120fps 4K RAW and the Picture Cache has been on their wish-list for a long time.
John Dollin, senior systems and operation manager, Arsenal FC
The new Mevo camera from Livestream was interesting. Image quality aside, it meets a need for live Facebook production that is not limited a single shot and the poor digital zoom of an iPhone. Longer term we will integrate Facebook Live with our production playout system but for now, this offers us a very quick and neat short term remedy.
And I thought Ross' Acid camera was an interesting concept although I have not had an opportunity to compare it to the chroma keyer of the Tricaster 8000. I honestly believe that in the far future cameras will move from being video cameras to data capture cameras.
And as a footnote, I was happy to see the many more integrations occurring through the use of Adobe Premiere panels from the likes of EVS, Strawberry and Avid Interplay.
Danny Dawson, managing director, Alias Hire
Canon's 18-80mm servo driven lens was the absolute 'must have' in terms of big product launches and we have already placed an order.
This will yet again change the way people film across the C300 range, and it feels like it has practically come full circle in that now we can shoot in a similar way that we used to back in the days of the glorious Canon XL-1. I expect we'll see new lenses with varied focal almost every year now that Canon have cracked it."
Henrik Cednert, CTO/compositor, Filmlance International
There were many great things at NAB this year but to see HDR start to roll out amongst all vendors was probably the biggest one for us as a company. The icing on the cake was Christie's HDR laser projection that even in 2K and as a prototype and tech demo was absolutely mind-blowing.
The standards and workflows are starting to come together and companies like Filmlight have some really nice tools for handling SDR and HDR grade and mastering in tandem.
The only sad thing about HDR is that there isn't and probably won't be a 1080p standard of it, which in my opinion would be the sweet spot.
I still think that 4K and UHD as delivery and viewing in the homes is more of a marketing gimmick than anything else and the benefits for the majority of the viewers are very small. With HDR on the other hand the viewer can actually see the difference and with a proper display and proper content the difference is enormous.
With Netflix saying that they'll have more than 150 hours of HDR content by the end of the year I expect local content providers and broadcasters to start ask for, and maybe even demand, HDR deliveries soon.
Jamie Allan, solutions and business development, Jigsaw 24
Blackmagic Design's DaVinci Resolve 12.5 is another huge step forward for the platform, despite only being a point release. There are 250 brand new features with massive benefits for the colour management, grading and delivery of HDR content as well as putting Resolve's editing capabilities up there with the traditional stalwarts of Premiere and, dare I say it, Avid.
It's becoming a truly exciting tool for many aspects of post with more and more people talking to us about it from the worlds of episodic TV and broadcast whereas formerly we saw most implementation from commercials and feature film facilities.
Alain Lolliot, technical director, Pro Motion Hire
With all the hype over 360-degree and virtual reality (VR) video, I went into the show with low expectations but was actually pleasantly surprised by the array of innovations in this field. From the space-saving ideas over at BackBone to Radiant Image's clever A7S configuration, there was a real focus on how we can make the image quality better and the bandwidths smaller.
However, the real standout for me was from a surprise manufacturer: Nokia. At $60,000 it's on the pricey side but the Ozo does something rather special, in that it stitches eight cameras together inside the camera and feeds them out as a 360/VR stream via a single SDI cable.
This opens up the possibility of live streaming 360/VR video and whilst this is only first generation tech, it shows what is possible and perhaps affords a glimpse into what the future of this medium may hold.
Neil Anderson, chief executive, NMR
On the Amazon Web Services stand I was impressed by the new frame-accurate web browser video player for Vidispine, developed by Codemill.
It showed audio waveforms and scrubbing, a filmstrip of content in the timeline and even more usefully gave users the ability to generate and edit subtitles within the UI.
It'll be a great plugin to our Cantemo Portal MAM platform.